Fan Guide to MatchDay Feb. 9
Free tickets available on Ticketmaster.com.
Brian Ormiston and Christina Aguis | February 7, 2018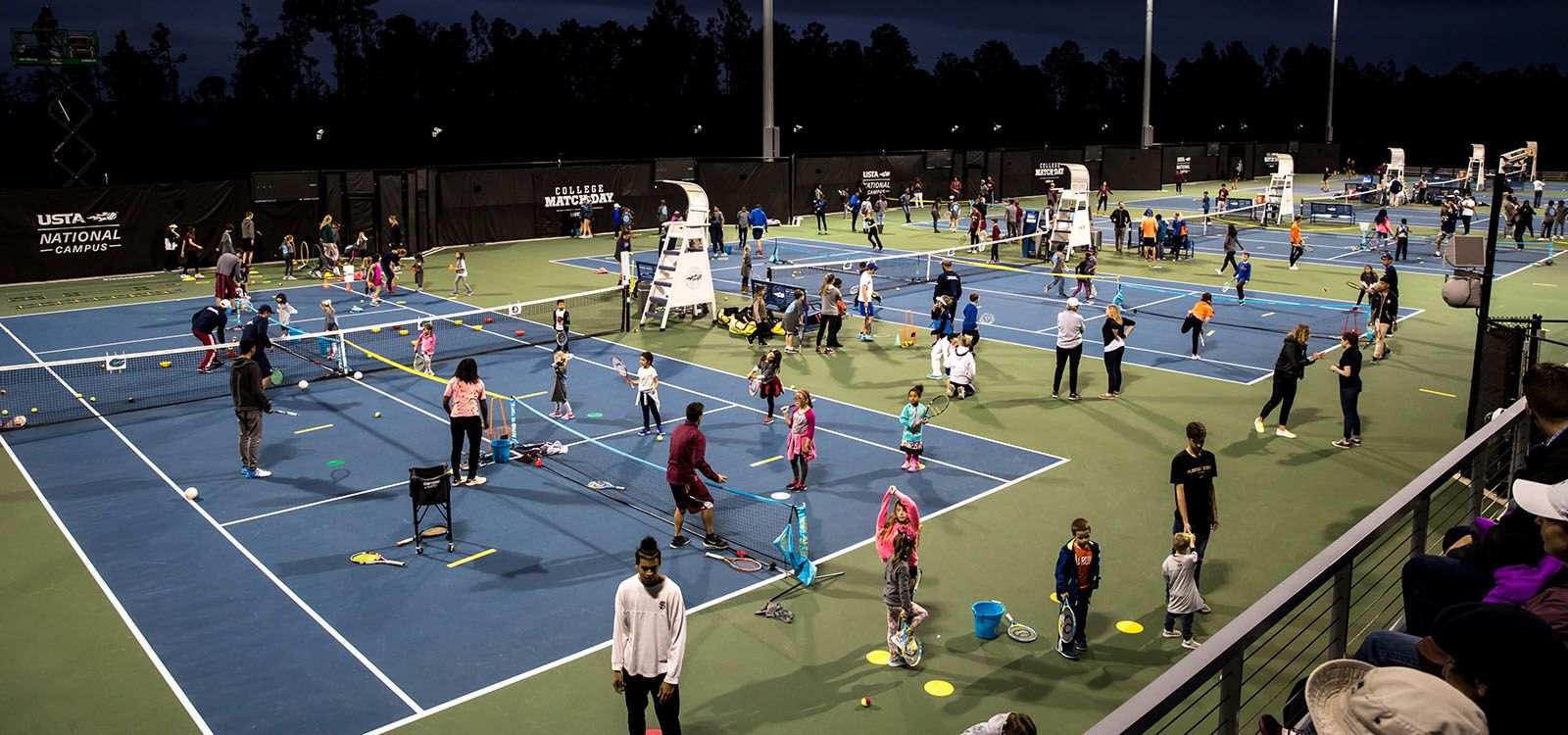 The stage is set for another College MatchDay rivalry, with the men's Georgia and Georgia Tech tennis teams colliding on Friday, Feb. 9, at the USTA National Campus.
Before making your way to Lake Nona, here is everything you need to know about attending the match:
Matchup
-Georgia vs. Georgia Tech (men)
Date and Time
-Friday, Feb. 9
-Gates open: 5 p.m.
-First serve: 7 p.m.
Location
-USTA National Campus (Collegiate Complex)
-Address: 10000 USTA Blvd., Orlando, FL 32827
-Phone: 844-872-8667
Tickets
-Admission is complimentary.
-Reserve complimentary tickets by visiting Ticketmaster.com and searching College MatchDay.
-Or click here: 2018 College MatchDay Complimentary Tickets.
Parking
-Parking is free and available on a first-come, first-serve basis.
RV Parking
-Fans with RVs are directed to park in the back row of the main parking lot.
Bus Parking
-The bus lane is located near the front of the main parking lot.
Pre-match Festivities
-Starting at 5 p.m., fans can experience a live DJ, tailgating games, face painting and much more, all for free.
-A free interactive kids' clinic led by USTA teaching professionals will begin at 5:30 p.m.
-Giveaways will be distributed throughout the night.
-Event programs will be on sale for $3, along with merchandise from Fromuth Tennis.
-Food and refreshments, including adult beverages, will be available for purchase.
Match Format
-Doubles will open the match. The first team to win two of the three matches earns one overall team point. Matches are one six-game set.
-Following doubles, six singles matches take place. Each match is worth one team point.
-The first school to secure four team points wins the match.
Court Assignments
-The national anthem and team introductions will be on Court 1 (the side facing the parking lot).
-The match will be on the south side of the Collegiate Complex, Courts 1-6.
Match Preview
An intense rivalry is coming to the USTA National Campus on Friday, Feb. 9, at 7 p.m., when Georgia and Georgia Tech compete at College MatchDay.
The rivalry between Georgia and Georgia Tech started in 1893, when the two teams first met on the football field in Athens, Ga. It is now labeled by the schools as "clean, old-fashioned hate." Yellow Jacket fans say it began when Bulldog fans were harassing and mocking them during the game, and the two have been in a feud ever since.
Even the media guides list completely different records in the men's tennis series. UGA claims a 63-9 advantage, while GT lists 66-28 in favor of the Bulldogs.
The Yellow Jackets have fallen to their rival in football, 38-7, men's basketball, 80-59, and women's basketball, 60-53, this year, so they will be looking for some revenge on the tennis court. (The Georgia and Georgia Tech women's tennis teams will compete on Feb. 24 in Atlanta).
2018 College MatchDay
Feb. 3 – Florida 3, Florida State 4 (men)
Feb. 3 – Florida 1, Florida State 4 (women)
Feb. 9 – Georgia vs. Georgia Tech (men) – 7 p.m.
Feb. 24 – Oklahoma vs. Texas A&M (men) – 10:30 a.m.
March 3 – UCF vs. Michigan (men) – 12:30 p.m.
March 3 – UCF vs. Michigan (women) – 12:30 p.m.
April 1 – Florida vs. Texas (women) – 5 p.m.
April 15 – UCF vs. South Florida (men) – 5:30 p.m.
*All Times Eastern and Subject to Change