2018 Tennis on Campus National Championship
Ohio State Tops UNC for First National Championship

April 15, 2018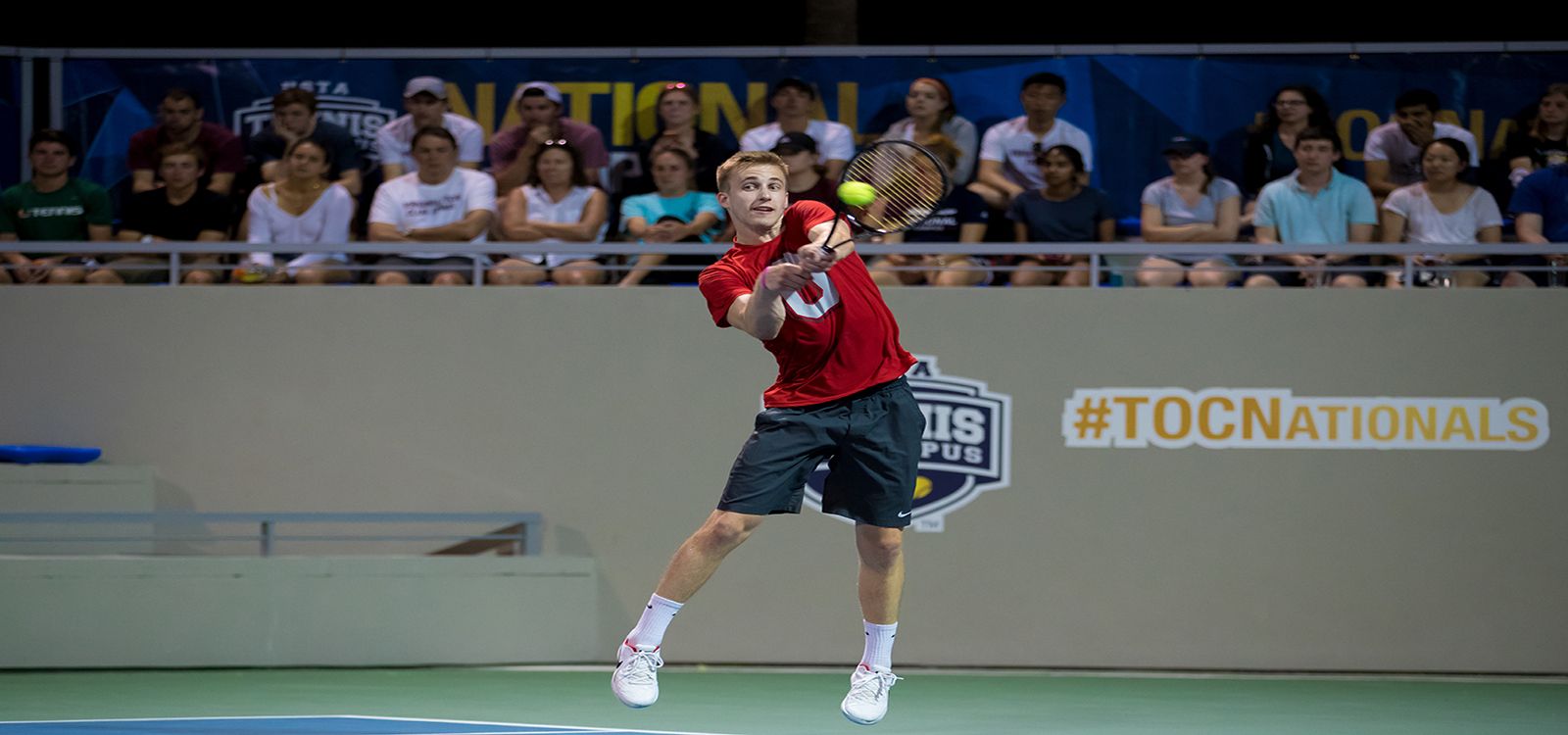 ORLANDO, Fla. -- Ohio State University capped off a remarkable Tennis On Campus season by defeating the University of North Carolina - Chapel Hill to win its first ever National Championship.
The Buckeyes led from start to finish at the USTA National Campus on Saturday evening, defeating the Tar Heels, 27-13, in a championship finale that saw an in-form team of underclassmen take down an experienced squad that was looking for the title that had so often eluded them.
"I'm shocked. I'm so proud of them," Ohio State club tennis president Izzi Nejedlik said of her team that includes seven freshmen or sophomores. "I was hoping for Top 10. But Top 1? I never imagined that. It's the best ending to my club tennis career."
But while Ohio State is celebrating an unlikely title -- they finished third in the USTA Midwest sectional tournament and had never placed better than 18th at the National Championship -- UNC is left with the feeling of coming so close yet again.
The Tar Heels also lost in the final two years ago in Cary, N.C. One year earlier, they stumbled at the penultimate hurdle, losing in the semifinals and ultimately finishing third.
This year's UNC team includes six graduating seniors who were pushing for one last run at a championship, including senior captain Connor Cooke who has now finished second twice and third once in his four years of club tennis.
"It really hurts. We just didn't have it today," Cooke said. "We kind of ran out of the tank as far as clutch tennis goes. It's been an emotionally draining tournament, just all the battles we've had.
"We really wanted one more, and we just didn't have it. It's pretty bittersweet because we had a lot of the alumni that had been here two years ago that were rooting for us. They were hashtagging #ManifestDestiny for our run and we really wanted to complete it. We fought to the end. You have to never lose the belief that you can win."
The Buckeyes got off to the perfect start with Noah Stern and Gavin Aten's 6-0 men's doubles win over Holleman Hughes and Seth Pinsky.
The Tar Heels halved the deficit behind Alexandra Lee's 6-3 singles victory over Adrian Young and Lilly O'Toole, who came in as a substitute for Young, but that was as close as the Tar Heels would get.
Natasha Birze and Paige Carmichael won the women's doubles over Claire Lieberman and Ellie Johnson, 6-3, to extend Ohio State's advantage to 15-9 before Aten picked up a 6-1 win over Cooke.
Trailing 21-10 going into the mixed doubles set, UNC knew it not only had to win the set but also to make up the double-digit deficit.
That task proved one mountain too high to climb this week for a team that needed to rally from a seven-game deficit earlier in the day against Stanford.
Stern and Birze defeated Hughes and Johnson, 6-3, with Stern serving out the match in style with an unreturnable serve, an ace up the tee, a mid-court overhead and a title-winning forehand off of a short return.
"I hit a big serve and she got it back and I had an easy forehand and I was smiling the whole time," Stern said. "It was awesome, I can't believe it.
"It's crazy, just the fact that Ohio State didn't qualify last year and then to come up with this result is just absolutely insane. We knew we could go really far, but I don't know if anyone thought we could get the whole thing done."
Stern was one of two Buckeyes to record two wins on Saturday night, along with Aten, who recorded arguably the biggest win of the finals in beating UNC leader Cooke and give Ohio State a big cushion to work with.
"He was a phenomenal player," Aten said of Cooke. "I got him today, but it was a lot closer than the score would tell. He was definitely a really solid player and I'm just happy to get out of it the way I did.
"We came here, we had no idea we could win this tournament. We got third in our regionals so we're coming in thinking we're just going to do the best we can. No one thought we could get this far. It's incredible."
Ohio State's path to victory included pool victories over Colorado School of Mines, San Diego State University and Columbia University. The Buckeyes beat the University of Washington in St. Louis in the first round of the gold bracket and defeated Midwest rival Illinois in the quarterfinals.
Earlier Saturday, Ohio State defeated UC San Diego in the semifinal. The Buckeyes led by three games going into their mixed doubles set, and UC San Diego's mixed doubles team of Ryan Lee and Mina Vukovic saved a match point to tie the set at 5-5 before winning the ensuing tiebreak to win the set 6-5. That cut the overall Ohio State lead to two games and forced overtime.
UC San Diego held serve for 7-5, but the Buckeyes served it out to complete the victory and book their place in the final.
Going forward, Ohio State has the makings of a team that could compete for a National Championship in the next several years. For UNC -- who won the first two Tennis On Campus National Championships in 2000 and 2001 -- it will be a matter of rebuilding around a talented group of younger players, much in the same way that Ohio State did this year.
"One of the biggest positives would be our young players on the team, Holleman [Hughes] and Ellie [Johnson] being so young, and then Ravi who is our other singles player. We have a lot of potential to be back here and finally get it," Cooke said. "We've been here at least top three the past three years so we really want to complete that run. There's a lot to look forward to."
USTA Tennis On Campus manager Newlyn Wing, the co-director of the tournament, praised the spirit of the competitors and congratulated the Buckeyes on a fantastic week in Florida.
"We had a great three days, perfect weather down here in Orlando and players as usual loving the National Campus, and Ohio State played well when it mattered. They carried that momentum all the way through group play and I think their fans here helped.
"There were so many highlights, but seeing the teams spend time with each other and seeing teams from all over the country becoming best friends as the week goes on, it's always the best part despite all the competition. You can see from the broadcast and from everything from Instagram to the live stream how passionate these players are and how we have to keep them in the game for life."
The Ohio State University National Championship team included juniors Michael Beatty, from Springboro, Ohio; Birze, from Chagrin Falls, Ohio; and Adrian Young, from Orange Village, Ohio; sophomores Aten, from Akron, Ohio; Rohith Koneru, from Dublin, Ohio; and Alicia Nahhas, from Toledo, Ohio; and freshmen Carmichael, from Akron, Ohio; O'Toole, from Cincinnati, Ohio; Stern, from Cincinnati, Ohio; and Worthen, from Columbus, Ohio.
The University of North Carolina - Chapel Hill squad for Nationals included seniors Cooke, from Summerfield, N.C.; Caroline Jones, from Richmond, Va.; Lee, from Charlotte, N.C.; Lieberman, from Fayetteville, N.C.; and Pinosky, from Charleston, N.C.; sophomore Hughes, from Lakeland, Fla.; junior Ravi Tewari, from Greenville, N.C.; and freshman Eliana Johnson, from Raleigh, N.C.
For more information on the 2018 Tennis On Campus National Championship, click here.