Top American Tennis Players
Meet for the First Time
Jason Allen | April 13, 2017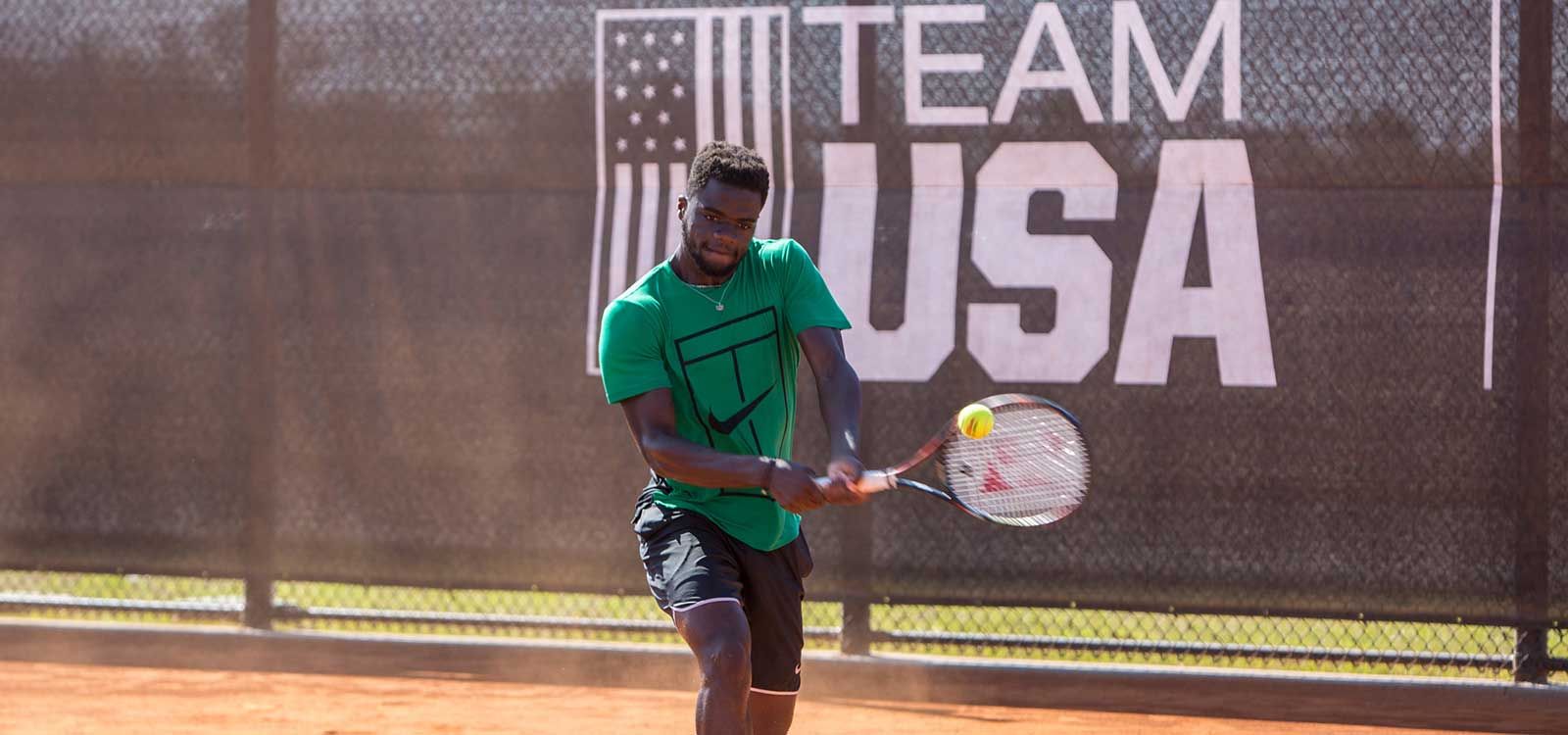 As Chris Herman rolled onto the Player Development courts at the new USTA National Campus at Lake Nona in Orlando, Fla., the distinct sound of hard-hit tennis balls in the distance resonated.
Three top-ranked young American players – Frances Tiafoe, Tommy Paul and Reilly Opelka – were training on the red clay, gearing up for European season heading into the French Open. Herman, a former world No. 1-ranked junior and current No. 52 on the ITF Wheelchair Tennis Tour, also came to train as he prepares for upcoming tournaments.
Before training, Herman and National Head Coach for Wheelchair Tennis Jason Harnett strolled over to watch. They admired the dedication of not only the three athletes, but of their coaches as well. USTA Player Development embodies professionalism on a daily basis. This much is evident in the facilities, coaches, technology and overall drive and determination of the players and coaches working at the new Home of American Tennis.
Wheelchair tennis has been in existence for 40 years. It never had a relationship with USTA Player Development, but that changed a few months ago, bringing the best and brightest in the professional and wheelchair ranks together under one umbrella.
This new partnership was never more visible than during the training session on this day in early April. Before the scheduled training, Harnett and USTA national coach Nicolás Todero met and discussed having their top players meet. Todero currently coaches Tiafoe, ranked No. 88 in the world and fresh off of a loss to Roger Federer at the Miami Open, where he stretched the legend to a score of 7-6, 6-3. He is also the youngest player in the Top 100 and one of the game's rising stars.
Todero jumped at the opportunity to arrange a meeting between his student and Herman. Upon introduction, the two teenagers jumped in to hit some balls. Tiafoe's initial reaction was priceless. He was impressed with Herman's ball-striking ability and athleticism.
As the hit intensified, Tiafoe began to ask questions about the Wheelchair Tennis Tour. To him, it was inconceivable that tennis could be played at such a high level by someone who had no use of his legs.
"Great experience," said Tiafoe. "We had a lot of fun. I think that everyone in the chairs had a lot of fun. I definitely wasn't good in the beginning. I didn't think it was going to be that tough. I have a tremendous amount of respect for all of these guys. I always have but it's a different level now. What these guys do is pretty incredible."
As the two continued to hit, a small crowd gathered around the court, watching. Soon, Todero and Tiafoe tried to play in a wheelchair. As for most, it was much harder to play tennis in a chair than previously thought. Tiafoe first tried to play Herman and found it almost impossible. It was only when Todero joined in that they were able to sustain a rally.
A friendly hit quickly morphed into a game to seven points. Herman quickly dispatched Todero and Tiafoe by a score of 7-3. In attendance was another national coach, Paul Walker. He suggested a relay race. USTA Player Development General Manager Martin Blackman joined in, and in an instant, the competitors were lined up at the doubles sideline: Herman, Harnett, Todero, Tiafoe, Walker and Blackman.
The race would be to the other doubles sideline and back. Herman won the race with ease, although a strong challenge was issued by Harnett.
Afterward, Herman said he was impressed that Player Development leadership took such an interest.
"It's great. It shows that we have their support and are willing to work with us," he said. "It's a move in the right direction and hopefully we continue that relationship."
At the end of the day, Tiafoe and Herman discovered they have a great deal in common. Both are 19, were top-ranked juniors, are now top-ranked men, love playing tennis and have their whole lives in front of them.
The chair, in the beginning, was something that separated the two players. After their hitting session and competition, that same wheelchair became a simple and unnoticeable detail for all involved. Although the future is uncertain for the two men, what is certain is that USTA Player Development is on the right track – in more ways than one.