2019 USTA National Winter Championships

18s Singles Finals Steal the Show
January 4, 2020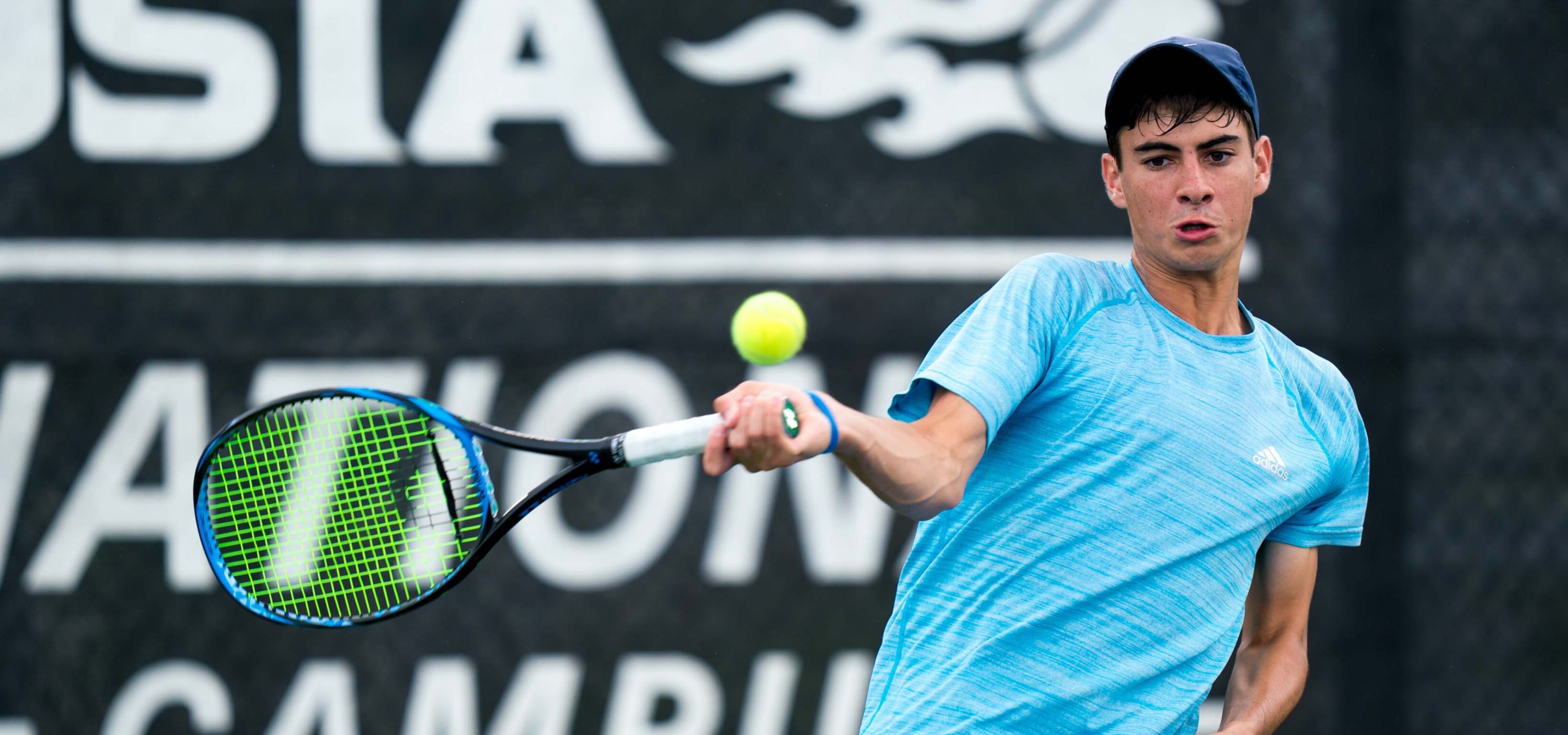 Friday marked the seventh and final day of the 2019 USTA National Winter Championships, part of the USTA adidas Junior Championship Series. The day featured players collecting coveted USTA Gold, Silver, and Bronze Balls for their efforts in championship and third-place playoff matches.
Much of the drama centered around the Shelton siblings in the 18s divisions, as they were involved in the only two main draw singles matches decided in a third set on Friday. For Emma Shelton (Gainesville, Fla.), she began the week as one of the No. 17 seeds, but on Friday morning she earned her very first Gold Ball by holding off top-seeded Sarah Hamner (Fort Collins, Colo.) 6-1, 1-6, 6-3 in a clash of doubles partners at the event and future teammates at the University of South Carolina.
Slow starts had plagued Hamner in a couple of the earlier rounds, and that was certainly the case again in the final when she won just five points over her first three service games in falling behind 5-0. She did get on the board with a break for 5-1, but gave it right back as Shelton closed out the set. That break might have kick started Hamner's game, as she broke Shelton at love to open set number two before fighting off a pair of break points to push ahead 2-0. Shelton held for 2-1, but missed out on two more break points in the next game, propelling Hamner to race through the frame and send the match to a decisive third.
With everything at stake, a tension-filled final set featured six breaks of serve. Hamner carried over her momentum into the early games, going up 2-0 before Shelton broke back for 2-2. That set off a string of four consecutive breaks, putting the score at 4-4. Shelton held a 40-0 love lead in that game, only to need to come up with a crucial second serve point at 40-30 for the hold. In the next game, Hamner hung tough but Shelton prevailed.
In what was perhaps not only the match of the tournament but an instant classic between two Floridians very familiar with one another, boys' 18s No. 1 seed Logan Zapp (Fleming Island) outlasted Ben Shelton 6-7(5), 7-6(3), 6-4 in three hours and nine minutes. For Shelton, his tenacity and fighting spirit was on display every step of the way, as he trailed by a break at least once in all three sets. Meanwhile, for Zapp, it was all about his steady play and mental toughness when he rebounded from letting multiple opportunities slip away over the course of the contest.
A string of three straight breaks in the opening frame left Zapp up three games to two. He would extend the lead to 5-3, where he had one set point on Shelton's serve but could not convert. Two more set points slipped from his grasp on his on serve, leveling the score at 5-5; Shelton also missed out on a set point on Zapp's serve at 6-5. The tiebreak was a back-and-forth affair, with Zapp going ahead 3-0 before Shelton reeled off five straight points as well as the final two of the set for the lead.
Splitting sets seemed a foregone conclusion when Zapp held serve at love for 3-0 in the second. However, Shelton fought back once again for 3-3, and was just a handful of points from victory when he had a break point at 5-5. Zapp successfully fought that off to hold, and Shelton countered with a hold of his own serve, setting the stage for a second tiebreak in the contest. This time Zapp would not give away his advantage, going up five points to two and closing it out seven points to three. In the final frame, Zapp struck first once again. When he consolidated the break in a game that featured 20 points and followed that up with a second break for 4-1, the finish line was in sight. One last time, the never-say-die mentality of Shelton took over with him rallying back for 4-4. That effort from Shelton might have emptied his tank, as he was broken at love in the next game, and Zapp would finally be named the victor and Gold Ball winner on his second match point. It is Zapp's fourth Gold Ball overall and second in singles action, but the first in the 18s division.
Boys' 16s No. 6 Ethan Quinn (Fresno, Calif.) capped off his run to the Gold Ball with an emphatic 6-2, 6-2 defeat of fifth-seeded Kurt Miller (Los Gatos, Calif.). The win marked four straight over a seeded competitor, all in straight sets; Quinn did not surrender a single set throughout the entire tournament and was only pushed past 6-4 twice. In the final, Quinn was never broken while also playing a commanding return game winning 51% of points on Miller's first serve. Miller would win the opening game of each frame before Quinn seized complete control.  The victory marks the initial Gold Ball for Quinn in his junior career.
The girls' 16s championship contest was also a fairly straightforward one between two California natives, although it did last nearly two hours. However, there seemed very little doubt that second-seeded Katie Codd (Carlsbad) would come out on top versus No. 17 Lucinda Gatsiounis (Studio City). Codd was coming off by far her toughest match of the week, outlasting fifth seed Stephanie Yakoff 7-5 in third on Thursday, so her strong start seemed imperative. She would claim the first five games behind two breaks of serve, one at love, and even when Gatsiounis got one back to pull within 5-2, Codd easily broke right back for the set.
Gatsiounis' serve betrayed her in the second frame; twice she went up a break on Codd, but in trying to consolidate those breaks, she served a total of five double faults. Once Codd pulled even at 3-3, she won eight of the next nine points and went on to serve out the victory 6-2, 6-3. Just like with Quinn, Codd earned a Gold Ball for the first time.
Additionally on the day were the third-place playoffs in singles, with the winners earning a Bronze Ball. On the 18s side, No. 5 Emma Staker (Sand Springs, Okla.) bested unseeded Katherine Hui (San Diego) 6-2, 6-0 and 12th-seeded Keshav Chopra (Marietta, Ga.) defeated No. 4 Benjamin Koch (Abbeville, La.) when Koch retired at 6-1, 1-0. For the 16s, No. 3 Michael Zheng (Montville, N.J.) toughed out a 6-2, 6-4 result over No. 17 Michael Ross (Charleston, S.C.) while fifth seed Stephanie Yakoff (Fort Lee, N.J.) swept aside unseeded Eileen Wang (Buffalo, N.Y.) 6-1, 6-0.
Multiple players walked away with top three finishes in singles and doubles to rack up the hardware at the conclusion of the Championships. Chopra and doubles partner Coy Simon (Charleston, S.C.), the fourth-seeded team in the boys' 18s draw, claimed the Gold Ball over No. 3 seeds Aryan Chaudhary (Santa Clara, Calif.) and Zapp. In an unfortunate turn of events, Chaudhary was forced to retire with an injury with the score standing at 4-6, 6-1. The win marked the second Gold Ball for the duo of Chopra and Simon at the event, as they also won the boys' 16s in 2017.
Codd also earned a Silver Ball in doubles on Friday, as she and Tomi Main (Seaside, Calif.) reached the girls' 16s doubles final as an unseeded tandem. They provided a stern challenge for top seeds Natalie Block (Plantation, Fla.) and Aubrey Nisbet (Wilmington, Del.), but in the end the No. 1 seeds were too strong, taking the victory 6-3, 3-6, 6-0. With the win, Block closes out her 2019 campaign with an astounding two Golds, both earned at the National Campus, one Silver and one Bronze Ball in doubles.
The girls' 18s title went to the unlikely pairing of Bridget Stammel (Dallas) and Katja Wiersholm (Kirkland, Wash.), who turned away No. 3 seeds Elizabeth Fahrmeier (Cincinnati) and Megan Heuser (Lindenhurts, Ill.) 6-3, 6-2. It capped off an impressive year for Wiersholm, who just three years ago was playing in the 12s division, where she won two Gold Balls in singles. She now owns two Golds in doubles as well after winning the 16s in San Diego.
In the final match of the tournament, No. 2 seeds Louis Cloud (San Antonio) and Sebastian Gorzny (Fountain Valley, Calif.) defeated the top-seeded team of Lucas Brown (Plano, Texas) and Aidan Kim (Milford, Mich.) 7-5, 4-6, 6-4. For Cloud, the triumph allowed him to defend the title he won 12 months ago, marking his second Gold Ball overall.
Bronze Ball winners in doubles included Quinn and Gabriele Brancatelli (Westhampton Beach, N.Y.) in the boys' 16s, Welsh Hotard (New Orleans) and Koch for the boys' 18s, Vivian Miller (Sullivans Island, S.C.) and Sanjana Tallamraju (Munster, Ind.) in the girls' 16s, and Allie Gretkowski (Mount Pleasant, S.C.) and Carson Tanguilig (Alpharetta, Ga.) for the girls' 18s.
For complete results from the 2019 USTA National Winter Championships, click here.