Gordon, Rybakov Claim Blizzard Titles
Collegiate duo earns spots on the 2019 USTA Collegiate National Team
Brian Ormiston | December 18, 2018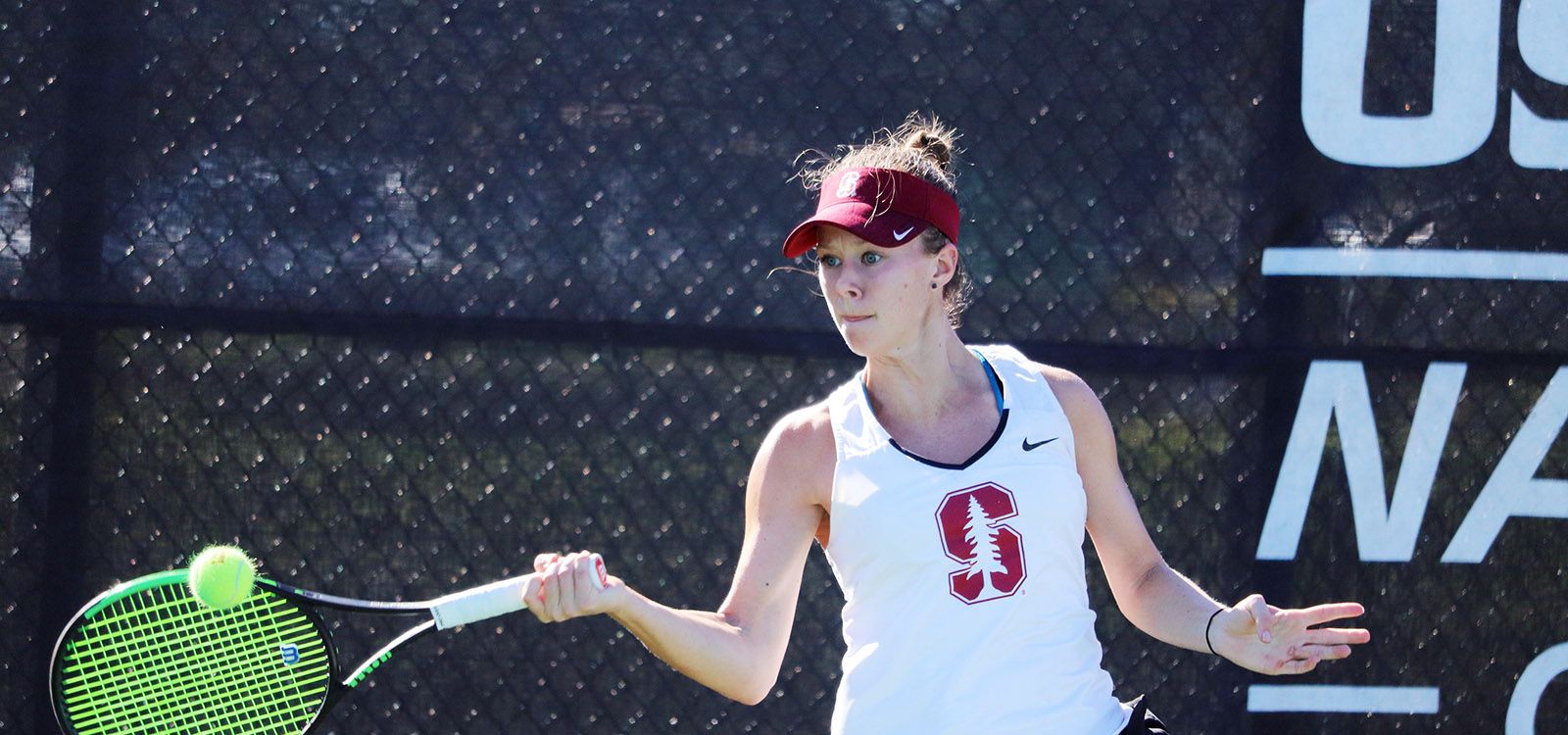 Sixteen of the best American players currently enrolled in college competed in some jaw-dropping tennis at the USTA National Campus Dec. 15-18 in the Blizzard Wild Card Challenge. When the dust settled, WTA No. 1005 Michaela Gordon (Stanford) and ATP No. 536 Alex Rybakov (TCU) grabbed the titles.
Both players earned coveted main-draw wild cards to professional events. Rybakov will return to the USTA National Campus when it hosts the inaugural Orlando Open, a USTA Pro Circuit ATP 80 Challenger event from Dec. 31-Jan. 6. Meanwhile, Gordon will compete in a 2019 $60,000 tournament that will be decided at a later date.
Rybakov and Gordon also earned spots on the 2019 USTA Collegiate National Team. Members of the squad receive grant money to travel to professional tournaments and coaching from USTA Player Development staff.
The format consisted of eight men and eight women separated into two groups of four. After round-robin play, the top two of each group advanced to the knockout stage.
On the women's side, Gordon fell behind to Duke's Kelly Chen only to bounce back in the second set. Gordon never let her momentum escape, cruising in the third set for the 3-6, 6-4, 6-0 victory. They reached the finals after Gordon defeated Pepperdine's Ashley Lahey, 6-4, 6-2, and Chen escaped with a 3-6, 6-3, 7-5 win over Gonzaga's Sophie Whittle.
Over in the men's draw, Rybakov jumped out to a 6-2 first-set win and did not look back in a 6-2, 6-1 decision. To get the finals, Rybakov slipped past UCLA's Keegan Smith, 6-3, 7-5, while Holt edged Florida's Sam Riffice, 6-2, 3-6, 7-6(9), where the third set featured a level of play that rivaled an NCAA Championship tilt.
For more on USTA's collegiate initiatives, the USTA National Campus or USTA Player Development, visit USTANationalCampus.com.
Quoting the Champions
Michaela Gordon
"It was amazing playing against all of the other top Americans in college tennis. I had a lot of fun playing against everyone because we're all friends. They were fun matches. I'm really glad we were able to play this especially since there aren't a lot of events during winter break and this is such a high level.
"I feel really good going into next season. My game is really starting to develop more where I wanted it to be. I'm still working on a lot of things. I feel good but ready to take a break before the season.
"It's an amazing facility and the courts are so nice. I love the courts here. I think these college courts will be really fun to play college matches on so I'm excited for that (opportunity). And I think how the USTA put this event together for college players was great. A ton of college players will be interested in playing it in the future as well.
"We have a really great team this year and didn't lose anyone in our lineup from last year. We have two incredible freshmen and I'm super excited to see how they play. We all get along really well. It's like my second family. I want to thank my teammates and coaches Lele (Forood) and Frankie (Brennan) because they have made such a huge impact on my game. I feel like I've improved so much in just one year, they have given me a lot of advice."
Alex Rybakov
"First of all thank you to the USTA for putting this tournament on. It's a great opportunity for us with how the new (professional) rankings work to get a shot to play in a Challenger. That's a huge opportunity.
"I felt really good and played a lot of good players. I had an absolute battle with Brandon a month or two ago. I played really, really well today. I'm getting toward the end of my preseason, and I've put in a lot of work so it's good to see that it's paying off by winning this tournament. It's great to be back in Florida where I grew up. Honestly I'm just thankful to be here playing for a wild card into a Challenger and I'm looking forward to competing against the top guys.
"I'm going to finish my preseason here. USTA is helping me out and I'm going to hit with some of the guys such as Tommy (Paul) who I've been hitting with since I was 13-14 years old. I will then go home for Christmas and then come back here to get ready for the tournament.
"Thank you to my coaches at TCU, David Roditi and Devin Bowen who I've been with from the start of my college career. They've been with me and preparing me this whole fall. My body feels good and I feel good on the court. I'm looking forward to next season. We have a lot of young guys, and this is my last season so I'm excited. The spring is always a fun time to get out and compete. I love college tennis and I'm really looking forward to it."
2018 USTA and USTA Player Development Blizzard Wild Card Challenge
Women
Round-Robin Stage – Group 1
Kelly Chen (Duke) def. Makenna Jones (UNC), 6-0, 6-1
Kelly Chen (Duke) def. Brienne Minor (Michigan), 6-3, 6-4
Michaela Gordon (Stanford) def. Kelly Chen (Duke), 7-6, 2-6, 10-4
Michaela Gordon (Stanford) def. Brienne Minor (Michigan), 6-2, 6-3
Makenna Jones (UNC) def. Michaela Gordon (Stanford), 7-5, 5-7, 13-11
Brienne Minor (Michigan) def. Makenna Jones (UNC), 3-6, 6-3, 10-6
Round-Robin Stage – Group 2
Ashley Lahey (Pepperdine) def. Sophie Whittle (Gonzaga), 6-3, 7-5
Ashley Lahey (Pepperdine) def. Sara Daavettila (UNC), 4-6, 7-5, 10-7
Ashley Lahey (Pepperdine) def. Salma Ewing (USC), 6-3, 7-5
Sophie Whittle (Gonzaga) def. Sara Daavettila (UNC), 4-6, 6-3, 10-4
Sophie Whittle (Gonzaga) def. Salma Ewing (USC), w/o
Sara Daavettila (UNC) def. Salma Ewing (USC), w/o
Semifinals
Kelly Chen (Duke) def. Sophie Whittle (Gonzaga), 3-6, 6-3, 7-5
Michaela Gordon (Stanford) def. Ashley Lahey (Pepperdine), 6-4, 6-2
Finals
Michaela Gordon (Stanford) def. Kelly Chen (Duke), 3-6, 6-4, 6-0
Men
Round-Robin Stage – Group 1
Alex Rybakov (TCU) def. Emil Reinberg (Georgia), 6-2, 7-5
Alex Rybakov (TCU) def. Sam Riffice (Florida), 6-3, 6-7, 10-8
Alex Rybakov (TCU) def. Tanner Smith (USC), 7-5, 6-2
Sam Riffice (Florida) def. Emil Reinberg (Georgia), 6-3, 7-6
Sam Riffice (Florida) def. Tanner Smith (USC), 7-5, 6-4
Tanner Smith (USC) def. Emil Reinberg (Georgia), 6-3, 4-6, 10-6
Round-Robin Stage – Group 2
Brandon Holt (USC) def. Alafia Ayeni (Cornell), 6-4, 6-2
Brandon Holt (USC) def. Keegan Smith (UCLA), 6-3, 6-4
Brandon Holt (USC) def. John McNally (Ohio State), 6-3, 6-3
Keegan Smith (UCLA) def. John McNally (Ohio State), 3-6, 6-3, 10-5
Alafia Ayeni (Cornell) def. Keegan Smith (UCLA), 4-6, 7-5, 10-7
John McNally (Ohio State) def. Alafia Ayeni (Cornell), 6-4, 5-7, 10-8
Semifinals
Alex Rybakov (TCU) def. Keegan Smith (UCLA), 6-3, 7-5
Brandon Holt (USC) def. Sam Riffice (Florida), 6-2, 3-6, 7-6(9)
Finals
Alex Rybakov (TCU) def. Brandon Holt (USC), 6-2, 6-1
Consolation Match
Tanner Smith (USC) def. John McNally (Ohio State), 6-4, 6-3