Get Ready For
2018 College MatchDay 
Sally Milano | November 20, 2017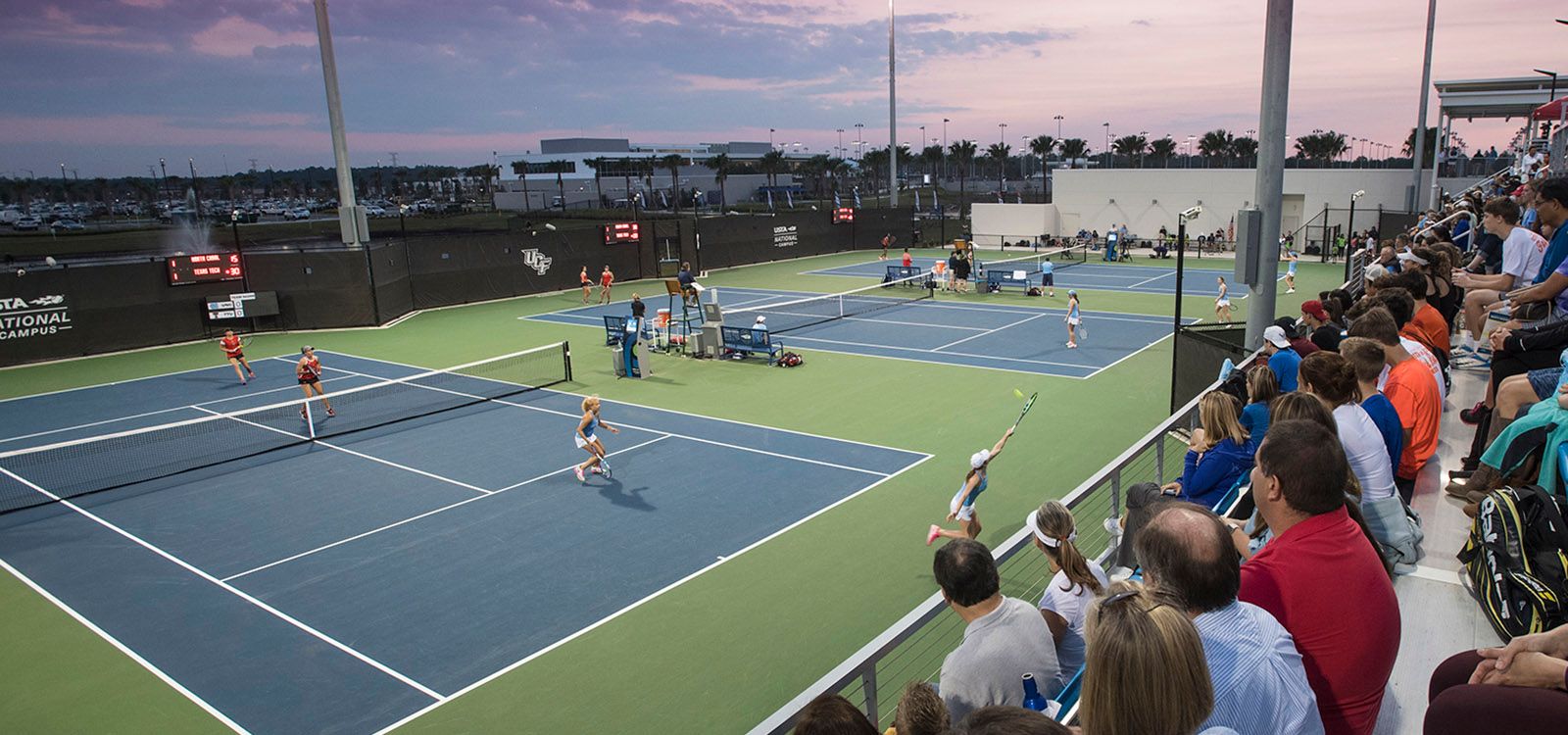 The top collegiate tennis programs in the country and some of the biggest rivalries in college tennis will head to the USTA National Campus at Lake Nona in Orlando, Fla., starting next February to compete in a series of College MatchDay events.
Reserve Your Complimentary Tickets Today
Fourteen of the country's top NCAA Division I teams will play at the National Campus' 1,200-seat collegiate stadium – the only off-campus stadium in the U.S. built specifically for college tennis – beginning on Saturday, Feb. 3, when the Florida and Florida State men and women will play simultaneously on both sides of the Campus' 12-court stadium.
Admission is free and will feature kids' activities, live music, specialty food and drinks, games and giveaways on-site.
College MatchDay is one of the USTA's primary platforms to promote college tennis. Six College MatchDays in 2017 drew 5,348 total fans to the National Campus, including 1,756 for a match between the Florida and Florida State men's teams, the highest-attended regular season match in college tennis last year.
"Last year, College MatchDay cemented itself as the bowl series of college tennis, with marquee matches and elite programs," said USTA Collegiate Tennis Director Stephen Amritraj. "It is quickly turning the USTA National Campus into the 'Home of College Tennis,' with a devoted fan base and incredible atmosphere."
The 2018 College MatchDay schedule will feature the following college matchups:
Saturday, Feb. 3, at 7 p.m. ET: Florida vs. Florida State men and women
Friday, Feb. 9, at 7 p.m. ET: Georgia vs. Georgia Tech men
Saturday, Feb. 24, at 10:30 a.m. ET: Oklahoma vs. Texas A&M men
Saturday, March 3, at 12:30 p.m. ET: UCF vs. Michigan men and women
Sunday, April 1, at 5 p.m. ET: Florida vs. Texas women
Sunday, April 15, at 5:30 p.m. ET: UCF vs. South Florida men
Said Florida State men's head coach Dwayne Hultquist: "Last year was an unreal experience, with it being the largest regular season crowd in college tennis (in 2017). Beating Florida there in an emotional victory was the highlight of our season. We love coming to play down there with the amazing College MatchDay experience."
Florida women's head coach Roland Thornqvist: "We're thrilled to be able to have two MatchDay appearances this year. It's extra special that one of those is against Florida State. College MatchDay has added a lot of exposure to college tennis and at the highest level. We are excited and honored to be able to play a part in the fantastic product that is college tennis. The USTA National Campus is a fantastic facility. With 100 courts and Orlando being a tennis town, it lends itself to be full of energy and packed stands with fans who appreciate good tennis."
UCF Director of Tennis John Roddick: "We couldn't be more excited to be a part of College MatchDay for the second year in a row. The USTA has done a tremendous job with the College MatchDay series and it has really helped grow interest in college tennis, especially here in Orlando."
In addition to College MatchDays, the USTA National Campus is set to host several of the most prestigious collegiate events in the country over the next several years, including the NCAA Division I Men's and Women's National Championships in 2019 and 2021 and the NCAA Division III Men's and Women's National Championships in 2022.