2019 ITF Junior Davis Cup & Junior Fed Cup Finals by BNP Paribas

Group Play Begins Tuesday
September 23, 2019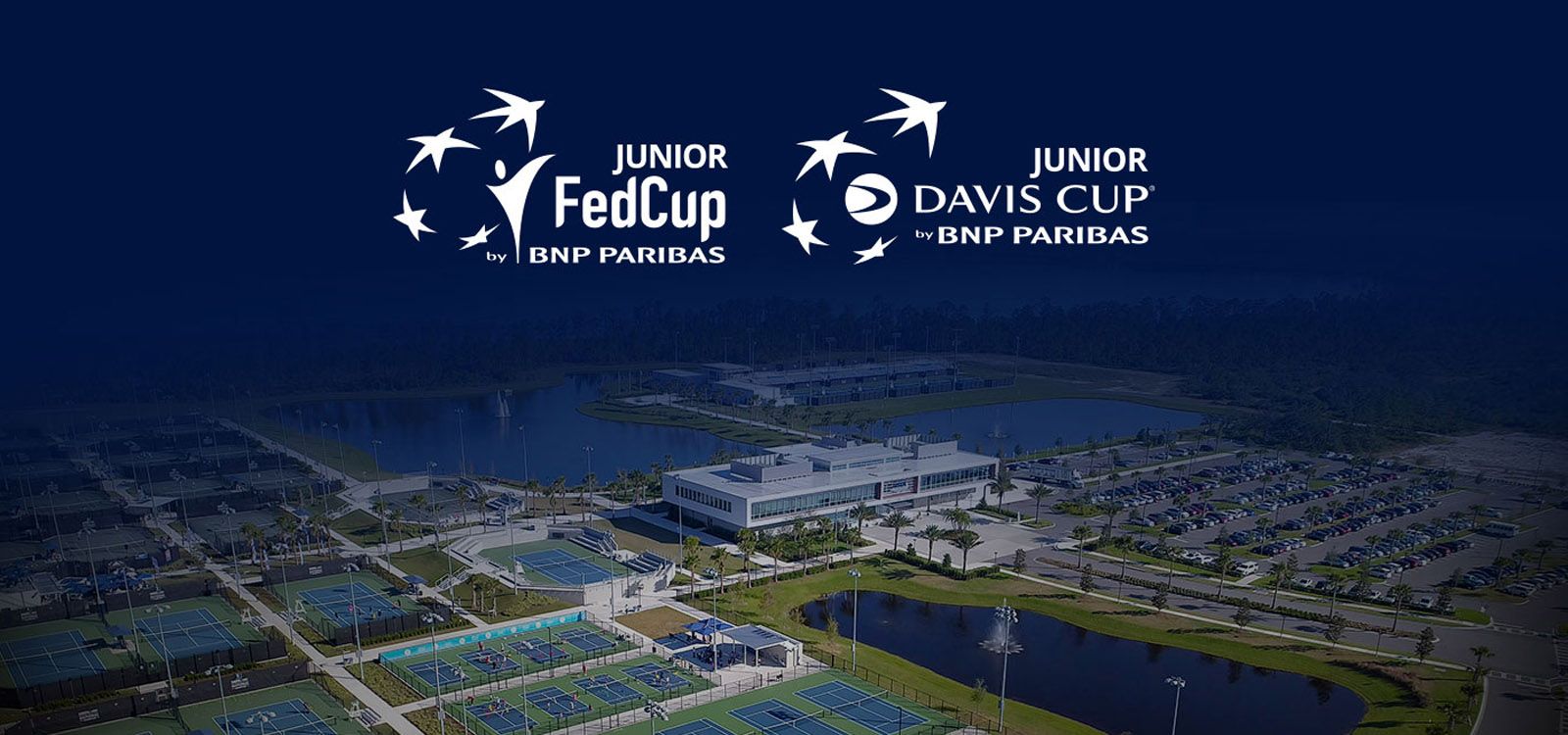 For the first time since 1994, the ITF Junior Davis Cup and Junior Fed Cup Finals by BNP Paribas will take place in the United States. Round robin group play is slated to get underway Tuesday, Sept. 24 and wrap up Thursday, Sept. 26. From there, all nations will move into the knockout stages of the event, which will be contested Friday, Sept. 27-Sunday, Sept. 29.
The Spanish boys' squad and American girls' team headline this year's participants as defending champions. For a scoring overview on all Junior Davis Cup ties, click here. To keep track of all the Junior Fed Cup action, click here.
Below is the complete group play schedule listed by day, along with live stream links for each individual tie.
| Sept. 24 | Round Robin Group | Competing Nations | Final Results |
| --- | --- | --- | --- |
| 11 a.m. | Davis Cup Group A | USA def Canada, 2-1 | Scores |
| 10 a.m. | Davis Cup Group A | Great Britain def Bolivia, 3-0 | Scores |
| 10 a.m. | Davis Cup Group B | France def Syria, 3-0 | Scores |
| 10 a.m. | Davis Cup Group B | Hong Kong def Ukraine, 2-1 | Scores |
| 10 a.m. | Davis Cup Group C | Serbia def Egypt, 2-1 | Scores |
| 10 a.m. | Davis Cup Group C | Paraguay def Australia, 2-1 | Scores |
| 10 a.m. | Davis Cup Group D | Japan def Spain, 2-1 | Scores |
| 10 a.m. | Davis Cup Group D | Czech Republic def Morocco, 2-1 | Scores |
| 10 a.m. | Fed Cup Group A | Russia def Peru, 2-1 | Scores |
| 10 a.m. | Fed Cup Group A | Italy def Chinese Taipei, 3-0 | Scores |
| 10 a.m. | Fed Cup Group B | Czech Republic def France, 2-1 | Scores |
| 10 a.m. | Fed Cup Group B | Argentina def China, 2-1 | Scores |
| 10 a.m. | Fed Cup Group C | Canada def Serbia, 2-1 | Scores |
| 10 a.m. | Fed Cup Group C | Morocco def Germany, 2-1 | Scores |
| 10 a.m. | Fed Cup Group D | USA def Brazil, 3-0 | Scores |
| 10 a.m. | Fed Cup Group D | Thailand def Korea Republic, 3-0 | Scores |
| Sept. 25 | Round Robin Group | Competing Nations | Final Results |
| --- | --- | --- | --- |
| 10 a.m. | Davis Cup Group A | USA def Bolivia, 3-0 | Scores |
| 10 a.m. | Davis Cup Group A | Great Britain def Canada, 3-0 | Scores |
| 10 a.m. | Davis Cup Group B | Hong Kong def Syria, 3-0 | Scores |
| 10 a.m. | Davis Cup Group B | France def Ukraine, 2-1 | Scores |
| 10 a.m. | Davis Cup Group C | Serbia def Australia, 2-1 | Scores |
| 10 a.m. | Davis Cup Group C | Paraguay def Egypt, 2-1 | Scores |
| 10 a.m. | Davis Cup Group D | Spain def Czech Republic, 3-0 | Scores |
| 10 a.m. | Davis Cup Group D | Japan def Morocco, 3-0 | Scores |
| 10 a.m. | Fed Cup Group A | Russia def Chinese Taipei, 3-0 | Scores |
| 10 a.m. | Fed Cup Group A | Italy def Peru, 3-0 | Scores |
| 10 a.m. | Fed Cup Group B | France def Argentina, 3-0 | Scores |
| 10 a.m. | Fed Cup Group B | Czech Republic def China, 3-0 | Scores |
| 10 a.m. | Fed Cup Group C | Germany def Canada, 2-1 | Scores |
| 10 a.m. | Fed Cup Group C | Morocco def Serbia, 2-1 | Scores |
| 11 a.m. | Fed Cup Group D | USA def Korea Republic, 3-0 | Scores |
| 10 a.m. | Fed Cup Group D | Thailand def Brazil, 3-0 | Scores |
| Sept. 26 | Round Robin Group | Competing Nations | Final Results |
| --- | --- | --- | --- |
| 10 a.m. | Davis Cup Group A | Canada def Bolivia, 2-1 | Scores |
| 11 a.m. | Davis Cup Group A | USA def Great Britain, 2-1 | Scores |
| 10 a.m. | Davis Cup Group B | France def Hong Kong, 3-0 | Scores |
| 10 a.m. | Davis Cup Group B | Ukraine def. Syria, 2-1 | Scores |
| 10 a.m. | Davis Cup Group C | Serbia def Paraguay, 3-0 | Scores |
| 10 a.m. | Davis Cup Group C | Australia def Egypt, 2-1 | Scores |
| 10 a.m. | Davis Cup Group D | Japan def Czech Rep., 2-1 | Scores |
| 10 a.m. | Davis Cup Group D | Spain def Morocco, 2-1 | Scores |
| 10 a.m. | Fed Cup Group A | Russia def Italy, 2-0 | Scores |
| 10 a.m. | Fed Cup Group A | Peru def Chinese Taipei, 2-0 | Scores |
| 10 a.m. | Fed Cup Group B | Czech Rep. def Argentina, 2-1 | Scores |
| 10 a.m. | Fed Cup Group B | France def China, 3-0 | Scores |
| 10 a.m. | Fed Cup Group C | Germany def Serbia, 3-0 | Scores |
| 11 a.m. | Fed Cup Group C | Canada def Morocco, 3-0 | Scores |
| 10 a.m. | Fed Cup Group D | USA def Thailand, 3-0 | Scores |
| 10 a.m. | Fed Cup Group D | Korea Rep. def Brazil, 2-1 | Scores |