2019 Spring Break Tennis
Schools from all over the country flock to Orlando for a memorable tennis experience.
Brian Ormiston | February 16, 2019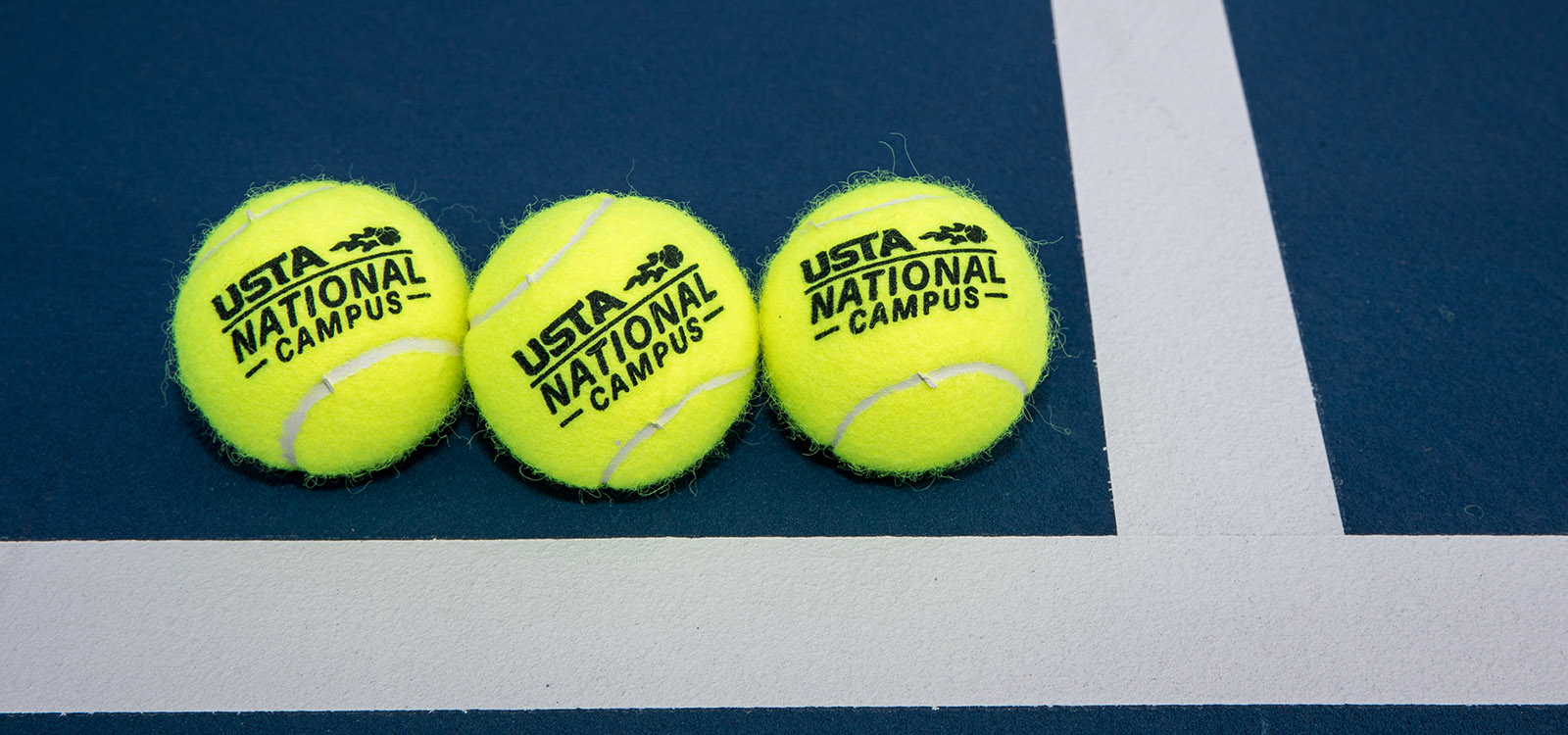 Spring Break Tennis at the USTA National Campus features almost 350 dual-matches this year. For 2019, the schedule opened with some of the best schools in the country squaring off, setting the stage for what is an exciting time for college tennis in Lake Nona.
In the 2018 NCAA Division II Men's Tennis Championship, Columbus State edged Barry to capture the trophy. Those two programs reunited in the first spring break match at the Campus when they stepped onto the court on Feb. 16. Barry's women's squad, meanwhile, conquered the NCAA Division II tournament, and it also clashed with Columbus State on Feb. 16.
For teams looking to play during spring break in future years, email Paul Bellingham - paul@springbreaksports.com.
2019 SPRING BREAK MATCH SCHEDULE
Subject to change. All times Eastern.
2/16 Barry vs. Columbus State (m/w)
2/17 Barry vs. Valdosta State (m/w)
2/22 Oakland vs. Florida A&M (w)
2/24 Augustana vs. Warner (m/w)
Davenport vs. Rollins (m)
Augustana vs. Hanover (m/w)
Bates vs. Rose-Hulman (m)
2/25 Davenport vs. Rose-Hulman (m)
Davenport vs. St. Mary's (w)
Davenport vs. Hanover (m/w)
Rose-Hulman vs. Palm Beach Atlantic (m)
2/26 Augustana vs. Rose-Hulman (m)
St. Mary's vs. Hanover (m/w)
Davenport vs. Augustana (m/w)
Rose-Hulman vs. FIT (m)
2/28 Davenport vs. Southeastern (m/w)
Davenport vs. Keiser (m)
3/1 Birmingham Southern vs. Augustana (m/w)
3/2 Birmingham Southern vs. Clark (m)
Birmingham Southern vs. Davenport (w)
Alvernia vs. Muhlenberg (w)
Birmingham Southern vs. East Carolina (w)
Birmingham Southern vs. Cornerstone (m)
Muhlenberg vs. Seton Hill (w)
3/3 Seton Hill vs. Lee (w)
Georgia Gwinnett vs. Muhlenberg (m)
Penn State Berks vs. Otterbein (m/w)
East Carolina vs. Grand Valley State (w)
East Carolina vs. NC Wesleyan (w)
Georgia Gwinnett vs. ASA Miami (m/w)
Alvernia vs. Cornerstone (w)
Cornerstone vs. St. Francis (m)
3/4 SUNY Oneonta vs. Stonehill (m)
Lee vs. Clark (m)
DeSales vs. Adrian (m/w)
Cornerstone vs. Judson (m/w)
St. Francis vs. Muhlenberg (w)
RPI vs. Adrian (w)
South Dakota vs. Findlay (w)
Chestnut Hill vs. Christian Brothers (m)
DeSales vs. Emerson (m/w)
Carthage vs. Otterbein (m/w)
East Carolina vs. Saginaw Valley (w)
St. Francis vs. Assumption (m)
Minnesota St. Moorhead vs. Grand Valley State (w)
Adrian vs. Wabash (m)
Kings vs. Trine (m/w)
3/5 Regis vs. Penn State Berks (m/w)
Cardinal Stritch vs. Indiana Wesleyan (m)
Cornerstone vs. St. Francis (w)
Emerson vs. Alvernia (w)
Hampton vs. Appalchian State (m)
Hampton vs. South Dakota (w)
Cardinal Stritch vs. Indiana Wesleyan (m)
Emerson vs. Otterbein (m)
Penn State Berks vs. DeSales (m/w)
SUNY Oneonta vs. St. Cloud State (w)
Minnesota St. Mankato vs. Georgia Gwinnett (w)
Minnesota St. Moorhead vs. Seton Hill (w)
Grand Valley State vs. Concordia (m/w)
Wentworth vs. Adrian (m/w)
3/6 Seton Hill vs. St. Cloud State (w)
Trine vs. Otterbein (m/w)
SUNY Oneonta vs. Emerson (m/w)
South Dakota vs. Minnesota St. Mankato (w)
St. John's vs. Stonehill (m/w)
Wentworth Tech vs. DeSales (m/w)
Assumption vs. Findlay (m)
Concordia (NY) vs. Findlay (w)
Kings vs. Cornerstone (m/w)
SUNY Oneonta vs. Wabash (m)
SUNY Oneonta vs. Otterbein (w)
3/7 Otterbein vs. Midway (m/w)
North Carolina Wesleyan vs. RPI (w)
Assumption vs. Chestnut Hill (m)
St. Cloud State vs. Southern Indiana (w)
Cardinal Stritch vs. Georgia Gwinnett (m/w)
Appalachian State vs. Valparaiso (m)
North Carolina Wesleyan vs. Minnesota State Mankato (w)
RPI vs. Cedarville (w)
Missouri Western vs. Minnesota St. Moorhead (w)
Concordia (NY) vs. Grand Valley State (m/w)
Stonehill vs. Cedarville (m)
Cedarville vs. St. Francis (w)
Midway vs. Judson (m/w)
Coe vs. Kenyon (m/w)
Adrian vs. Concordia (NY) (m/w)
3/8 Cedarville vs. St. Anselm (m/w)
Minnesota St. Moorhead vs. RPI (w)
Hampton vs. Norfolk State (m/w)
Otterbein vs. University of Mary (w)
Concordia (NY) vs. Flagler (m/w)
RPI vs. Scranton (w)
Regis vs. Piedmont (m/w)
3/9 Belhaven vs. Piedmont (m/w)
Scranton vs. Case Western (m)
Valparaiso vs. Northern Illinois (m)
Wayne State vs. Keiser (w)
Amherst vs. Kenyon (w)
Carnegie Mellon vs. Case Western (m)
Swarthmore vs. Carnegie Mellon (w)
Kenyon vs. Washington St. Louis (m)
3/10 North Georgia vs. Northwood (m/w)
Scranton vs. Roosevelt (m)
Transylvania vs. Piedmont (m/w)
Roosevelt vs. Minnesota Crookston (w)
Millsaps vs. Washington St. Louis (m)
Wesleyan vs. Kenyon (m/w)
Northern Illinois vs. Youngstown State (m)
Bloomsburg vs. Shippensburg (w)
Carnegie Mellon vs. Dickinson (w)
Aquinas vs. Case Western (w)
St. Scholastica vs. Francescan-Stubenville (m/w)
Hillsdale vs. Millersville (m)
3/11 Amherst vs. Kenyon (m)
Missouri Western vs. Minnesota Crookston (w)
Texas at Tyler vs. Shippensburg (w)
Texas at Tyler vs. Howard (m)
Amherst vs. Carnegie Mellon (w)
Washington St. Louis vs. Carnegie Mellon (m)
Washington St. Louis vs. Wesleyan (w)
Wayne State vs. Nova Southeastern (w)
Wesleyan vs. Trinity (m)
Lees McRae vs. Navy (w)
Seton Hall vs. Bucknell (w)
Texas at Tyler vs. Providence (w)
Wayne State vs. Lees McRae (m)
Bentley vs. Ithaca (m)
Bloomsburg vs. Immaculata (w)
Aquinas vs. Our Lady of the Lake (m)
Howard vs. St. Josephs (w)
Millsaps vs. Franklin & Marshall (m/w)
Carnegie Mellon vs. Shippensburg (w)
Case Western vs. Millsaps (m/w)
Winona State vs. Mount Holyoke (w)
St. Scholastica vs. Oglethorpe (m/w)
3/12 Augustana vs. Belhaven (m)
Bloomsburg vs. Bentley (m/w)
Mount Holyoke vs. Scranton (w)
Roosevelt vs. Marywood (w)
Susquehanna vs. Curry (w)
Carnegie Mellon vs. Amherst (m)
Creighton vs. Providence (w)
North Dakota vs. Samford (m)
Mount Holyoke vs. Lees McRae (w)
Creighton vs. Youngstown State (m)
North Georgia vs. Texas at Tyler (m/w)
Marywood vs. Northwestern St. Paul (w)
Ohio Wesleyan vs. Austin (m/w)
Sioux Falls vs. Texas at Tyler (w)
Washington St. Louis vs. Amherst (w)
Charleston vs. Augustana (w)
Morningside vs. Belhaven (w)
Northwestern St. Paul vs. Morningside (m)
3/13 Hillsdale vs. Our Lady of the Lake (m)
Southwestern vs. Aquinas (m/w)
Swarthmore vs. Millsaps (w)
St. Scholastica vs. Curry (m/w)
Amherst vs. Case Western (w)
Bucknell vs. Northern Illinois (w)
Seton Hall vs. Creighton (w)
Washington St. Louis vs. Kenyon (w)
Augustana vs. Embry Riddle (m/w)
Southwestern vs. Warner (m/w)
St. Josephs vs. Creighton (m)
Bucknell vs. Howard (w)
Case Western vs. Kenyon (m)
Western Carolina vs. UNC Wilmington (w)
Carnegie Mellon vs. Wesleyan (m/w)
Case Western vs. Austin (w)
Franciscan Steubenville vs. Marywood (w)
Franciscan Steubenville vs. Susquehanna (m)
3/14 Immaculata vs. Susquehanna (w)
Susquehanna vs. Northwestern St. Paul (m)
Charleston vs. Texas A&M Kingsville (w)
Northwestern St. Paul vs. Mount Holyoke (w)
Bloomsburg vs. Ithaca (m/w)
Creighton vs. Xavier (m/w)
St. Ambrose vs. Wisconsin Superior (m/w)
Rockhurst vs. St. Leo (m/w)
Scranton vs. Dickinson (w)
Merrimack vs. St. Josephs (m)
Ursinus vs. Marywood (w)
Ohio Wesleyan vs. Millsaps (m/w)
3/15 Case Western vs. Amherst (m)
Hampden Sydney vs. Scranton (m)
Mount Holyoke vs. Sioux Falls (w)
Transylvania vs. Northwestern St. Paul (m/w)
Case Western vs. Dickinson (m)
Millersville vs. Northwood (m/w)
Seton Hall vs. Xavier (w)
Pikeville vs. Wisconsin Superior (m/w)
Fairleigh Dickinson vs. St. Josephs (m/w)
Rockhurst vs. Hampden Sydney (m)
Rockhurst vs. Xavier (w)
Lawrence vs. Susquehanna (m)
Trinity vs. Kenyon (m)
3/17 Bethel vs. Colorado College (m/w)
St. Lawrence vs. North Central College (m/w)
3/18 Fordham vs. Oral Roberts (w)
New Haven vs. Denison (w)
Bethel vs. Calvin (w)
Springfield vs. Concordia (WI) (m/w)
Bethel vs. Illinois Tech (m)
St. Lawrence vs. Colorado College (m/w)
New Haven vs. Oral Roberts (w)
Calvin vs. Keiser (m)
Colorado College vs. Illinois Tech (w)
Colorado College vs. Hamline (m)
Grinnell vs. Goucher (m)
Western New England vs. North Central (m)
North Central vs. Concordia (WI) (w)
3/19 Bethel vs. Hope (m/w)
Concordia (WI) vs. Hamline (m/w)
Lawrence vs. Calvin (m)
Oral Roberts vs. Denison (w)
Calvin vs. Goucher (w)
Concordia (WI) vs. Grinnell (m)
Goucher vs. Hope (m)
Illinois Tech vs. Wisconsin Superior (m/w)
Calvin vs. Grinnell (w)
Goucher vs. Stevens Inst. of Tech (m)
Hope vs. New Haven (w)
Lawrence vs. Western New England (m)
3/20 Colorado College vs. Hamilton (m)
Stevens Inst of Tech vs. St. Lawrence (w)
Goucher vs. SUNY New Paltz (w)
Springfield vs. Hamline (m/w)
Stevens Inst of Tech vs. Grinnell (m)
Grinnell vs. Colorado College (w)
Hamilton vs. Illinois Tech (m/w)
St. Lawrence vs. Bethel (m/w)
Fordham vs. Hope (w)
3/21 Wisconsin Superior vs. Denison (w)
Concordia (WI) vs. Wisconsin Superior (m)
Bethel vs. Concordia (WI) (w)
St. Lawrence vs. Illinois Tech (m)
Hamilton vs. Bethel (m/w)
Hamline vs. Goucher (m)
Grinnell vs. Colorado College (m)
Concordia (WI) vs. Grinnell (w)
Concordia (WI) vs. Western New England (m)
Western New England vs. Hamline (w)
Pacific vs. William Smith (w)
Luther vs. Stevens Inst of Tech (m/w)
Colorado College vs. Hamilton (w)
Springfield vs. Wisconsin Superior (m/w)
College of Charleston vs. Hope (m)
3/22 Brooklyn vs. Hamilton (m)
George Fox vs. St. Lawrence (w)
Wellesley vs. Denison (w)
Pacific vs. New Haven (w)
Brooklyn vs. Calvin (m)
Calvin vs. Luther (m/w)
3/23 Luther vs. Hope (m)
3/24 Wisconsin Oshkosh vs. Pacific (w)
3/25 Luther vs. Pacific (w)
St. Olaf vs. George Fox (w)
Hamilton vs. Whitworth (m/w)
Luther vs. George Fox (w)
Wisconsin Oshkosh vs. Wellesley (w)
3/26 George Fox vs. Wisconsin Oshkosh (w)
Pacific vs. Wellesley (w)
Whitworth vs. Luther (m/w)
St. Olaf vs. Wisconsin Oshkosh (w)
Luther vs. Huntingdon (m)
3/27 St. Olaf vs. Whitworth (w)
Whitworth vs. Huntingdon (m)
3/28 St. Olaf vs. Wisconsin Oshkosh (w)
4/2 Azusa Pacific vs. St. Leo (m)
4/8 Barry vs. West Florida (w)