Buckeyes In a Thriller
Ohio State claims College MatchDay over Florida State, 4-3.
Brian Ormiston | March 1, 2020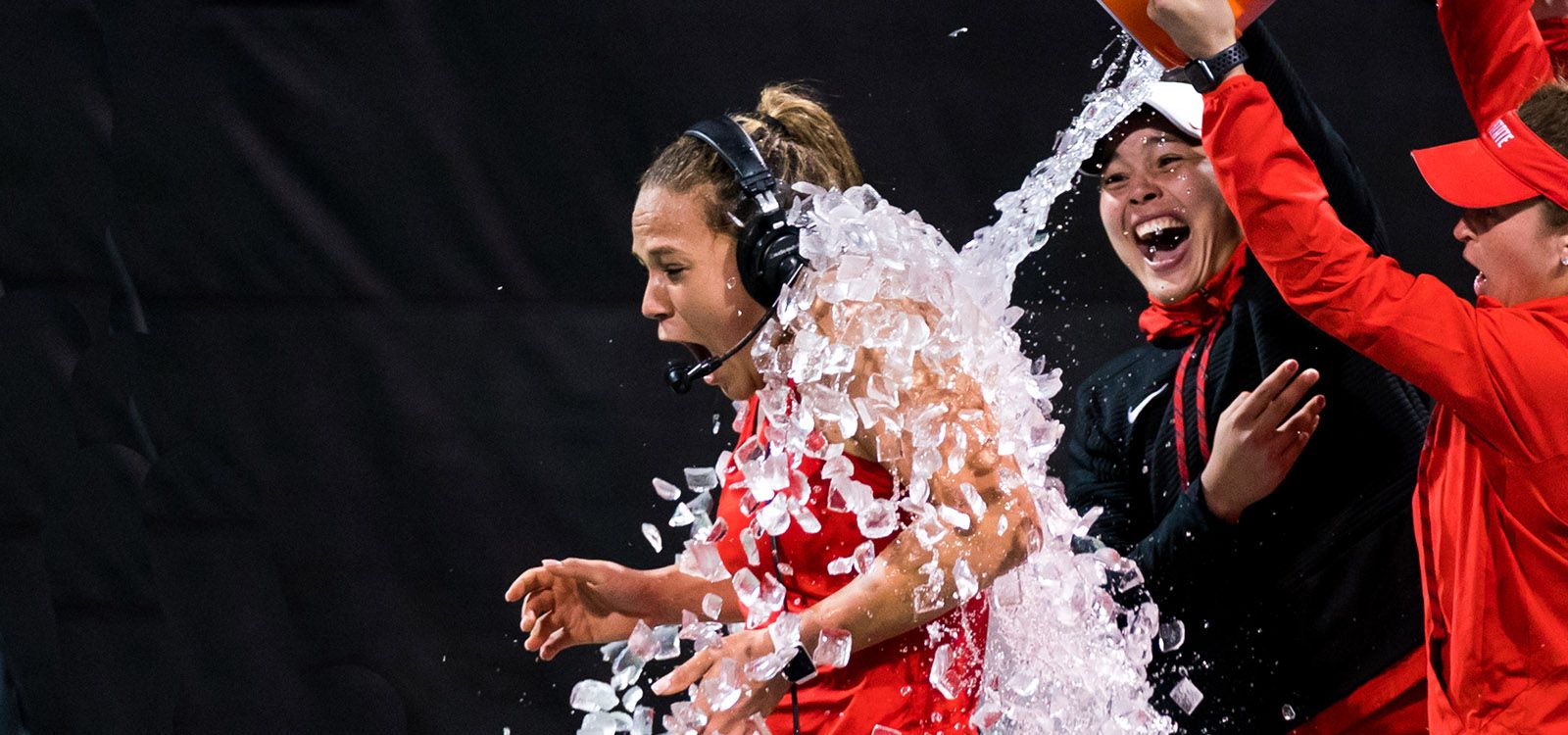 Two of the best women's programs in the country collided on March 1 to wrap up College MatchDay in 2020. It proved to be one of the most exhilarating MatchDays in series history with No. 5/10 Ohio State edging No. 2/6 Florida State, 4-3, in front of a national audience on Tennis Channel.
With an attendance of 937, the two programs enjoyed the seventh-largest regular-season crowd for a women's-only match in the entire country (since 1995). It also was the second-largest crowd for a women's College MatchDay event in series history.
"That was an unbelievable college tennis match," said Ohio State head coach Melissa Schaub. "It was everything you'd want leading up to a match like this and it was a great finish. And Buckeye Nation was everywhere; they help us wherever we go. The fan support was amazing and this was something we will never forget.
"For us to get outside for a couple of days and to win a match like this, it shows a lot about our players and their character. I'm really proud of how we handled the situation. On top of that, we had TV and the crowd, and that's not something that we have every day. Win or lose, this makes you stronger. We are going to be better in the long run because of tonight."
As expected, the doubles point turned into a heart-pounding affair. After each school split victories at the No. 1 and No. 2 positions, the No. 3 spot went into a tiebreaker where the Seminoles (12-3) captured the 1-0 lead over the Buckeyes (8-3).
That advantage was short-lived, though, as the Buckeyes stormed out of the gate at No. 1 and No. 2 singles, picking up straight-set wins at each position to jump ahead, 2-1. FSU returned the favor with victories at No. 5 and No. 3, only to witness OSU even things again with a win at the sixth spot.
All eyes turned to No. 4, where FSU's Sasha Hill had four match points earlier in the contest when she was serving 6-4, 5-4, 40-Love. However, OSU's Kolie Allen battled back from the brink to take it to a tiebreaker where she then fell behind 5-2. The Illinois native did not give up again, winning the next five points to send it to a deciding set.
In the third, Allen secured a 5-2 cushion, but Hill desired a comeback of her own and tied it at 5-5. That was as close as the Seminoles would get though, and the Ohio State sophomore notched the last two games to send the Buckeyes into a frenzy.
Although the 2020 College MatchDay schedule has concluded, the facility hosts more than 300 college teams for Spring Break Tennis and the USTA's National Campus Collegiate Series this season. Visit USTANationalCampus.com for more information.
No. 5/10 Ohio State def. No. 2/6 Florida State, 4-3
Doubles
No. 1 Victoria Allen / Petra Hule (FSU) def. Kolie Allen / Irina Cantos (OSU) 6-4
No. 2 Shiori Fukuda / Luna Dormet (OSU) def. Nandini Das / Andrea Garcia (FSU) 6-4
No. 3 Emmanuelle Salas / Sasha Hill (FSU) def. Isabelle Boulais / Danielle Wolf (OSU) 7-6(2)
Order of Finish: 1, 2, 3
Singles
No. 1 Shiori Fukuda (OSU) def. Emmanuelle Salas (FSU) 6-3, 6-1
No. 2 Danielle Wolf (OSU) def. Petra Hule (FSU) 6-3, 6-2
No. 3 Nandini Das (FSU) def. Isabelle Boulais (OSU) 6-4, 6-3
No. 4 Kolie Allen (OSU) def. Sasha Hill (FSU) 4-6, 7-6(5), 7-5
No. 5 Victoria Allen (FSU) def. Irina Cantos (OSU) 6-4, 6-4
No. 6 Lunda Dormet (OSU) def. Andrea Garcia (FSU) 7-5, 6-3
Order of Finish: 1, 2, 5, 3, 6, 4
2020 College MatchDay
Feb. 1 – Florida def. Florida State, 4-1 – Men
Feb. 15 – Notre Dame def. USC, 4-3 – Women
March 1 – Ohio State def. Florida State, 4-3 – Women
*All Times Eastern and Subject to Change