USTA League National Adult 65 & Over 7.0/9.0 Invitational
Four Champions, Four Sections
February 10, 2020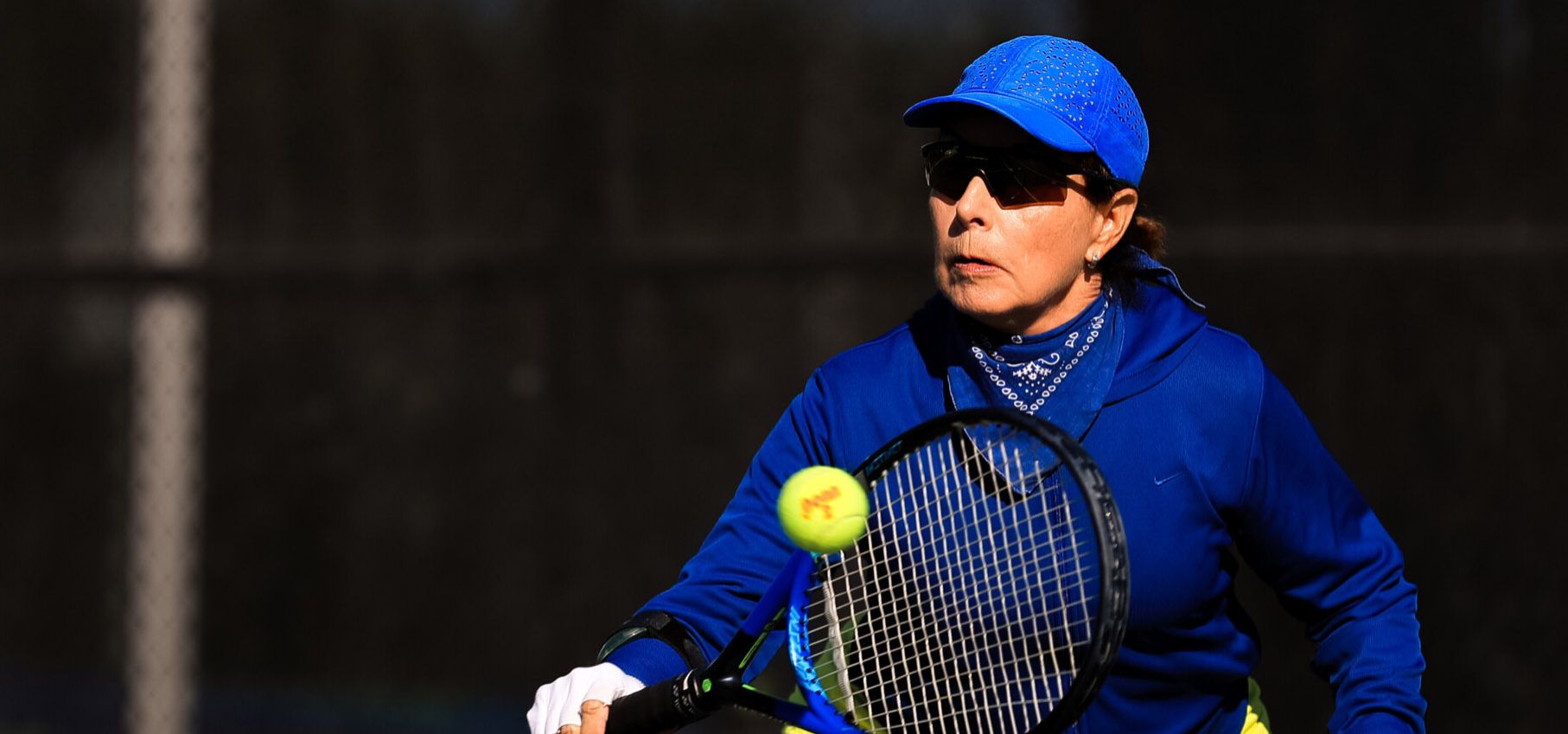 Sunday saw four squads crowned champions at the USTA League National 65 & Over 7.0/9.0 Invitational, held at the USTA National Campus. Just as with the 6.0/8.0 Invitational, four different USTA Sections were represented among the divisional winners.
Taking home the team titles were the New England (Willy's Gym – North Eastham, Mass.) 7.0 men, the Southern (Independent – Lafayette, La.) 7.0 women, the Middle States (Independent – Manasquan, N.J.) 9.0 men, and the Pacific Northwest (Independent – Northern Ore.) 9.0 women.
Kicking off the morning in semifinal action, New England swept aside Florida (Glenview Champions Tennis Club – The Villages) and Middles States (Community Park Tennis Complex – Princeton, N.J.) defeated Southern (Clarke Oconee Tennis Association – Ga.) two courts to one. New England dropped just five games at the top two spots to easily clinch the win over Florida, as Jim Bisceglia and David Kenney took court one 6-1, 6-0 while teammates Peter Weinman and Chad Small claimed line two 6-1, 6-3. For Middle States, they received a quick 6-2, 6-2 result from Gary Miller and David Arthur at the third spot to go with Thomas Benfer and Mark Cucuzella battling to prevail 6-4, 6-4 at line one.
The championship dual was marred by a retirement on court two, where Weinman and Small were trailing by 4-2 before Benfer and Cucuzella were forced to stop due to injury. Miller and Arthur came through 7-5, 6-3 at the top spot for Middle States; however, it would not be enough thanks to the New England duo of David Bernstein and Gerald Haigh outlasting Bruce Humphreys and Michael Slebodnik 6-4, 5-7, 1-0 on court three to capture the crown.
Captained by Bisceglia, the complete New England roster includes Henry Brehm, Bernstein, Harland Robinson, Weinman, Haigh, John Gauthier, Bill Dugan, Doug Grover, Thomas Latanzi, Kenney, Russel Sandblom, and Small.
Both 7.0 women's semifinals ended with 2-1 score lines, as Southern took down Southwest (Himmel Tennis Center – Tucson, Ariz.) and Middle States (Hershey Country Club – Hershey, Pa.) defeated Florida (Boone Park Tennis Courts – Jacksonville). Southern's top two pairing propelled them into the final; Julie Conner and Mickie Ainsworth won court one 6-3, 6-3 while Joan Lalande and Kitty Prejean narrowly avoided a match tiebreak in their 6-3, 7-5 victory at line two. Middle States faced a much tougher path in upsetting top-seeded Florida, who cruised 6-4, 6-0 on court one. That put the pressure on the remaining Middle States tandems. Sue Myers and Rachel Spease delivered with a 6-3, 6-3 effort on court three, which set the stage for the 4-6, 6-3, 1-0 comeback put together by Beverly Paine and Mary Chodroff at the second position.
A match tiebreak was also needed to determine the champion. Conner and Ainsworth stayed at line one for Southern, once again coming through for their squad, this time by a 7-5, 6-2 margin. Paine and Chodroff, the semifinal heroes for Middle States, also turned in another winning effort on court two, taking the matchup 6-3, 6-4. After Southern lost the third position earlier in the morning, it would be the pairing of Annette Arton and Margaret Fontenot delivering in the clutch for the crew; Arton and Fontenot rallied from a set down to get past Spease and Myers 3-6, 6-3, 1-0.
Laura Brown's full Southern roster is made up of Lalande, Fontenot, Prejean, Sheila Lopez, Conner, Toni Benoit, Ainsworth, and Arton.
Headlining the men's 9.0 semifinal results was Northern California (McInnis Park – San Rafael), which went 1-3 in flight play, stunning top-seeded and previously unbeaten Pacific Northwest (Independent – Yakima, Wash.) by a 2-1 margin. Despite Pacific Northwest prevailing in the dual's lone match tiebreak on court two, Northern California received victories by identical 7-6, 6-3, score lines at the other two spots to move on; Douglas Sullivan and Geoff Cykman teamed up to win at line one while Daniel Grossman and Michael Dozier came through on court three.
In the other semifinal, all three courts were pushed to a match tiebreak before Middles States (Manasquan, N.J.) bested Eastern (Independent – Westchester/Rockland, N.Y.) two courts to one. Each of the six set was decided by just one break or in a tiebreak, with Middle States collecting lines one and two for the win. George Loesch and Janos Latura fought their way to a 7-5, 6-7, 1-0 score line at the top spot; Dennis Ranalli and Richard Murray battled back on court two, 5-7, 6-4, 1-0.
Middle States was able to put an end to the unlikely run of Northern California in the final. Ranalli and Murray stepped back out to compete at the second spot again, finding victory much easier this time out in the form of a 6-4, 6-2 result. Teammates Rich Sahlman and Ivan Harlow helped seal the championship thanks to their 7-5, 6-3 victory at the third spot. With the trophy in hand, Middle States retired on court one to set the overall margin at 2-1 in their favor.
Captained by James Cappiello, the Middle States squad includes Ranalli, Harlow, Latura, Bruce Humphreys, Sahlman, Murray, Bill Ide, P Estes, Loesch, and Jerry Beck.
The Pacific Northwest 9.0 women got their day started by sweeping New England (The Edge at South Burlington – South Burlington, Vt.) while Southern (Independent – Birmingham, Ala.) took down Southern California (Westin Mission Hills – Rancho Mirage). Despite the final margin being 3-0, two courts split sets while the third was a tight 7-6, 6-3 result; however, they would all end up going the way of Pacific Northwest. The matchup between Southern and Southern California was even tighter, with the trio of contests ending in a match tiebreak, as the Southern team managed to win on courts one and three.
Line one would prove to be the decider in the championship. Southern's Susie Peiffer and Janel McGinley breezed through line three 6-0, 6-1 while Pacific Northwest received a close 6-4, 6-4 victory from Yumiko Pike and Mary Kurz at the second spot. With all of the focus on line one, Mary Anderson and Janet Tabor held the momentum for Pacific Northwest after the first set, only to give it right back to Laura Fuller and Leila Rowan. Ultimately, Anderson and Tabor produced for their team in the form of a 6-2, 2-6, 1-0 triumph.
The Pacific Northwest group features captain Gay Hart along with Pike, Kurz, Tabor, Barbara Kinloch, Gail Patton, Susan Morrison, and Anderson.
Rebounding to claim third place were the Southern men and Florida women for the 7.0 divisions along with the Eastern men and Southern California women for the 9.0 competitions.
For complete results from the USTA League National Adult 65 & Over 7.0/9.0 Invitational, click here.