2019 USTA Boys' 12s National Clay Court Championships

Chunduru Keeps Hopes of Sweep Alive
July 18, 2019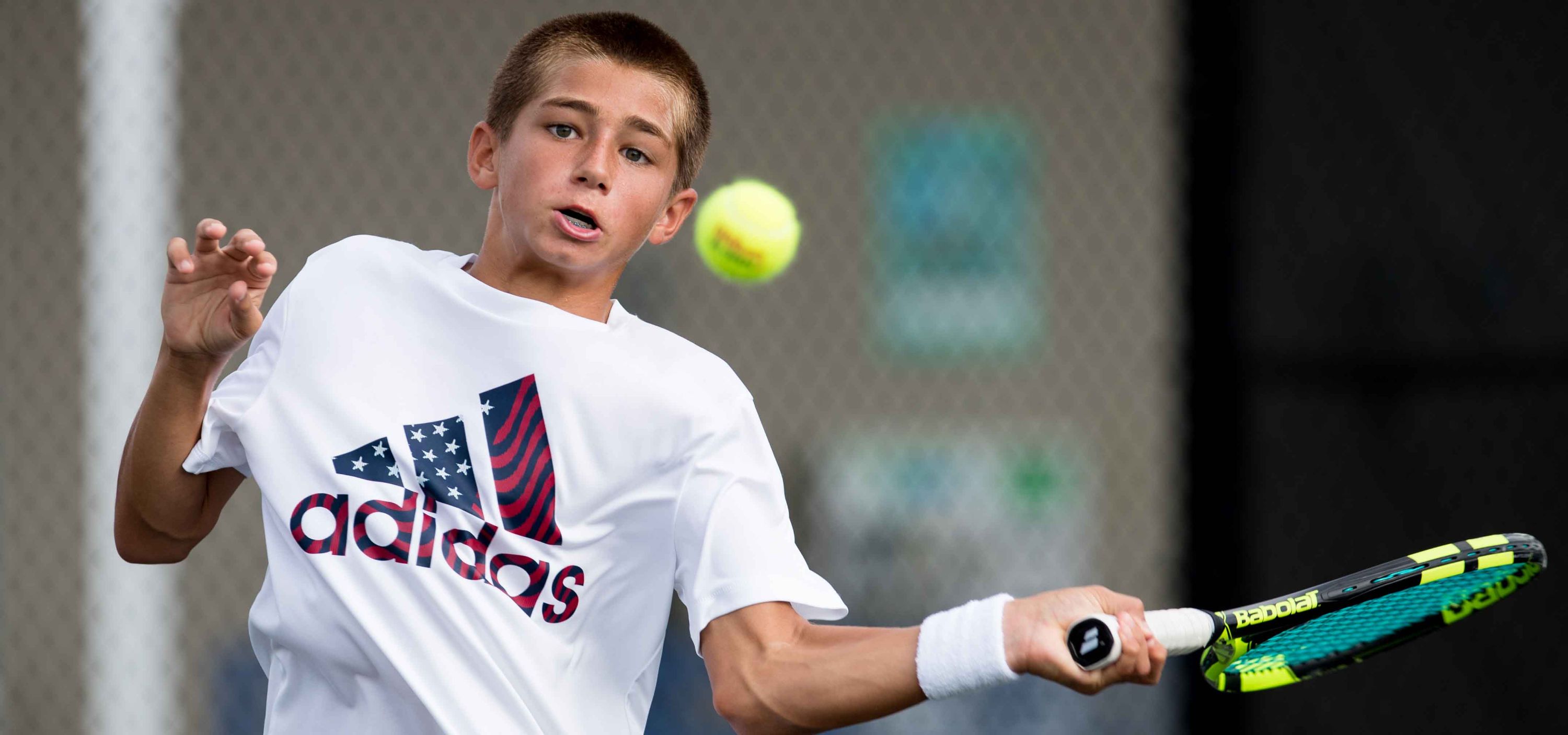 The fifth day of the 2019 USTA Boys' 12s National Clay Court Championships, presented by adidas, wrapped up Thursday evening at the USTA National Campus. Amongst the results was Abhinav Chunduru (Plano, Texas) keeping his hopes of capturing the Gold Ball in singles and doubles alive plus Maxwell Exsted (Savage, Minn.) putting himself just one win away from repeating as the doubles champion at the event.
First to lock up a spot in the final four was No. 12 Maximus Dussault (Leesburg, Va.), who broke three times in each of the two sets to defeat fifth-seeded A Filer (South Bend, Ind.) 6-4, 6-1. A day after upsetting the top seed, Dussault came out firing on all cylinders, racing out to a 4-0 lead. Filer did manage to get the set back on serve at 5-4, only to be broken at love. Dussault also took the first four games of the second frame, this time keeping all momentum on his side to easily close out the win.
In a back-and-forth contest, No. 4 Abhinav Chunduru managed to overcome seventh seed Jagger Leach (Laguna Beach, Calif.) by a 7-5, 6-3 score line. Leach actually held leads in both sets, including breaking to open the match. After Chunduru leveled the score at 2-2, the player turned in four consecutive holds before Leach earned a seemingly crucial break to serve for the set; however, he failed to capitalize, letting a set point slip away and eventually losing the final three games in the frame. Leach inched ahead by breaking in the fifth game of the second set, only to be broken back immediately. From there it was all Chunduru, who gathered an insurance break before serving out the win on his second match point.
A marathon first set highlighted the matchup between No. 2 Maxwell Exsted and eighth-seeded Roman Sancilio (Henrico, Va.), eventually taken by Sancilio 7-5, 6-2. Exsted's consistent game looked to be taking over midway through the first set when he staked himself out to a 4-1 lead; however, Sancilio rallied to pull even at 4-4. A missed opportunity by Exsted at 5-5 opened the door for Sancilio, who broke and efficiently served the set out at love. In the second, Exsted dug himself too deep a hole to climb out of despite his best efforts thanks to consecutive breaks against him. Sancilio was still made to work for every point, as he needed five match points to finally cross the finish line.
The last quarterfinal victor off the court was No. 3 Abhishek Thorat (Lithia, Fla.), who claimed the lone three set encounter by downing sixth seeded Cassius Chinlund (Los Angeles) 2-6, 7-5, 6-0. An exchange of breaks early on put the score at 2-2, with Chinlund seizing control to cruise to a one set advantage. Thorat immediately broke to begin set two, but could not maintain his lead. The turning point came with Chinlund leading 4-3 in the second, as Thorat managed to fend off a break point to hold. Then, at 5-5, he broke at love to propel himself to grab the set. In the decisive third, Thorat needed just 26 minutes for the win, surrendering just four points.
For the first time this week, No. 1 seeds Exsted and Cooper Woestendick (Olathe, Kan.) found themselves locked in a tight battle, clashing with the third-seeded pairing of Andrew Ena (Rego Park, N.Y.) and Mark Krupkin (Millburn, N.J.). Exsted and Woestendick played from behind the entire first set after dropping serve in the first game of the contest. The top seeds were able to earn two breaks of their own, only to give it right back, as Ena and Krupkin took the set 6-4. After the No. 3 seeds broke in game one of the second frame, the match took an inexplicable turn; Exsted and Woestendick reeled off eight consecutive games, losing only 11 points in the process. A hold by Krupkin momentarily kept the final result hanging in the balance, but it was short-lived as Exsted and Woestendick won going away 4-6, 6-1, 6-1.
Abhinav teamed up with twin brother Prathinav, the tournament's No. 2 seeds, to defeat the fourth-seeded tandem of Blake Hilsen (Cumming, Ga.) and Sancilio 7-6(5), 1-6, 6-1. The first set featured just two breaks, as the Chundurus saw a 4-1 advantage dissolve. Hilsen and Sancilio successfully held when trailing 5-4 and 6-5 to force a tiebreak, where a four points to love deficit was too much to overcome. The No. 4 seeds did not go away quietly, managing to break the Chundurus three times in the second frame to earn the split. Three holds got the decider going before Abhinav and Prathinav collected the crucial break for 3-1.
Friday's matches are set to begin at 8 a.m. The singles semifinals will take to the courts at 9:30 a.m. with the doubles final and third-place playoff scheduled for 1 p.m. For complete results and upcoming match times from the 2019 USTA Boys' 12s National Clay Court Championships, click here.