Florida State wins a
COLLEGE MATCHDAY THRILLER
Brian Ormiston | March 10, 2017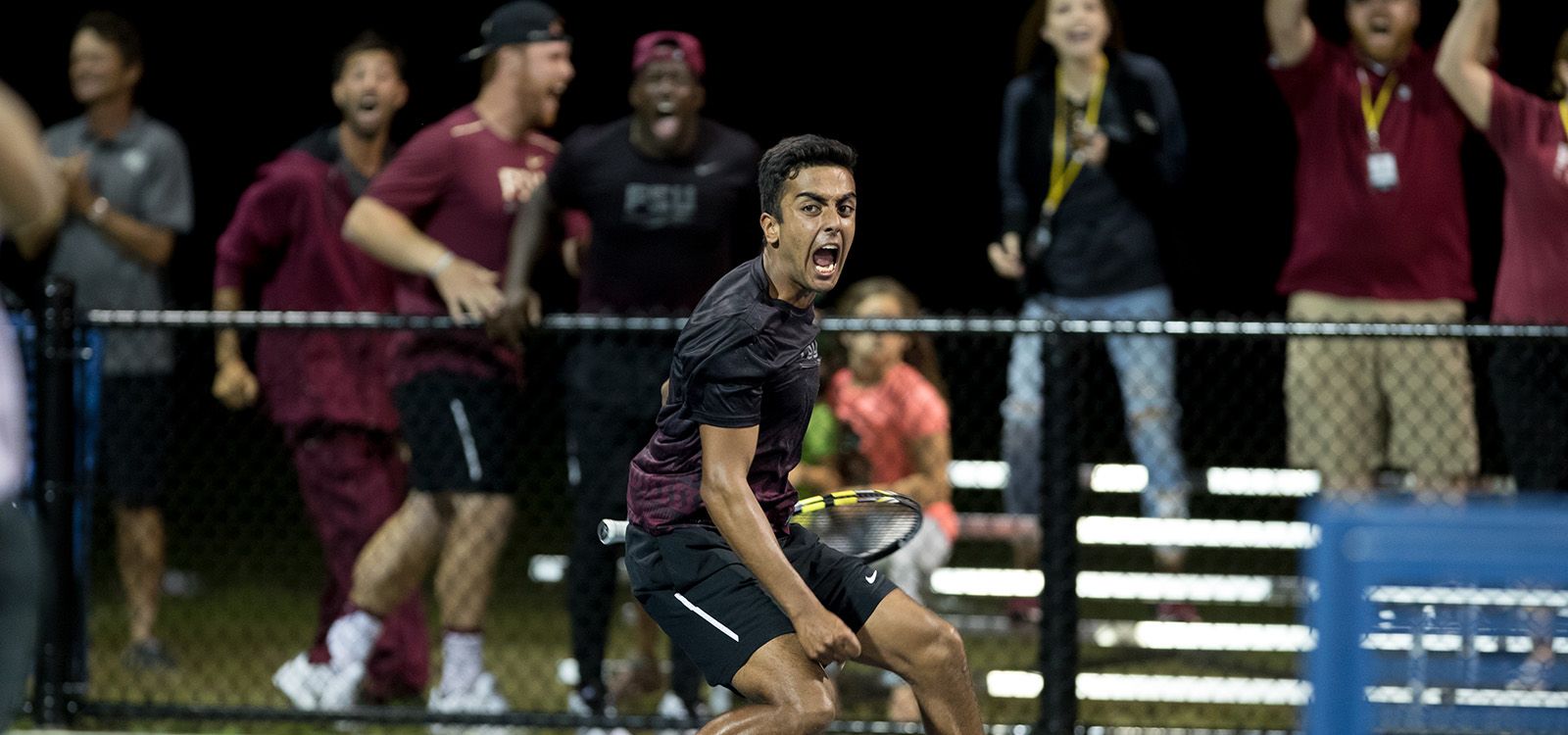 One of the largest crowds of the year in college tennis swarmed the USTA National Campus on Friday to experience an electric atmosphere for College MatchDay.
With 1,756 fans packing the collegiate complex, Florida State shocked No. 11 Florida, 4-2, for the Seminoles' first victory over the Gators since 2007.
"What we've done here at the National Campus and College MatchDay, I think they're going to have to build more stands," said FSU head coach Dwayne Hultquist. "These 1,700 fans are coming back next year, so for us to play here was an unbelievable experience. College tennis is going to take off."
From live music to school-inspired drinks, fans from both schools took part in some tailgating before the match. That included Florida (8-6) and Florida State (10-4) bringing down waves of supporters from both Gainesville and Tallahassee.
It was clear the teams fed off the energy. As doubles kicked off, FSU took control. The Seminoles grabbed the first victory at the No. 2 position when Lucas Poullain and Jose Gracia topped Maxx Lipman and Elliott Orkin, 6-3. They secured the first overall team point when Terrane Whitehurst and Terrell Whitehurst edged Joshua Wardell and Chase Perez-Blanco at No. 3, 7-5. The Whitehurst duo fell behind 5-2 in the match and faced match point at 5-4 before pulling off the comeback.
Singles proved to be a dramatic affair, with momentum shifts all over the collegiate complex. Florida tied it up at 1-1 on a 6-3, 6-3 victory by Perez-Blanco over Poullain at the No. 3 spot. FSU regained the lead with a straight-set 6-4, 6-3 decision by Aziz Dougaz against Alfredo Perez. The Gators, however, answered with a 7-6, 6-2 victory when Orkin defeated Guy Iradukunda at No. 3.
All square at 2-2, the remaining three matches were all on serve deep in their respective third sets. Rana-Roop Singh Bhullar put FSU back on top thanks to a 6-4, 3-6, 6-4 win at No. 6 against Jordan Belga. On the No. 4 court, with Johannes Ingildsen serving at 5-6, Gracia broke to seal Florida State's thrilling win over its rival. His 3-6, 7-5, 7-5 triumph sparked the first Gatorade bath in USTA National Campus history.
"We've played them closely so many times," said Hultquist. "We had match points a couple years ago to win, so it's been a series where they've won a lot of close matches. Today was a day where it was an attitude match. When we didn't have things go our way, we fought back. I really felt like we just wouldn't go away. Our team is pretty young with experience, and we've been close. We almost beat Mississippi State, we almost beat Texas A&M. So it was a matter of us putting it all together. I'm proud of how they competed."
College MatchDay at the USTA National Campus will come to a close this season when two of the best women's programs in the country go head-to-head on Tuesday, March 14, at 6 p.m. ET. No. 1 Florida, with four singles players ranked in the ITA Top 25, will square off against No. 3 Ohio State and the top college player in the nation, Francesca Di Lorenzo.
Festivities begin at 4 p.m., and the free kids' clinic gets underway at 4:45 p.m. RSVP for free admission by visiting CollegeMatchDay2017.com.
All matches air on ESPN3 through WatchESPN and the ESPN app.
Florida State 4, No. 11 Florida 2

Doubles
No. 1 Aziz Dougaz / Guy Iradukunda (FSU) vs. Alfredo Perez / Johannes Ingildsen (UF) 5-4 (unfinished)
No. 2 Lucas Poullain / Jose Gracia (FSU) def. Maxx Lipman / Elliott Orkin (UF) 6-3
No. 3 Terrance Whitehurst / Terrell Whitehurst (FSU) def. Joshua Wardell / Chase Perez-Blanco (UF) 7-5
Order of Finish: 2, 3
Singles
No. 1 Aziz Dougaz (FSU) def. Alfredo Perez (UF) 6-4, 6-3
No. 2 Elliott Orkin (UF) def. Guy Iradukunda (FSU) 7-6, 6-2
No. 3 Chase Perez-Blanco (UF) def. Lucas Poullain (FSU) 6-3, 6-3
No. 4 Jose Gracia (FSU) def. Johannes Ingildsen (UF) 3-6, 7-5, 7-5
No. 5 Terrance Whitehurst (FSU) vs. Maxx Lipman (UF) 6-4, 3-6, 4-3 (unfinished)
No. 6 Rana-Roop Singh Bhullar (FSU) def. Jordan Belga (UF) 6-4, 3-6, 6-4
Order of Finish: 3, 1, 2, 6, 4
2017 College MatchDay Series at the USTA National Campus
Jan. 21 – Michigan 4, Alabama 0 (men)
Feb. 3 – North Carolina 4, Texas Tech 0 (women)
Feb. 17 – Stanford 4, Oklahoma State 1 (women)
March 8 – UCF 4, Penn State 2 (men)
March 10 – Florida State 4, Florida 2 (men)
March 14 – Ohio State vs. Florida (women) – 6 p.m.