MatchDay finale goes to the
FLORIDA GATORS
Brian Ormiston | March 14, 2017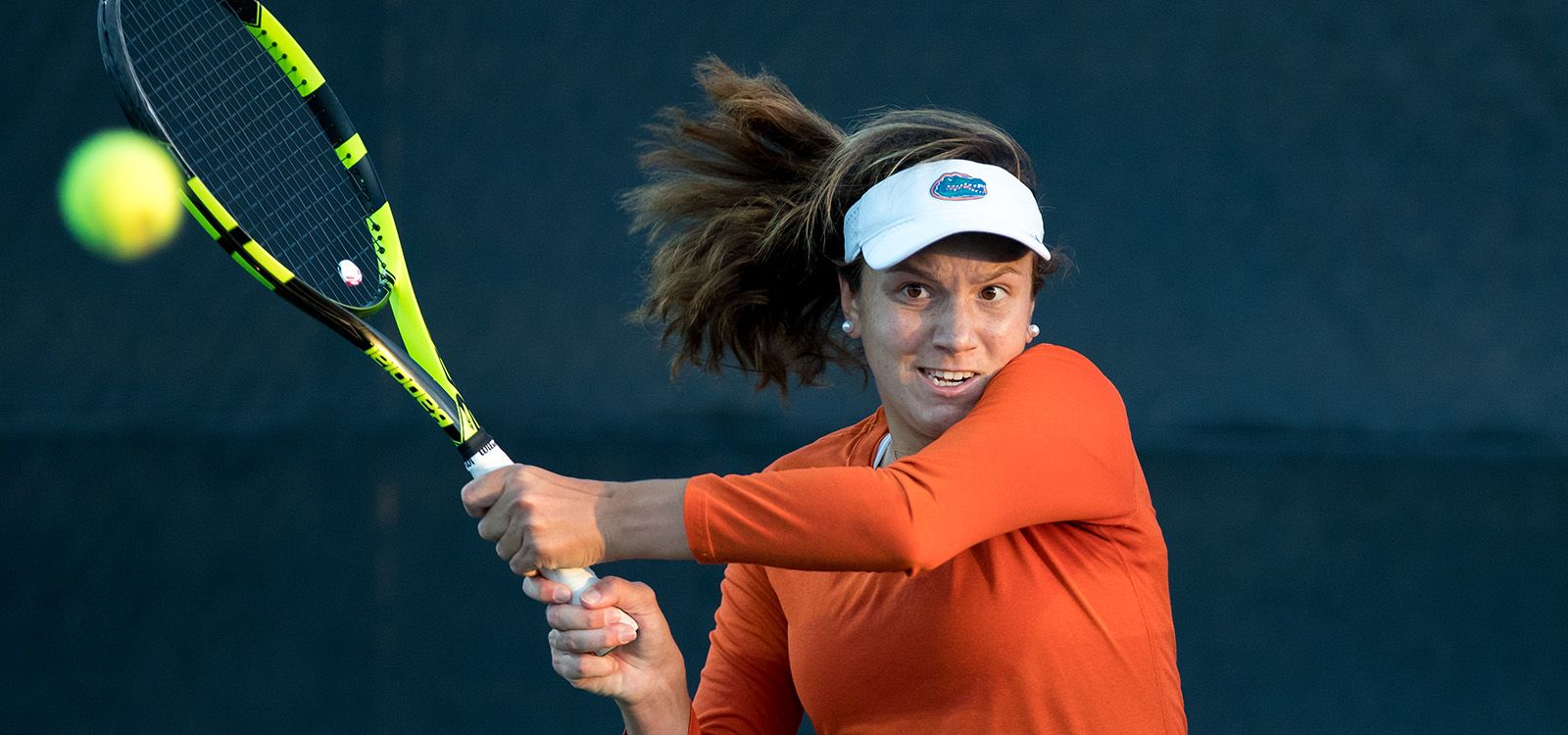 College MatchDay at the USTA National Campus came to a close Tuesday evening, with the top-ranked women's team in the country delivering a solid performance.
No. 1 Florida took down No. 3 Ohio State, 4-1, to stay undefeated in 2017 with a perfect 13-0 record. Ten of those victories have come against schools currently ranked in the USTA College Tennis Top 25.
"It was fantastic (to play at the USTA National Campus), a great atmosphere, a great experience for our players," said Florida head coach Roland Thornqvist. "It's so nice to have our players play with the (ESPN3) cameras here and big-time commentators like Patrick McEnroe. I think we got better just by being here and playing. And what a facility, this is world-class."
Facing a strong wind throughout the night, Florida had the answers against the Buckeyes (14-2).
"It was a tough day to play," said Thornqvist. "We talked about it before the match that it was going to be hard to play beautiful tennis, and if that was going to be our goal then we would have had a long night. But I thought our players had a pretty simple and clear game plan in singles. In about four out of the six courts, we were able to sneak in and take balls out of the air. Maybe that was the difference in singles."
The Gators jumped out to a 1-0 lead after doubles play. The first match off the courts came at the No. 3 spot, where Josie Kuhlman and Belinda Woolcock got by Miho Kowase and Ferny Angeles Paz, 6-3. The remaining two doubles contests were tight, but Florida grabbed the victory at No. 1 when Brooke Austin and Kourtney Keegan squeaked by Francesca Di Lorenzo and Anna Sanford, 7-5.
Florida did not let up in singles, cruising out to a 3-0 lead behind wins from Ingrid Neel at No. 2 and Anna Danilina at No. 3. The No. 1-ranked singles player in the nation had an answer for the Buckeyes, with Di Lorenzo posting a straight-sets victory on the No. 1 court to put Ohio State on the board. But the Gators got the deciding point at No. 6 as Keegan's 6-4, 6-2 decision sealed the overall victory.
In six matches at the campus, College MatchDay brought in a combined 5,348 fans, including the 642 who ventured to Lake Nona on Tuesday.
College MatchDay now hits the road for three matches in 2017. On the women's side, North Carolina travels to Miami March 17, while for the men, LSU heads to Georgia March 23 and Virginia makes the trek to Wake Forest March 31.
For fans looking to enjoy more college action at the USTA National Campus, matches are taking place throughout March with the UCF men and women along with Spring Break Tennis in full swing. Call the campus at (844) 872-8667 for more information.
No. 1 Florida 4, No. 3 Ohio State 1
Doubles
No. 1 Brooke Austin / Kourtney Keegan (UF) def. Francesca Di Lorenzo / Anna Sanford (OSU) 7-5
No. 2 Anna Danilina / Ingrid Neal (UF) vs. Sandy Niehuas / Gabriella De Santis (OSU) 5-5 (unfinished)
No. 3 Josie Kuhlman / Belinda Woolcock (UF) def. Miho Kowase / Ferny Angeles Paz (OSU) 6-3
Order of Finish: 3, 1
Singles
No. 1 Francesca Di Lorenzo (OSU) def. Belinda Woolcock (UF) 6-3, 6-1
No. 2 Ingrid Neel (UF) def. Gabriella De Santis (OSU) 6-2, 6-3
No. 3 Anna Danilina (UF) def. Anna Sanford (OSU) 6-2, 7-5
No. 4 Josie Kuhlman (UF) vs. Sandy Niehaus (OSU) 6-4, 4-6, 0-0 (unfinished)
No. 5 Miho Kowase (OSU) vs. Brooke Austin (UF) 6-3, 1-6, 3-0 (unfinished)
No. 6 Kourtney Keegan (UF) def. Ferny Angeles Paz (OSU) 6-4, 6-2
Order of Finish: 2, 3, 1, 6
2017 College MatchDay Series at the USTA National Campus
Jan. 21 – Michigan 4, Alabama 0 (men)
Feb. 3 – North Carolina 4, Texas Tech 0 (women)
Feb. 17 – Stanford 4, Oklahoma State 1 (women)
March 8 – UCF 4, Penn State 2 (men)
March 10 – Florida State 4, Florida 2 (men)
March 14 – Florida 4, Ohio State 1 (women)