College MatchDay in the Books
USF defeats UCF in the "War-on-I4"
Brian Ormiston and Christina Aguis | April 15, 2018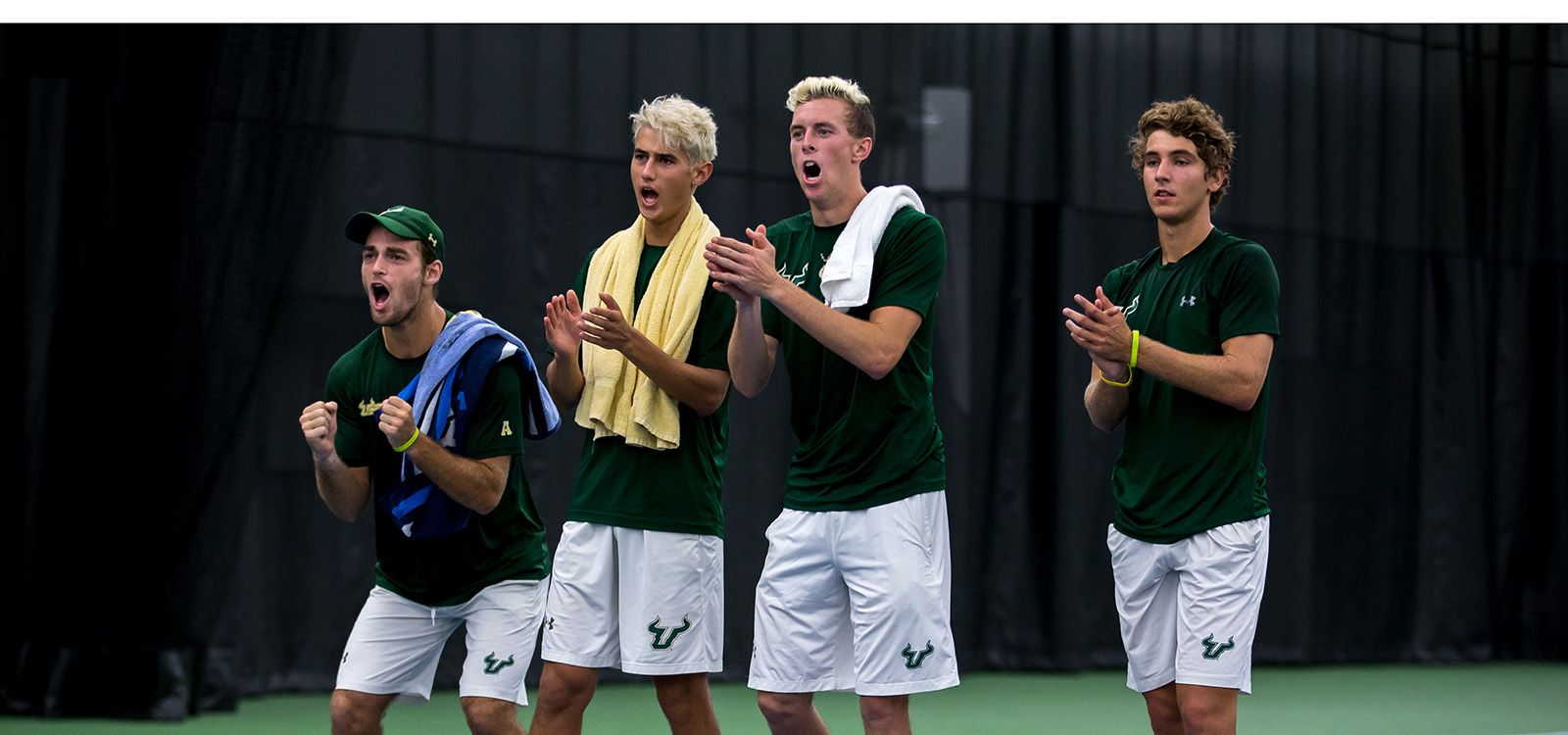 Although weather forced College MatchDay inside the adidas Performance Center at the USTA National Campus on April 15, that did not stop South Florida from earning a 4-1 victory in a rivalry match against UCF.
With the College MatchDay season complete, the National Campus witnessed 5,340 fans swarm its grounds for five outdoor matches in 2018 for an average of 1,068 per contest. By comparison, 5,348 fans came out for six outdoor matches in 2017, an average of 891 per match.
The match was slated to be contested outdoors on Tennis Channel, but was forced indoors and could not air on national television due to the inclement weather.
"The guys came out with incredible energy and everybody really played about as well as they could," USF head coach Ashley Fisher said. "We talk about finding our best selves on a given day, and … not really knowing where we were playing, the guys really came out and handled it so maturely. They really played the perfect match.
"We were so excited about this match, we circled it on our calendar. The guys were super fired up to play on television and it's a shame that didn't happen but there will be plenty more opportunities in the future. We love it (at the National Campus). It's an incredible and exciting creation here that's just going to grow and grow. It's good for tennis in the United States, it's great for college tennis and we're happy that we're kind of close to it and can reap some of the benefits."
The match featuring USF (8-15) and UCF (10-9) marked the first College MatchDay held indoors at the National Campus. In front of a packed house by court one, the Bulls jumped on the Knights right away when Grayson Goldin defeated Alan Rubio at No. 3, 6-3, 6-3. Moments later, UCF tied it up thanks to a 6-1, 6-2 win by Danny Kerznerman over Sean Burnette at No. 6.
USF recaptured momentum at No. 5 by way of a 7-5, 6-1 decision from Jakub Wojcik against Eero Vasa. Now up 2-1, the Bulls sprinted to the finish line. Peter Bertran grabbed the third point at No. 2 by taking down Gabriel Decamps, 6-2, 6-3, then Pierre Luquet topped Mikhail Sokolovskiy at No. 4, 6-3, 6-3.
Both teams will now look ahead to the American Athletic Conference Championships in Dallas April 19-22.
Fans looking for even more collegiate events at the USTA National Campus do not have to wait long. The Wheelchair Collegiate National Championships are set for April 20-22, the Atlantic 10 Conference Championships are April 23-29 and the USTA All-American College Combine will take place June 18-21.
South Florida 4, UCF 1
Singles
No. 1 Korey Lovett (UCF) vs. Alberto Barroso-Campos (USF) 6-3, 6-6, unfinished
No. 2 Peter Bertran (USF) def. Gabriel Decamps (UCF) 6-2, 6-3
No. 3 Grayson Goldin (USF) def. Alan Rubio (UCF) 6-3, 6-3
No. 4 Pierre Luquet (USF) def. Mikhail Sokolovskiy (UCF) 6-3, 6-3
No. 5 Jakub Wojcik (USF) def. Eero Vasa (UCF) 7-5, 6-1
No. 6 Danny Kerznerman (UCF) def. Sean Burnette (USF) 6-1, 6-2
Order of Finish: 3, 6, 5, 2, 4
2018 College MatchDay
Feb. 3 – Florida 3, Florida State 4 (Men)
Feb. 3 – Florida 1, Florida State 4 (Women)
Feb. 9 – Georgia 4, Georgia Tech 0 (Men)
Feb. 24 – Oklahoma 4, Texas A&M 3 (Men)
March 3 – Michigan 4, UCF 1 (Men)
March 3 – UCF 4, Michigan 2 (Women)
April 1 – Texas 4, Florida 0 (Women)
April 15 – South Florida 4, UCF 1 (Men)
*All Times Eastern and Subject to Change