2019 USTA Florida 18 & Over 3.0/4.0/5.0+ Sectional Championships

Five Regions Represented Among Winners
August 12, 2019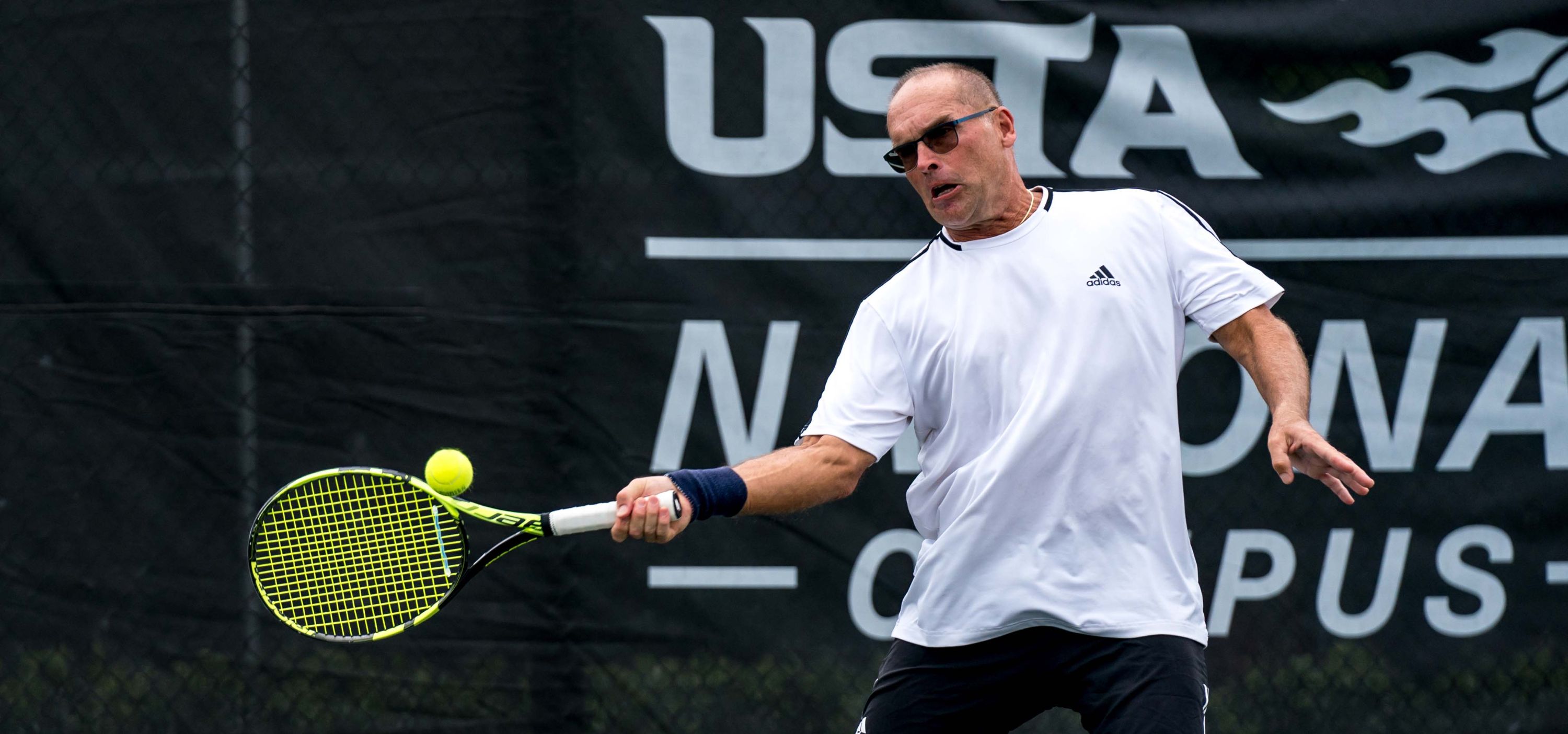 Five different regions from across the Sunshine State were represented among the team champions on Monday to close out the 2019 USTA Florida 18 & Over 3.0/4.0/5.0+ Sectional Championships. Only Orange/Seminole managed to bring home multiple titles thanks to winning efforts in the women's 4.0 (Fort Gatlin Recreation Center – Orlando) and men's 5.0+ (Winter Park Racquet Club) divisions.
Other squads capturing sectional crowns on the day were the Leon (Tom Brown Park – Tallahassee) 3.0 men, the Duval (San Jose Country Club – Jacksonville) 3.0 women, the Broward (Weston Tennis Center) 4.0 men, and the Hillsborough (HCC Tennis Complex – Tampa) 5.0+ women.
Leon (Tom Brown Park – Tallahassee) polished off a perfect 5-0 record to take home the men's 3.0 crown. It did not come easily, as they ended up with fewer individual matchups won and more sets lost than second-place Broward (Weston Tennis Center). Leon's competitive 3-2 defeat of Broward on Sunday proved the difference.
Captain Sanjeev Jayaprakash's Leon squad includes Thomas Curry, David Bradford, Jeffrey Banka, Andri Randrianasolo, Muhammed Anzari Abubekkar, Sumanth Gadde, Tyler Allee, Gerald Henley, Ashutosh Kumar, Norman Feril and Manas Shinde.
Emerging from the women's 3.0 semifinal round were Collier (Naples Grande Beach Resort), thanks to a 3-2 takedown of Broward (Midtown Athletic Club – Weston), and Duval (San Jose Country Club – Jacksonville), who stormed past Hillsborough (Northdale Golf & Tennis Club) by a 4-1 margin. Collier was pushed to the brink, needing Noelia Santos to rally back at line one singles for a 6-7, 6-1, 1-0 win and the tandem of Jennifer Brown and Jennifer Dugan to hang on to take the second doubles spot 6-4, 3-6, 1-0. Meanwhile, Duval owned the three doubles courts in straight sets to put away Hillsborough.
In the championship tilt, Duval used overwhelming singles play to power their way to the title. Katie Farrar got through the top spot by a 6-2, 6-3 score line while Heather Riley was even more decisive in her 6-3, 6-0 victory on court two. The tandem of Nancy Hennessy and Paige Dilts played their way to a 6-3, 6-2 win in the top doubles matchup. Collier grabbed the remaining two doubles courts to set the final margin at 3-2 in favor of Duval.
The Duval team is captained by Allison Wise and features a full roster of Catherine Schaefer, Farrar, Michelle Kalil, Catherine Decunto, Natasha Eliz, Kerry Phillips, Riley, Vicki Suhrer, Emily Katsikas, Martha Jakab, Stephanie Willis, Catarina Soares, Amy Mitchell, Allyson Owens, Kristin Fernandez, Margaret Samuels, Hennessy, Kate Elliot, Dilts, Phyllis Crabtree, Jessica Crews, Laurie Naugle, Erica Hayman and Lindsay Eyrick.
Both men's 4.0 semifinal duals ended with 3-2 score lines, as Hillsborough (HCC Tennis Complex – Tampa) defeated Orange/Seminole (USTA National Campus – Orlando) and Broward (Weston Tennis Center) bested SMD (Coral Pine Park – Pinecrest). It appeared Orange/Seminole would be competing for the sectional title after prevailing at the second singles position plus lines two and three in doubles; however, Rodrigo Paixao's 6-1, 6-3 victory was later ruled a disqualification, awarding the court to Hillsborough. Broward made quick work of the second singles and third doubles courts before Andres Piske and Alejandro Gonzalez delivered the 6-3, 3-6, 1-0 clincher at line one.
Broward took control of the championship dual right from the start and never looked back en route to a 4-1 triumph. Alvaro Fernandez and Carlos Miranda cruised to victories in the two singles matchups, losing just three games in total. The pairing of Omar Antonio Crespo Nieves and Julian Gil raced through the matchup at line two 6-3, 6-0 to go with Boris Horna and Santiago Eslava earning a 6-4, 6-1 victory at the third spot.
Led by Jorge Corrales, the Broward squad is made up of Jorge Evaristo, Piske, Gonzalez, Gustavo Bencid, Nelson Laboy, Horna, Eslava, Luis Reveiz, Fernandez, Diego Caniggia, Enrique Penalver, Augusto Alizo, Miranda, Crespo Nieves, Gil, Daniel Madrinan, Pedro Rodriguez and Juan Pablo Marin.
In the 4.0 women's semifinals, Broward (City of Oakland Park) eased past Alachua (Jonesville Tennis Center – Gainesville) 4-1 while Orange/Seminole (Fort Gatlin Recreation Center – Orlando) found their way to a 3-2 win over wild card entrant SMD (Kerdyk Biltmore Tennis Center – Coral Gables). Broward used impressive doubles play to quickly dismiss Alachua, dropping just 10 games combined across the three courts. Orange/Seminole also claimed all of their matchups in straight sets, but those included a highly-competitive 7-5, 7-5 victory from Colleen Allen at the second singles position and a 6-3, 7-6 effort by the duo of Julie Fontaine and Teri Kinder at line one doubles.
The final saw three courts go to a decisive match tiebreak, with Orange/Seminole claiming two of those to earn the title 4-1. Rachel Holt wasted no time getting her team off to a strong start, winning at the top singles spot without dropping a game. Rachel Halscott was locked in a lengthy battle on court two, eventually outlasting her Broward opponent 4-6, 7-5, 1-0. Orange/Seminole also received wins from Shannon Hurley and Brandi Holston, who grabbed the second position 6-3, 4-6, 1-0, plus the duo of Fontaine and Kinder, who were solid on court three 6-4, 6-1.
Team captain Misa Kawata's full roster features Halscott, Kathleen Cotton, Fontaine, Holt, Hurley, Becky Cusick, Sarah Davey, Kinder, Tammy Giaimo, Holston, Alejandra Maddox, Meredith Olavarria, Allen and Hoang-Loan Nguyen
Orange/Seminole's (Winter Park Racquet Club) sweep of the doubles against Hillsborough (East Lake Woodlands Country Club – Oldsmar) gave them the 2-1 triumph to clinch the men's 5.0+ title; the winning squad ended the event with a 4-1 overall record. Jamie Feagan and Blaze Schwartz fought through a tight first set before running away with court one 7-5, 6-1. Their teammates Andrew Mazlin and Alamgir Wali were too tough at line two, prevailing 6-2, 6-2.
Captained by Feagan, the full Orange/Seminole roster includes Shane Harrison, Schwartz, Neto Cacace, Greg Heartt, Mazlin, Marco Herrera, Richard Schmidt, Brandon Bayliss and Wali.
In the final dual of the women's 5.0+ competition, Orange/Seminole (National Campus – Orlando) bested Hillsborough (HCC Tennis Complex – Tampa), but it wasn't enough to overtake Hillsborough in the standings. Needing to claim all three individual matchups, Orange/Seminole turned in a pair of strong efforts in doubles. Veronica Barni and Tasi Purcell Batista came through 6-4, 6-2 at the top spot while Adelaide Wood and Rocio Frej Vitalle took line two 6-2, 6-3. That left it all up to the lone singles contest, where Hillsborough's Jessica Sucupira held off Orange/Seminole's Jenna Kelly 7-6, 6-2. Both teams closed the event with 3-1 records, but Hillsborough was declared the champion thanks to owning one more court victory than Orange/Seminole.
Lisa Balsera's complete Hillsborough squad includes Melissa Koning, Sucupira, Miranda Gutierrez, Aly Peterson, Andrea Lord, Gigi Fernandez, Melissa Pine and Paige Kensrue.
For complete results from the 2019 USTA Florida 18 & Over 3.0/4.0/5.0+ Sectional Championships, click here.