A Night to Remember
College MatchDay blasts off in front of 1,917 fans.
Brian Ormiston and Christina Aguis | February 3, 2018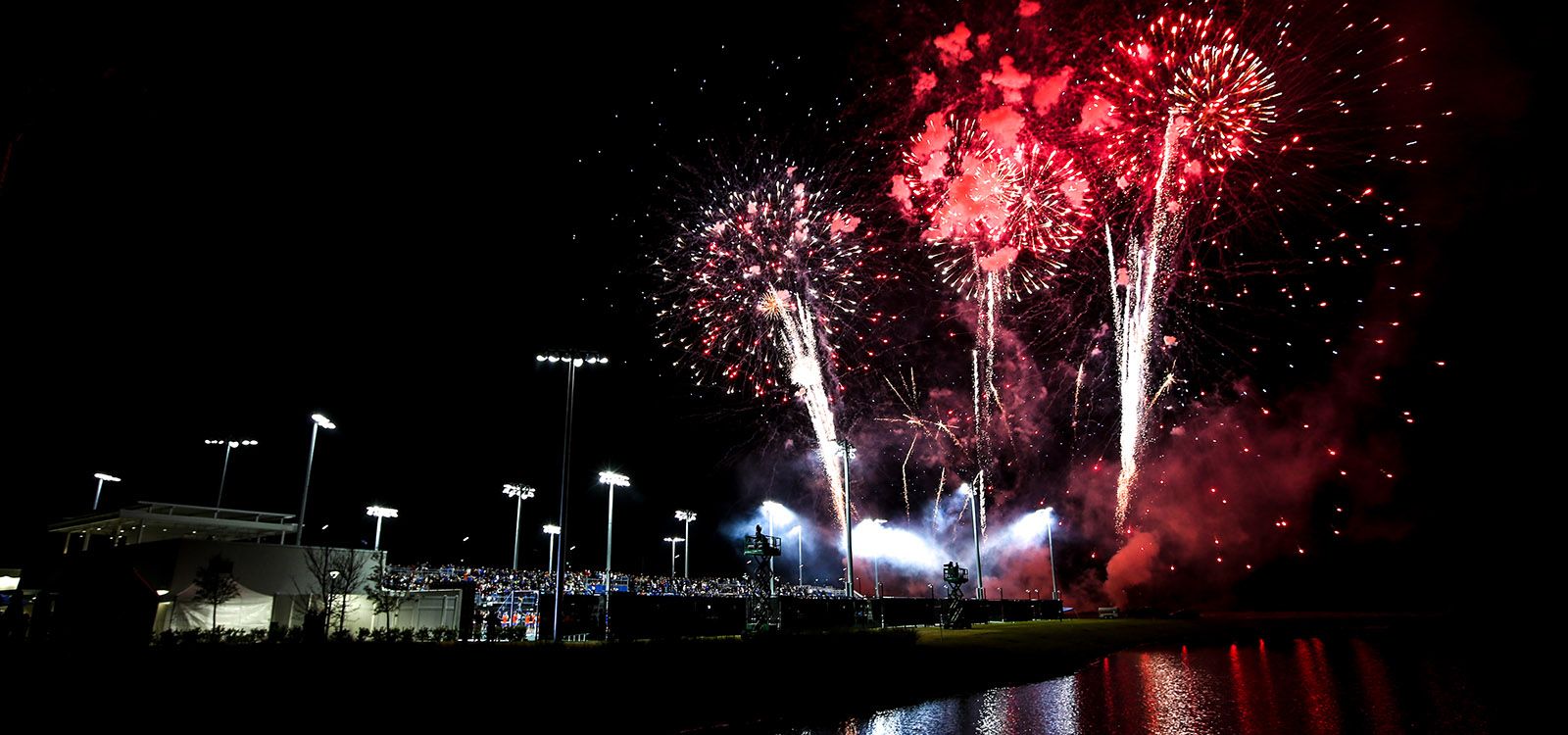 The 2017 edition of College MatchDay experienced some of the biggest crowds of the college tennis season. One year later, College MatchDay busted out to another incredible start.
Florida State upset Florida on both the men and women's courts in front of 1,917 fans at the USTA National Campus on Feb. 3. It was the first College MatchDay to feature both the men and women competing at the same time.
Following a memorable National Anthem and the first fireworks display in the history of the USTA National Campus, the Seminoles and Gators got underway.
Women – Florida State 4, No. 3 Florida 1
The Seminoles stunned the No. 3 Gators, pulling out a 4-1 win for their second ever victory over their rival. For the doubles point, FSU earned wins on the No. 2 and No. 3 courts to claim the early 1-0 lead. It then secured singles points from Petra Hule and Ariana Rahmanparast for a commanding 3-0 advantage.
Although the Gators picked up a point from Josie Kuhlman, Andrea Garcia delivered the deciding blow with a 6-3, 3-6, 6-2 win at the No. 6 position.
"Awesome is the only way to describe it," said FSU head coach Jennifer Hyde. "First of all, the event itself and everything that USTA did and Tennis Channel to highlight what is a very valid sport in college. To get the exposure for student-athletes and their work on both sides of the net, and for them to get that exposure and experience these moments with this type of crowd is exactly what needs to happen. I'm very happy and thankful to USTA for everything they put into it for all of us."
Men – No. 22 Florida State 4, No. 8 Florida 3
For the second-straight year, FSU pulled off the upset of the higher-ranked Gators. Just like the women, the Seminoles shot out to the 1-0 lead by way of wins at the No. 2 and No. 3 doubles positions. However, UF climbed right back with three consecutive singles wins by Chase Perez Blanco, Duarte Vale and McClain Kessler.
Trailing 3-1, the Seminoles evened things up. At No. 4, Alex Knaff hauled in a three-set win, while Guy Iradukunda earned a 7-6, 6-3 win at No. 1. With all eyes on the No. 2 court and on the fourth match point, Lucas Poullain notched the sweep for FSU in a 7-6, 7-6 triumph.
"Most places aren't going to get the crowd we had tonight, so the atmosphere is unbelievable here," said FSU head coach Dwayne Hultquist. "It's exciting and I think our guys enjoy the experience. Everything is so nice here. Getting it on Tennis Channel is really a breakthrough for college tennis and what they saw tonight, even had we lost, they still would've seen the experience of it. I hope Tennis Channel takes notice in college tennis. … There are people who play pro tennis and their best experience is playing a grand slam or college tennis. They'll never forget, and our guys will never forget this. One of our guys, on his phone, is a picture of him winning last year, so that's what he remembers about college tennis and I'm sure Lucas will feel the same thing tonight. It was an unbelievable tough battle and he gutted it out."
This year marked the first time Tennis Channel had ever aired a series of live college tennis events. Calling the action on Feb. 3 was Leif Shiras and James Blake, with Jimmy Arias serving as the sideline reporter.
All College MatchDay events feature complimentary admission along with a kids' clinic, games, prizes and more. Festivities start two hours prior to first serve.
"My kids take lessons here so they heard about this match from the instructors," said Ronda DeMarco. "It's cool and really nice. The kids really enjoyed the facepainting."
"We came last year, and my daughter plays tennis too so we wanted to come watch," said Anamaria Shanley. "The location and the facilities are great here. It's so great for the kids, they loved the inflatable game."
For ticket information, click on Ticketmaster.com.
2018 College MatchDay
Feb. 3 – Florida 3, Florida State 4 (Men)
Feb. 3 – Florida 1, Florida State 4 (Women)
Feb. 9 – Georgia vs. Georgia Tech (Men) – 7 p.m.
Feb. 24 – Oklahoma vs. Texas A&M (Men) – 10:30 a.m.
March 3 – UCF vs. Michigan (Men) – 12:30 p.m.
March 3 – UCF vs. Michigan (Women) – 12:30 p.m.
April 1 – Florida vs. Texas (Women) – 5 p.m.
April 15 – UCF vs. South Florida (Men) – 5:30 p.m.
*All Times Eastern and Subject to Change