2019 USTA National Doubles Championships

Golden Sunday for Six Teams
August 25, 2019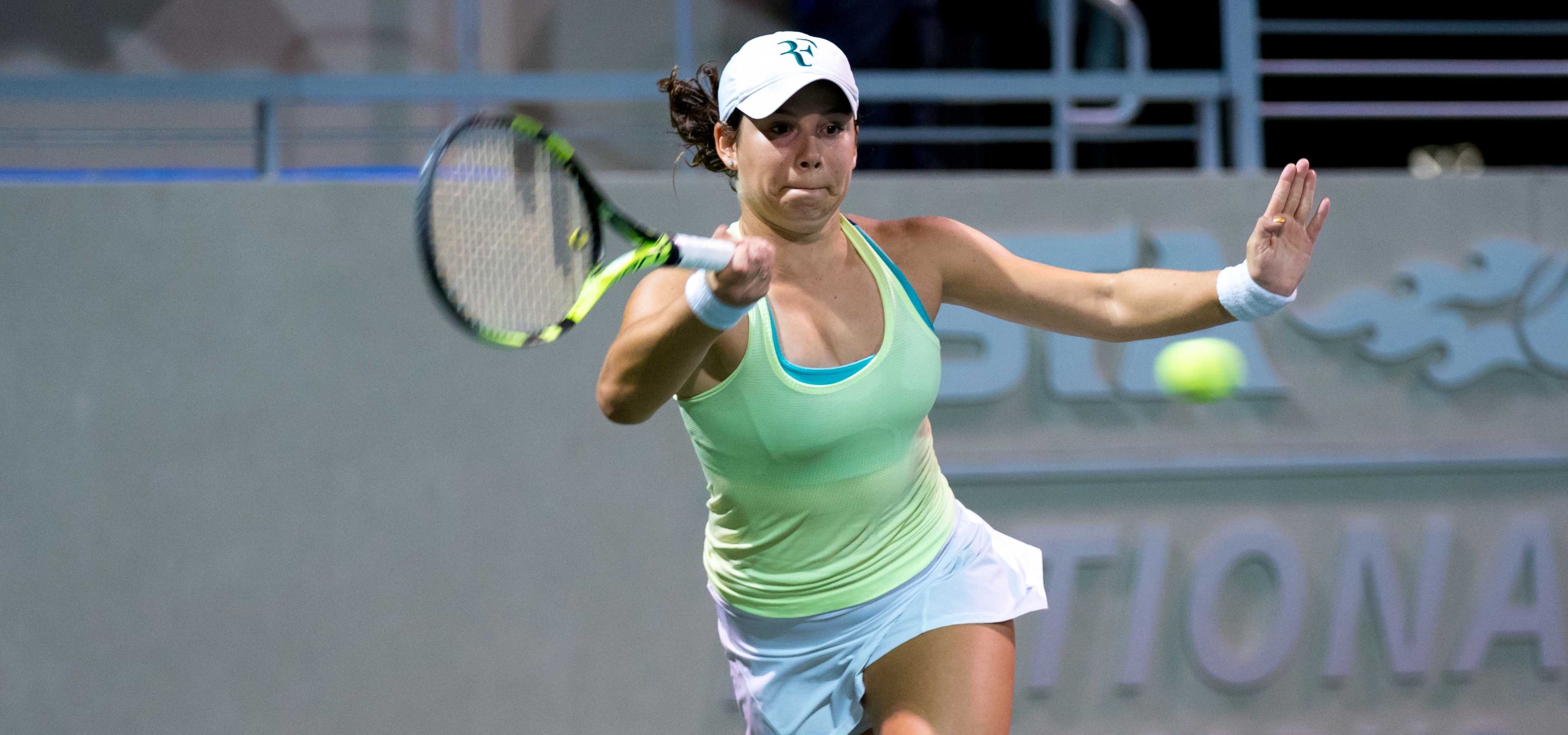 The third and final day of the 2019 USTA National Doubles Championships, hosted by the USTA National Campus, wrapped up Sunday afternoon. The six duos taking home a national title and USTA Gold Ball highlighted the action. On the boys' side, all three No. 1 seeds prevailed; meanwhile, the girls' 14s was captured by the top seeds while the third-seeded team came through in the 16s and the No. 2 seeds delivered in the 18s. Below are the results from those divisional finals.
Boys' 14s: No. 1 James Lian (Parsippany, N.J.) and Davis Taylor (Atlanta) def. No. 2 Marko Mesarovic (Austin, Texas) and Tristan Stringer (Orlando) 6-2, 6-3
Boys' 16s: No. 1 Thomas Paulsell (Seattle) and Frank Thompson (Blaksburg, Va.) def. No. 2 Hudson Beaudoin (New York) and Teddy Truwit (Darien, Conn.) 6-1, 6-2
Boys' 18s: No. 1 Blake Kasday (Las Vegas) and Alejandro Quiles (Las Vegas) def. No. 2 Jameson Corsillo (Boca Raton, Fla.) and Logan Zapp (Fleming Island, Fla.) 6-4, 7-6(5)
Girls' 14s: No. 1 Alice Otis (Charleston, S.C.) and Piper Charney (Mount Pleasant, S.C.) def. No. 4 Ava Bruno (Bronxville, N.Y.) and Caroline McGinley (Esses Fells, N.J.) 7-5, 6-4
Girls' 16s: No. 3 Natalie Block (Plantation, Fla.) and Amber McGinnis (Pompano Beach, Fla.) def. Madeline Atway (Powell, Ohio) and Danielle Schoenly (Powell, Ohio) 6-4, 6-3
Girls' 18s: No. 2 Kelsey Mize (Tulsa, Okla.) and Emma Staker (Bixby, Okla.) def. No. 4 Elizabeth Fahrmeier (Cincinnati) and Megan Heuser (Lindenhurst, Ill.) 6-2, 3-6, 7-5
For Lian and Taylor, it was business as usual after they entered the day with two easy victories. They were pushed in the semifinals by the sixth-seeded pairing of Emil Grantcharov (New Rochelle, N.Y.) and Jason Shuler (Scarsdale, N.Y.), but managed to cross the finish line with a 6-3, 6-4 effort. That set the stage for the final, where they overwhelmed the No. 2 seeds Mesarovic and Stringer. The only two breaks of the opening frame went the way of Lian and Taylor. To open up set two, a brief shift in momentum saw the second seeds go up by a break, only to have the eventual champions respond with consecutive breaks for a comfortable 4-1 advantage, which they would have no trouble hanging on to.
Grantcharov and Shuler did manage to collect the Bronze Ball, although it did not come as easily as it appeared after a 6-0 first set. No. 7 seeds Nathan Tam (San Gabriel, Calif.) and Brandon Vu (Chino Hills, Calif.) rallied back to push the match into a decisive third, where Grantcharov and Shuler regained full control 6-0, 5-7, 6-1.
The most dominating tandem on Sunday was boys' 16s champion Paulsell and Thompson. Coming off a dramatic win in the quarterfinal round on Saturday, they sprinted past unseeded hopefuls Jacob Lowen (Boca Raton, Fla.) and Andrew Pereverzev (Hallandale Beach, Fla.) 6-0, 6-0 to reach the Gold Ball contest. Awaiting them was the worn down second-seeded team of Hudson Beaudoin (New York) and Teddy Truwit (Darien, Conn.), who had just survived their third match extended to a final set in the morning by besting Spencer Johnson (Bountiful, Utah) and Tyler Wells (Alpine, Utah) 6-7(3), 6-3, 6-2. Paulsell and Thompson owned the final right from the start, breaking in the first game to set the stage for their 6-1, 6-2 triumph in just under an hour. Additionally, Johnson and Wells rebounded nicely for the Bronze Ball, shaking off a sluggish start to down Lowen and Pereverzev 3-6, 6-3, 6-3.
Though only two sets, the matchup between the top two seeds in the boys' 18s was highly-competitive. The duos traded breaks twice in the opening frame, but after Zapp held to tie the score up at 4-4 it was Kasday and Quiles who closed out the set with an easy hold and break, including winning the last three points. The No. 1 seeds appeared heading for a quick finish, staking themselves 3-0 and 4-1 advantages in the second set; however, Corsillo and Zapp battled back. As the set headed into a tiebreak, the No. 2 seeds held most of the momentum thanks to consecutive holds at love. Much like the overall match itself, the tiebreak went back and forth before Kasday and Quiles claimed four of the final five points.
The battle for Bronze in the boys' 18s also could have gone either way, as fifth seeds Carter Crookston (League City, Texas) and Zachery Foster (San Antonio, Texas) stormed back to take down No. 6 seeds Quinn Snyder (Delran, N.J.) and Colin Tavares (Titusville, Fla.) 1-6, 6-4, 6-3.
Otis and Charney capped off their run to the Gold Ball in the girls' 14s without surrendering a set. They kicked off their morning by dismissing the third-seeded team of Jayna Clemens (Lewisville, Texas) and Morgan Pyrz (Plano, Texas) 6-0, 6-1. Matching up with the four seeds Ava Bruno (Bronxville, N.Y.) and Caroline McGinley (Essex Fells, N.J.) in the championship tilt, both teams were locked in right away. Seven straight holds kicked the match off, and even when Otis and Charney finally broke through for 5-3, Bruno and McGinley came right back with a break at love. The top seeds closed out the set in style, with any easy hold by Charney and a break of Bruno.
At 4-1 in the second, Otis and Charney could see the finish line, but the fourth-seeded pairing had one final charge in them, pulling even to 4-4. That's were Otis and Charney showed why they earned top billing in the division, as they combined for a hold to inch ahead 5-4 and an emphatic break at love to earn the national title.
Bringing home the Bronze Ball in the girls' 14s was the second-seeded duo of Lauren Joyce (Lodi, Calif.) and Madison Weekley (Alamo, Calif.) thanks to their marathon 1-6, 6-3, 7-5 victory over Clemens and Pyrz.
Both girls' 16s semifinals were one-sided affairs. Madeline Atway (Powell, Ohio) and Danielle Schoenly (Powell, Ohio) breezed through the battle with fellow unseeded tandem Cecilia Alcobe-Garibay (Miami) and Didi Bredberg Canizares (Wesley Chapel, Fla.) without surrendering a game while No. 3 seeds Natalie Block (Plantation, Fla.) and Amber McGinnis (Pompano Beach, Fla.) got past six seeds Rose Hayes (East Moriches, N.Y.) and Emily Tannenbaum (Commack, N.Y.) 6-2, 6-3.
Perhaps nerves got the best of the players with the Gold Ball at stake, as the first set featured just one hold. That came in the opening game of the match, when Block saved two break points. Eight straight breaks followed, with the third seeds closing out the set on their second set point. Atway and Schoenly looked more settled on serve in set two, helping them stake a 3-1 advantage. That would end up being short-lived, with Block and McGinnis storming back to get on serve at 3-3 and then secure the crucial break for 5-3. Block would go on to effectively serve out the victory in the next game.
Looking down and out almost from the start, Hayes and Tannenbaum found their games against Alcobe-Garibay and Bredberg Canizares just in time in the third-place playoff, coming through 2-6, 7-5, 6-2 for the Bronze Ball.
The most dramatic championship contest of the day took place in the girls' 18s. There were very few signs it would end up that way after the opening frame, where No. 2 seeds Mize and Staker won the last five games. Both teams were impressive on serve in the second, as just one break was all that was needed. That came at 4-3, when Fahrmeier and Heuser broke Staker at love; Fahrmeier backed that up with a love service hold to send the match into a final set.
Several break and numerous extended games told the story in set number three, as the tandems struggled to play with the lead. Mize and Staker moved out in front after breaking in a game that lasted 16 points, but the four seeds responded with back-to-back breaks. Heuser consolidated the breaks after fighting off two break points at 3-2, only to see the No. 2 seeds turn in a string of impressive games to jump back ahead 5-4 on serve. Heuser held again to even the score, but from there Mize and Staker would take control; Staker held at 15 before the team broke Fahrmeier on their second match point.
Emma Charney made sure sister Piper was not the only one in the family bringing home some hardware from the weekend. Seeded eighth with partner Carrie Beckman (Louisville, Ky.), the pairing got the best of top seeds Carly Briggs (Calhoun, Ga.) and Adeline Flach (Alpharetta, Ga.) in an all-Southern Section showdown 3-6, 6-3, 6-3.
For complete results from the 2019 USTA National Doubles Championships, click here.