Team USA at the Prestigious
Master'U BNP Paribas Tournament 
December 2, 2019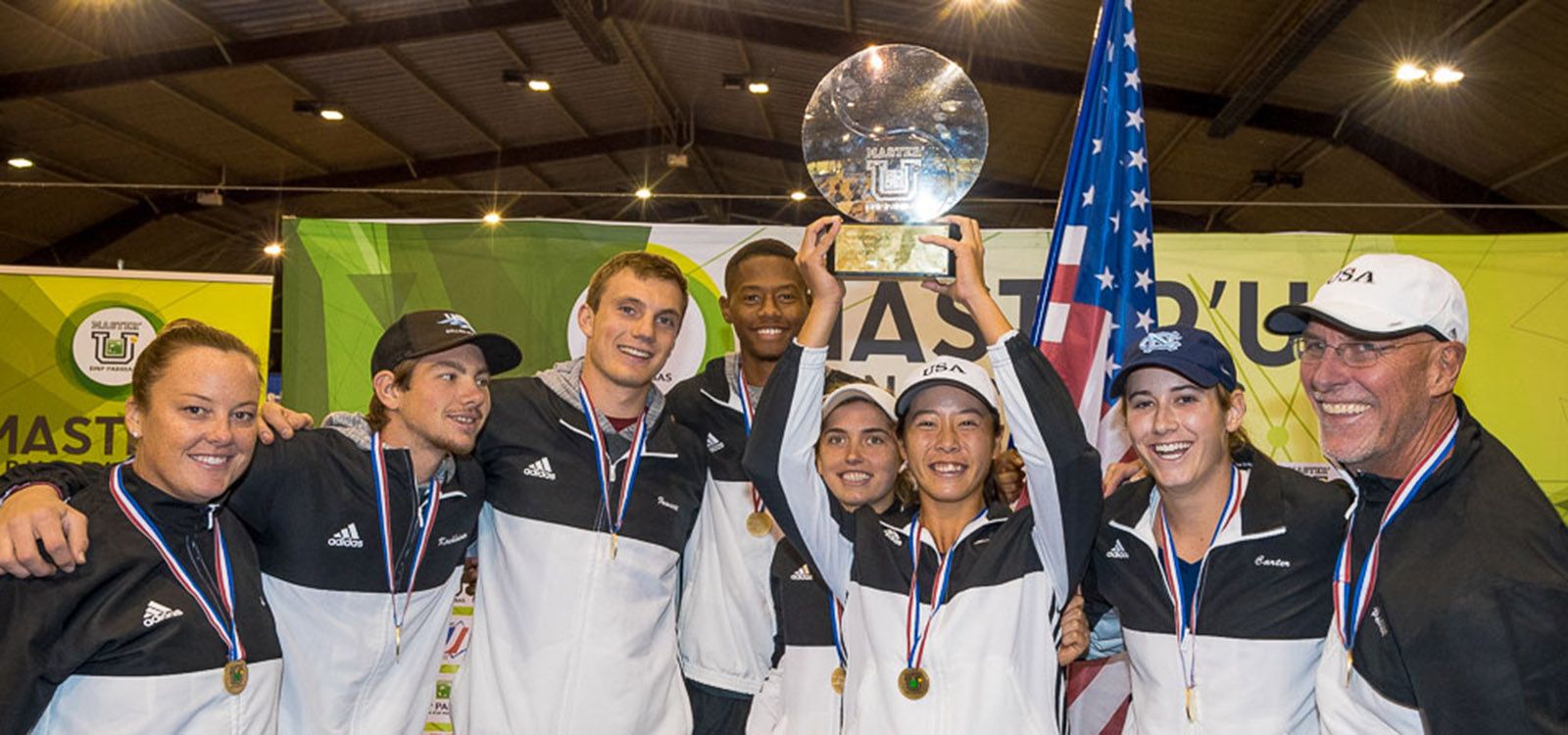 Team USA at the Master'U BNP Paribas Collegiate Tournament - The World Event of University Tennis
For more information on the event, visit the Master'U BNP Paribas Homepage.
USA has competed every year since 2008, and the tournament first took place in 2006. USA has won the event in 2009, 2011, 2012, 2013, 2014, 2015, 2016, 2018 and 2019. It is held in France every year, and switches locations every two years.
See below for Team USA's history at the Master'U BNP Paribas Collegiate Tournament.
2019
Grenoble
Team USA Finish:
1st
Roster:
Michaela Gordon (Stanford)
Alexa Graham (North Carolina)
Jada Hart (UCLA)
Aleksandar Kovacevic (Illinois)
Alexandre Rotsaert (Stanford)
Keegan Smith (UCLA)
Coaches:
Greg Patton (Boise State)
Rance Brown (UCLA)
Garrett Patton (Michigan)
2018
Grenoble
Team USA Finish:
1st
Roster:
Jada Hart (UCLA)
Ashley Lahey (Pepperdine)
Maria Mateas (Duke)
Oliver Crawford (Florida)
Brandon Holt (USC)
Emil Reinberg (Georgia)
Coaches:
Greg Patton (Boise State)
Amanda Augustus (California)
Garrett Patton (Cal Poly)
2017
Marcq-en-Barouel - Métrople Européenne de Lille
Team USA Finish:
2nd
Roster:
Ashley Lahey (Pepperdine)
Alle Sanford (North Carolina)
Ena Shibahara (UCLA)
Brandon Holt (USC)
Alfredo Perez (Florida)
Martin Redlicki (UCLA)
Coaches:
Greg Patton (Boise State)
Melissa Schaub (Ohio State)
2016
Marcq-en-Barouel - Métrople Européenne de Lille
Team USA Finish:
1st
Roster:
Hayley Carter (North Carolina)
Francesca Di Lorenzo (Ohio State)
Ena Shibahara (UCLA)
Chris Eubanks (Georgia Tech)
Tom Fawcett (Stanford)
Strong Kirchheimer (Northwestern)
Coaches:
Greg Patton (Boise State)
Melissa Schaub (Ohio State)
2015
Rennes - Saint-Grégoire
Team USA Finish:
1st
Roster:
Brooke Austin (Florida)
Danielle Collins (Virginia)
Maegan Manasse (California)
Tom Fawcett (Stanford)
Mackenzie McDonald (UCLA)
Austin Smith (Georgia)
Coaches:
Greg Patton (Boise State)
Amanda Augustus (California)
2014
Rennes - Saint-Grégoire
Team USA Finish:
1st
Roster:
Robin Anderson (UCLA)
Julia Elbaba (Virginia)
Chanelle Van Nguyen (UCLA)
Thai-Son Kwiatkowski (Virginia)
Nathan Pasha (Georgia)
Noah Rubin (Wake Forest)
Coaches:
Greg Patton (Boise State)
Amanda Augustus (California)
2013
Aix-en-Provence
Team USA Finish:
1st
Roster:
Robin Anderson (UCLA)
Lauren Herring (Georgia)
Sabrina Santamaria (USC)
Mitchell Frank (Virginia)
Marcos Giron (UCLA)
Peter Kobelt (Ohio State)
Coaches:
Greg Patton (Boise State)
Amanda Augustus (California)
2012
Aix-en-Provence
Team USA Finish:
1st
Roster:
Jacqueline Cako (Arizona State)
Lauren Embree (Florida)
Zoe Scandalis (USC)
Jarmere Jenkins (Virginia)
Evan King (Michigan)
Ray Sarmiento (USC)
Coaches:
Greg Patton (Boise State)
Amanda Augustus (California)
2011
Rouen
Team USA Finish:
1st
Roster:
Jacqueline Cako (Arizona State)
Beatrice Capra (Duke)
Lauren Embree (Florida)
Jarmere Jenkins (Virginia)
Daniel Nguyen (USC)
Wil Spencer (Georgia)
Coaches:
Greg Patton (Boise State)
Mark Guilbeau (Virginia)
2010
Rouen
Team USA Finish:
2nd
Roster:
Kristy Frilling (Notre Dame)
Maria Sanchez (USC)
Allie Will (Florida)
Sekou Bangoura (Florida)
Reid Carleton (Duke)
Austin Krajicek (Texas A&M)
Coaches:
Greg Patton (Boise State)
Mark Guilbeau (Virginia)
2009
Poitiers
Team USA Finish:
1st
Roster:
Irina Falconi (Georgia Tech)
Kristy Frilling (Notre Dame)
Caitlin Whorisky (Tennessee)
Steve Johnson (USC)
Austin Krajicek (Texas A&M)
Eric Quigley (Kentucky)
Coaches:
Michelle Dasso (Illinois)
Greg Patton (Boise State)
2008
Poitiers
Team USA Finish:
3rd
Roster:
Amanda Fink (USC)
Jennifer Kung (Chicago)
Kelcy McKenna (Arizona State)
John Kauss (USC)
Nathaniel Schnugg (Georgia)
Michael Venus (LSU)
Coaches:
Michelle Dasso (Illinois)

Paul Settles (Claremont-Mudd-Scripps)