College MatchDay Lights Up the Skies
Florida knocks off Florida State, 4-1
Brian Ormiston | February 2, 2019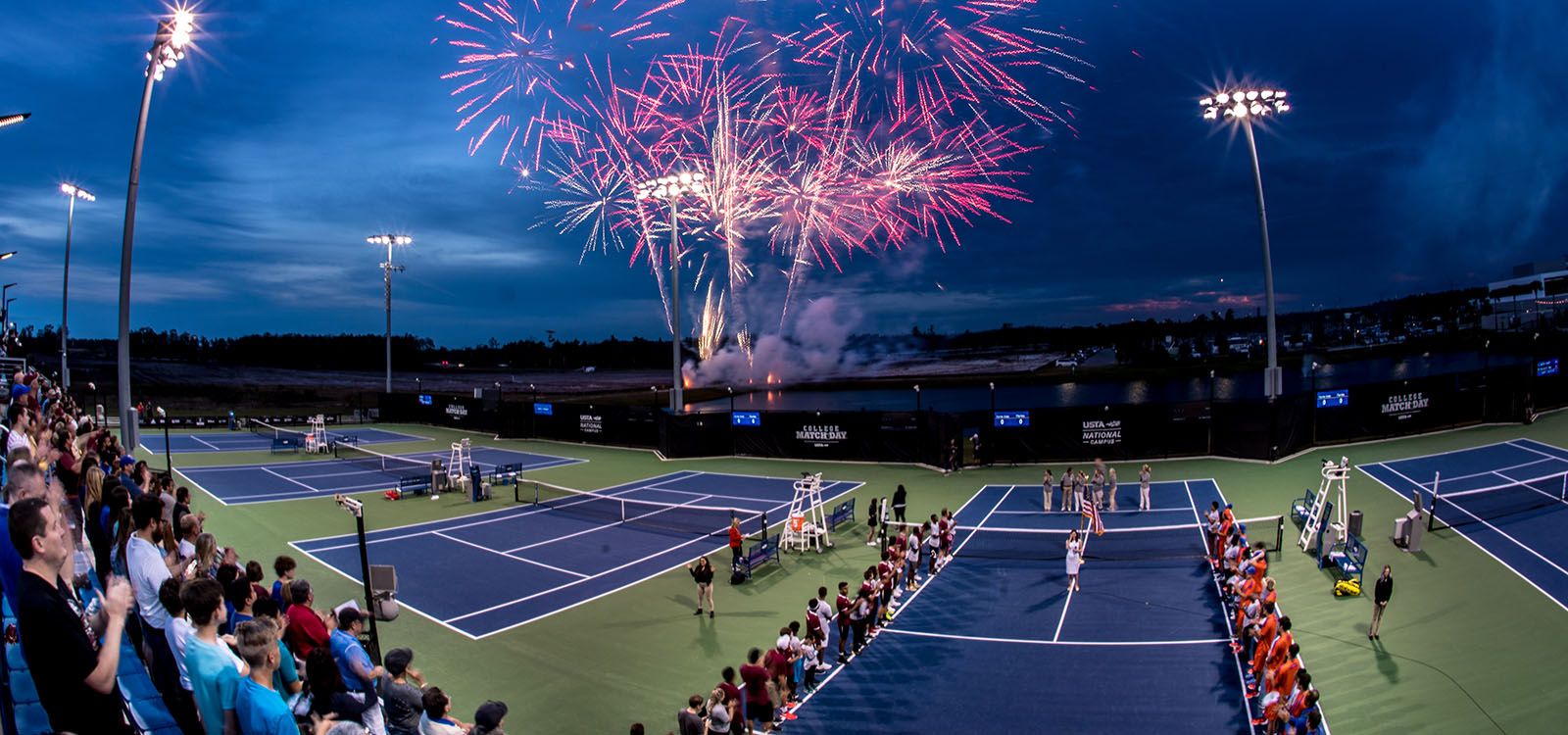 It was another packed house for the start of the College MatchDay season at the USTA National Campus between No. 5 Florida and No. 19 Florida State, sponsored by the Central Florida Expressway Authority. When the dust cleared, the Gators grabbed the victory, 4-1, to end the Seminoles' streak of two straight wins at the Campus.
"It feels good. It wasn't easy, that's for sure," said Florida head coach Bryan Shelton. "Even though we got up by winning the doubles point and winning the first two singles to go up 3-0, that fourth point was tough to get. Give (Florida State) a lot of credit. That team just plays us tough every single time we play them. They are a gritty group that competes really well. They gave us all that we wanted tonight and more. I'm really proud of our guys for how they hung in there.
"(The atmosphere was) incredible. The USTA does such a good job of putting on an event like this for us. To have the Tennis Channel involved as well is such a huge bonus. We are thrilled to be a part of this, we hope that we'll be able to be a part of this for years to come. I know that we've already signed up for next year and we're excited to be back. It's just a first-class operation here, and a lot of good people are doing a lot of work to put this thing together. So we are very thankful."
The Gators (4-0) fended off a comeback bid by the Seminoles (8-2) in doubles by capturing matches at the No. 2 and No. 3 position. That secured the first overall team point on the evening.
Energy at the Collegiate Center continued to climb in singles where UF took five first sets before a heavy downpour overtook the courts. Play was forced to resume inside the adidas Performance Center after a delay of more than an hour. The Gators eventually climbed out to a 3-0 lead thanks to a pair of singles wins. Although the Seminoles got on the board to make it 3-1, Florida struck back and the Orange and Blue celebration was underway.
College MatchDay continues with the men of Duke clashing with Tennessee live on Tennis Channel on Saturday, Feb. 9, at 6 p.m. ET. That date marks National Pizza Day, and the first 100 fans in attendance will receive a free slice of pizza at the Collegiate Center concession stand.
For College MatchDay ticket information, click on Ticketmaster.com.
No. 5 Florida 4, No. 19 Florida State 1
Doubles
No. 1 McClain Kessler / Duarte Vale (UF) vs. Alex Knaff / Juan Martin Jalif (FSU), 5-4 unfinished
No. 2 Alfredo Perez / Johannes Ingildsen (UF) def. Lucas Poullain / Sebastian Arcila (FSU), 6-0
No. 3 Oliver Crawford / Sam Riffice (UF) def. Chase Wood / Richard Thongoana (FSU), 6-3
Order of Finish: 2, 3
Singles
No. 1 Lucas Poullain (FSU) vs. Oliver Crawford (UF), 7-6(5), 3-3
No. 2 Andy Andrade (UF) def. Alex Knaff (FSU), 6-4, 7-6(5)
No. 3 Sam Riffice (UF) def. Juan Martin Jalif (FSU), 6-4, 6-3
No. 4 Johannes Ingildsen (UF) def. Richard Thongoana (FSU), 6-2, 6-1
No. 5 Rana-Roop Singh Bhullar (FSU) def. Alfredo Perez (UF), 3-6, 6-0, 6-2
No. 6 Duarte Vale (UF) vs. Chase Wood (FSU), 6-4, 5-5
Order of Finish: 4, 3, 5, 2
2019 College MatchDay
Feb. 2 – Florida def. Florida State (Men), 4-1
Feb. 9 – Duke vs. Tennessee (Men) – 6 p.m.
Feb. 16 – Air Force vs. Army (Men/Women) – 4 p.m.
Feb. 24 – Florida vs. UCF (Women) – 5:30 p.m.
March 3 – Miami, Fla. vs. UCF (Men) – 5 p.m.
*All Times Eastern and Subject to Change