NCAA Practice Day
Take a look back at an exciting day at the USTA National Campus. 
Brian Ormiston, Arthur Kapetanakis, Taylor Linton | May 15, 2019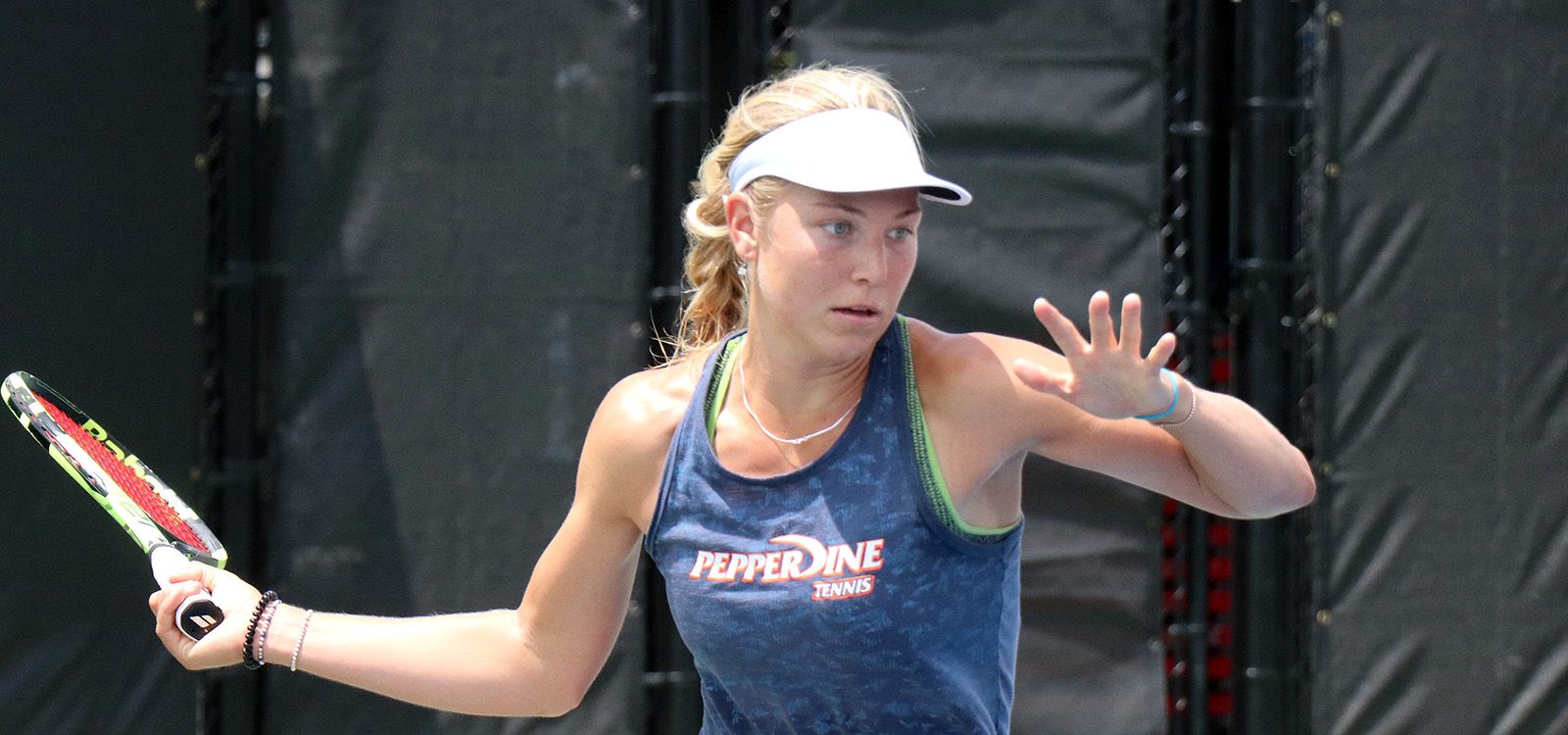 All 16 quarterfinalists for the 2019 NCAA Division I Men's and Women's Tennis Championships hit the courts on May 15 during an eventful day at the USTA National Campus. Eight men's and eight women's programs held practices in Orlando in their quest to become the 2019 NCAA team champions.
In the evening, the schools converged on Drive Shack in Lake Nona for the team celebration with a relaxing night of golf, games, pictures, socializing and food.
The tournament gets underway Thursday with the men's quarterfinals, while the women's quarterfinals are set for Friday. Saturday will feature the team semifinals, and the finals take place on Sunday. Next week will be highlighted by the singles and doubles championships.
Visit USTANationalCampus.com/ncaa for the USTA's Tournament Headquarters.
USTA Quote Book
Men:
Ty Tucker, Ohio State Head Coach
On JJ Wolf, who has a 25-1 record at No. 1 singles on the year:
"I think JJ has a bright future, but every guy here wants to beat him. The margins are thin and we play no-ad. You can't play a lazy point at love-love, get yourself down love-15 and you'll find yourself playing more deuce points than you need to play. It's very, very tricky with the scoring."
JJ Wolf, Ohio State junior
On playing with four other Ohio-based players:
"It's just a brotherhood. We've been saying that since the beginning of the year. We all grew up together and are really close, good friends. We spend a lot of time together and I think that really pulls us together as a team. Actually, it kind of feels more like a family to us."
Brian Boland, Baylor Head Coach
On the excitement of college tennis:
"I think it's one of the best products we have in all of tennis. It's so exciting. The format has made it so interesting for fans. You get behind a school and it's bigger than any one person. I think the players just love playing as a team."
Bryan Shelton, Florida Head Coach
On whether he feels like the home team:
"We do. We thought about it all year—if we got here, we'd be the ones holding up the flag, hopefully, for the state. With that, hopefully our fans from Gainesville will be able to come down, and the fans that we have around the state that love tennis and love the Gators will come out and support us."
Texas HC Bruce Berque
On playing 10 Top-30 teams in a row leading up to the NCAA tournament:
"We play very good teams every time we play in the Big 12. We're going to get a terrific competitive effort, there's great players, great coaches, and there's nowhere to hide. We've been through that, both in the regular season and the tournament. We've also played a good non-conference schedule, so I think these guys are ready. But I think all eight teams who have made it to the quarterfinals are ready—they've all played great schedules, but we're certainly not lacking in that department."
Bo Boyden, UNC senior
On peaking for the NCAA tournament:
"In the beginning of the year, we always think our main goal is to play our best tennis in May. And I think that's what we're doing right now, and it's a testament to our coaches and everyone really that's been helpful with our development throughout the year."
Will Blumberg, UNC junior
On being the only school to have both its men's and women's teams in Orlando:
"One thing we talk about when you play for North Carolina, you play for more than just yourselves, and I believe that's the men's and women's team. When we were out in Southern California, we took a group picture and there were about 40 of us out there. It was just showing how close we are as a Carolina family. So for both of us to be there and then continue our journey to win a national championship is huge and a large testament to Coach Paul and Coach Kalbas and everyone that runs both programs and everyone that puts in hard work throughout the year, so hopefully we can have good results here."
Petros Chrysochos, Wake Forest senior
On playing as defending champs:
"As defending champs, there's a lot of pressure, I think, even though we're not the No. 1 seed like last year. But I feel like if we have a good and healthy team, we're still the best team here. But we've got to go out there and prove it."
Women:
Kevin Epley, South Carolina Head Coach
On playing at the National Campus:
"It feels almost like a small WTA event here. It's really put together very well and it makes for a very exciting venue."
Jeff Wallace, Georgia Head Coach
On his team's impressions of the National Campus:
"My first impression was, we get out of the car and we start walking to the facility and they're playing 'Glory Glory to Georgia,' our fight song. Are you kidding me? It was awesome!"
On learning from SEC tournament final loss to South Carolina:
"You win a lot and you learn a little. You lose once and you learn a lot."
Jamie Ashworth, Duke Head Coach
On the new NCAA format, with individual schools hosting Super Regionals:
"For us, being able to have that match at home was a great thing. You can go two ways on it. [One is] the student-athlete experience, where you're taking away some opportunities for student-athletes to come to the finals site. But then I saw the crowd that we had at our place last Friday night, and it was double or triple what we would have had at a Round-of-16 match at a neutral site. We were excited to play that format. I hope it's something that we stick with."
Makenna Jones, UNC junior
On coming in on the heels of an ACC tournament title:
"We've been in two championships now, which is something that we've talked about recently as a group, which I think maybe puts a target on our back. But I don't think we take it as much as something to prove, we take it more as we have something to earn. It gives us more confidence knowing that we've been there—less nerves, a little bit more excitement. We take every match and just do our best so we're definitely looking forward to this tournament."
Ashley Lahey, Pepperdine junior
On why neutral fans should root for Pepperdine:
"Everyone loves an underdog, and I feel like that's what we are. We graduated a lot of our players from last year and lost one this year. We've fought for it. Also, we're a tiny school. We don't have the money or the crazy amounts of teams that other schools have. I think we have something else that's special."
Catch a glimpse of some of the action with pictures from the following schools: North Carolina (women), Pepperdine (women), TCU (men), Texas (men) and Wake Forest (men).