PlayFair Debuts at the Campus 
Texas blanks Ole Miss to start an exciting college season
Brian Ormiston | January 16, 2019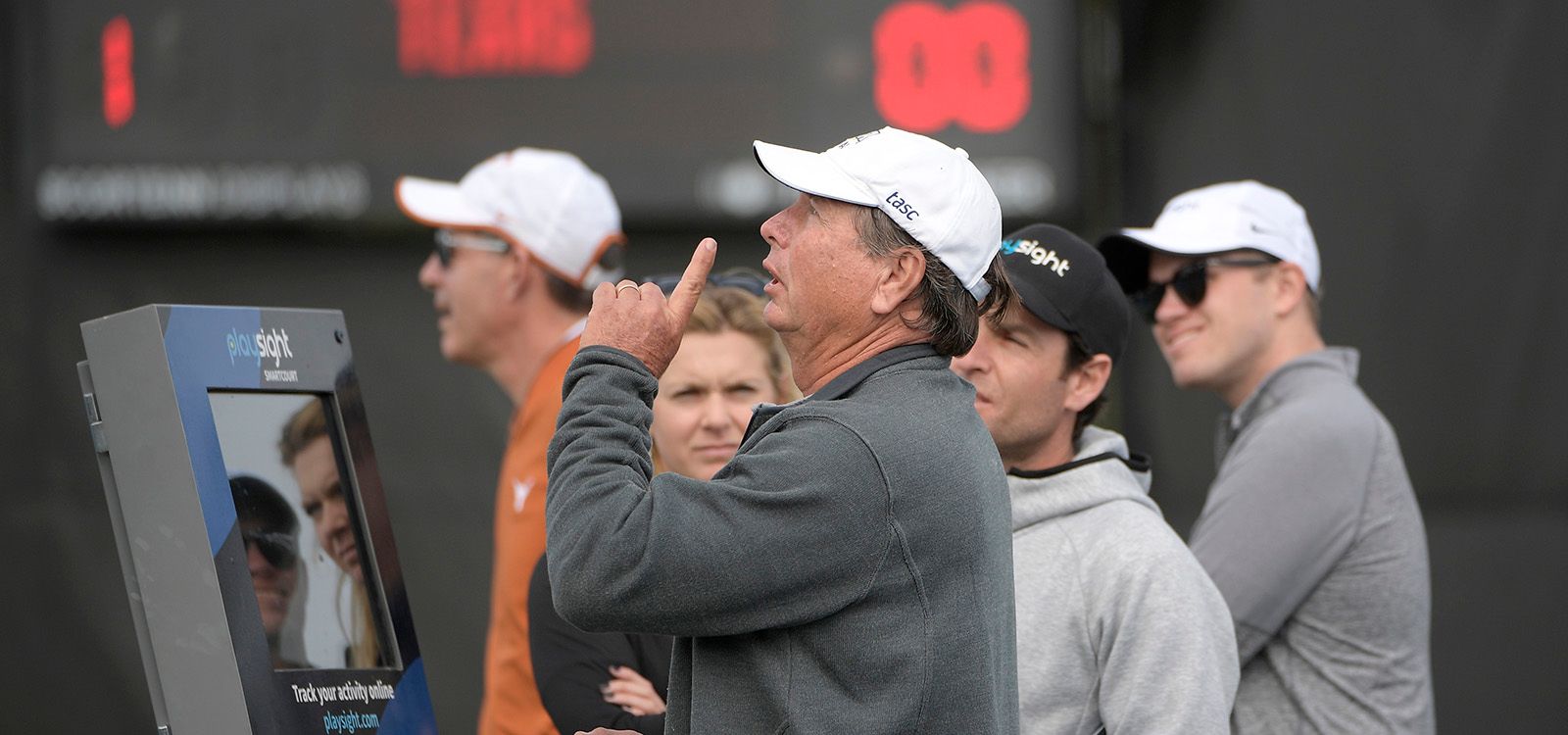 Using PlaySight SmartCourt technology, the PlayFair Challenge System was unveiled for the first time at the USTA National Campus on Jan. 16 during Texas' 7-0 victory over Mississippi in a men's contest at the Collegiate Center.
Each student-athlete received three challenges per set, and in the end a total of eight challenges were called with just one point being overturned. The mission of PlayFair is to improve the level of sportsmanship throughout tennis with the goal of increasing participation in, enjoyment, and viewership of the sport. PlayFair is a feature of PlaySight's SmartCourt technology, enabling players to challenge line calls made by their opponents or an official's overrule using instant video replay (a concept in sports known as Video Assistant Refereeing, or VAR). Players and officials can review where the ball landed by looking at a multi-angle video replay on the PlaySight touchscreen kiosk.
Along with it being the debut of PlayFair, it also was the first dual match of 2019 at the Campus. Approximately 300 dual matches are anticipated to be held at the facility this year, highlighted by the NCAA Division I Championships in May.
The Longhorns (1-0) opened up strong against the Rebels (0-1), sealing the doubles point in quick fashion before not dropping a set in singles.
"This week you are trying to assess things," said Texas head coach Michael Center. "I thought we did a really good job in Miami (in an individual tournament last weekend). We prepared and improved as we went along. We competed with them down there but had six completely different matchups. It was a totally different match today. When we really needed to make plays, we did a good job of that. Our energy level was good but it was a great start.
"We wanted to see the Campus, it was exciting to be here. Our goal is to be back here for the NCAA Championships in May. It was a great experience, and we really enjoyed it … It was a clean match. Mississippi's got a really nice team, it was a great experience for us and I'm sure it was for them. The PlayFair system is the way to go. I think that's the future."
The next USTA National Campus Collegiate Series matches will take place Jan. 19-21 when the men of BYU, California, Florida Atlantic, Florida State and UNCW all will be in action. Check out USTANationalCampus.com for the full schedule.
Texas def. Mississippi, 7-0
Doubles
No. 1 Christian Sigsgaard / Harrison Scott (UT) def. Fabian Fallert / Tim Sandkaulen (UM), 6-1
No. 2 Leonard Telles / Colin Markes (UT) def. Filip Kraljevic / Cotter Wilson (UM), 6-2
No.3 Chih Chi Huang / Yuya Ito (UT) vs. Jan Soren Hain / Simon Junk (UM), 5-3 unfinished
Singles
No. 1 Christian Sigsgaard (UT) def. Tim Sandkaulen (UM), 6-4, 6-4
No. 2 Yuya Ito (UT) def. Filip Kraljevic (UM), 7-5, 6-3
No. 3 Leonardo Telles (UM) def. Fabian Fallert (UM), 6-1, 7-6(6)
No. 4 Harrison Scott (UT) def. Jan Soren Hain (UM), 6-3, 7-6(4)
No. 5 Colin Markes (UT) def. Simon Junk (UM), 7-6(4), 6-4
No. 6 Chih Chi Huang (UT) def. Cotter Wilson (UM), 6-2, 6-3