Saint Michael's Puts Vermont Tennis on the Map
The Purple Knights come back stronger than ever    
Taylor Linton | April 25, 2019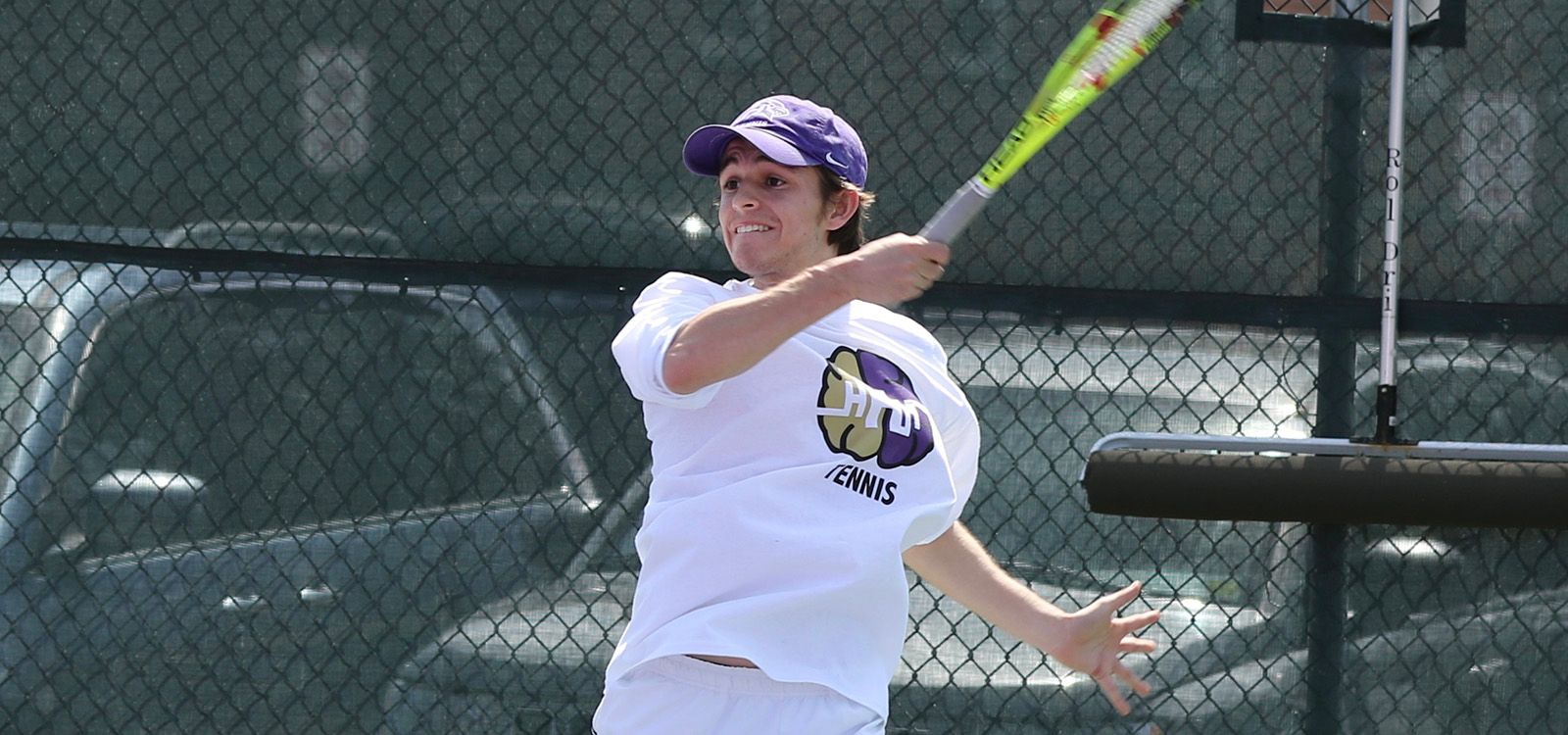 When head coach Jason Hammel took over the men's tennis team at Saint Michael's College last year, he was taking over a team that had faced some challenges—the Purple Knights had only seen two wins over two seasons.
Hammel started guiding the program at the end of March last year with only five matches left on the schedule. He began to turn the program around immediately, guiding the team to its first win of the season, as well as his first career win, just weeks later against Emerson College. The team has continued to improve and weather difficult matches since that victory.
"The guys were just dying to be put in a situation where they could train competitively, like a high-performance player might, and they'd just never been given the opportunity to do so," Hammel said. "The hunger and dedication was always there."
The Purple Knights have brought home six victories this season, including their first conference win in three years. Although the entire team has worked tirelessly to achieve what they have, three in-state players are determined to bring a name for tennis in Vermont.
"I think Vermont is a bit of a work-horse state, there's a lot of rural, farm and dairy communities and a lot of families who are four or five generations deep in these communities," Hammel said. "I think for tennis players, often times work ethic can be the big differentiator, and these guys bring a ton of work ethic every day.
"The perspectives of being from a state that is largely rural and has a lot of small towns, the guys do really well when they're with each other competing. They just have a different perspective, they know how to be real and honest, and I think that's what Vermont communities are really about."
Hammel recruited freshman Ivan Llona (Shelburne, Vt.) after attending one of his local matches. Although Llona considered trying out for Coastal Carolina's team, he decided to stay in his home state. Coming into a school that had seen some rough terrain just motivated Llona even more.
"It put a little pressure on me, but I'm hungrier for the challenge," he said. "I want to come in and I want to lead the guys, I want to make history. I want to do the best I can."
Llona has seen immense success in his first season as a Purple Knight, already setting the record for the most single match victories in a season in Saint Michael's history. He hopes to continue to succeed throughout his collegiate career to raise the profile of tennis in Vermont.
"Vermont isn't really known for tennis like some bigger states like Florida, California or Texas," he said. "Playing college tennis and being able to say I didn't come from a crazy prep school but just a Vermont high school is awesome. Especially since the team is achieving so much this year, it's a dream come true."
Tough Adversity
Senior Jake Remillard (Saint Albans, Vt.) has seen the team through difficult times to the feats of this season. One of his biggest credits to the success of this season is the bond of the team.
"I'm the oldest of the Vermonters, so I've been able to see this team go through various phases and evolutions," he said. "My sophomore year, we were still in that rut that a lot of people speak of. The number one thing is we've had a great coach change, but beyond that I think we got a mix of guys that all had a singular focus of wanting to work very hard and to elevate their game. For the first time in my experience on a tennis team, I can honestly say that my teammates are my best friends on and off the court."
Sophomore Colby Antonacci (Bolton Valley, Vt.) agrees with Remillard: "Honestly, this team feels like brothers to me. This entire season we built something we'd never built before and we got to share that with each other. We have three seniors who had been a part of the team when we didn't get any wins, and now we're winning and doing it together."
Although Antonacci faced an ankle injury for the beginning of the season that prohibited him from playing until April, he came back with a vengeance. His first match back after being in a boot left him with his first victory of the season, against UMass Boston.
"We played UMass Boston for my first match back and I just came in really hot and beat the guy in the No. 3 singles match. That was really important for me because of the difficulty I've had bouncing back from injuries in the past," Antonacci said. "I had a lot of personal stuff happen in the beginning of the semester and wasn't sure if I would be able to go all in on this season. It would've been the biggest regret of my life not finishing the season. I'm so glad I got to finish it. I'm so proud of this team for grinding through the hard times."
The hard times seem to be coming for an end for the Purple Knights, as they continue to find success on the courts. The team is hoping to bring more recognition to tennis in Vermont and inspire other youthful players to keep playing.
"I have a lot of pride for myself and my two other teammates who get to say we're Vermonters on this team," Remillard said. "I've been teaching a long time in Vermont with different organizations and I'm pretty aware of the decline of interest in tennis in Vermont. One of my biggest goals is to reinvigorate tennis in Vermont.
"We have really great tennis, now we just need more of it."