2018 USTA National Winter Championships

Singles Quarterfinal Matchups Set
January 1, 2019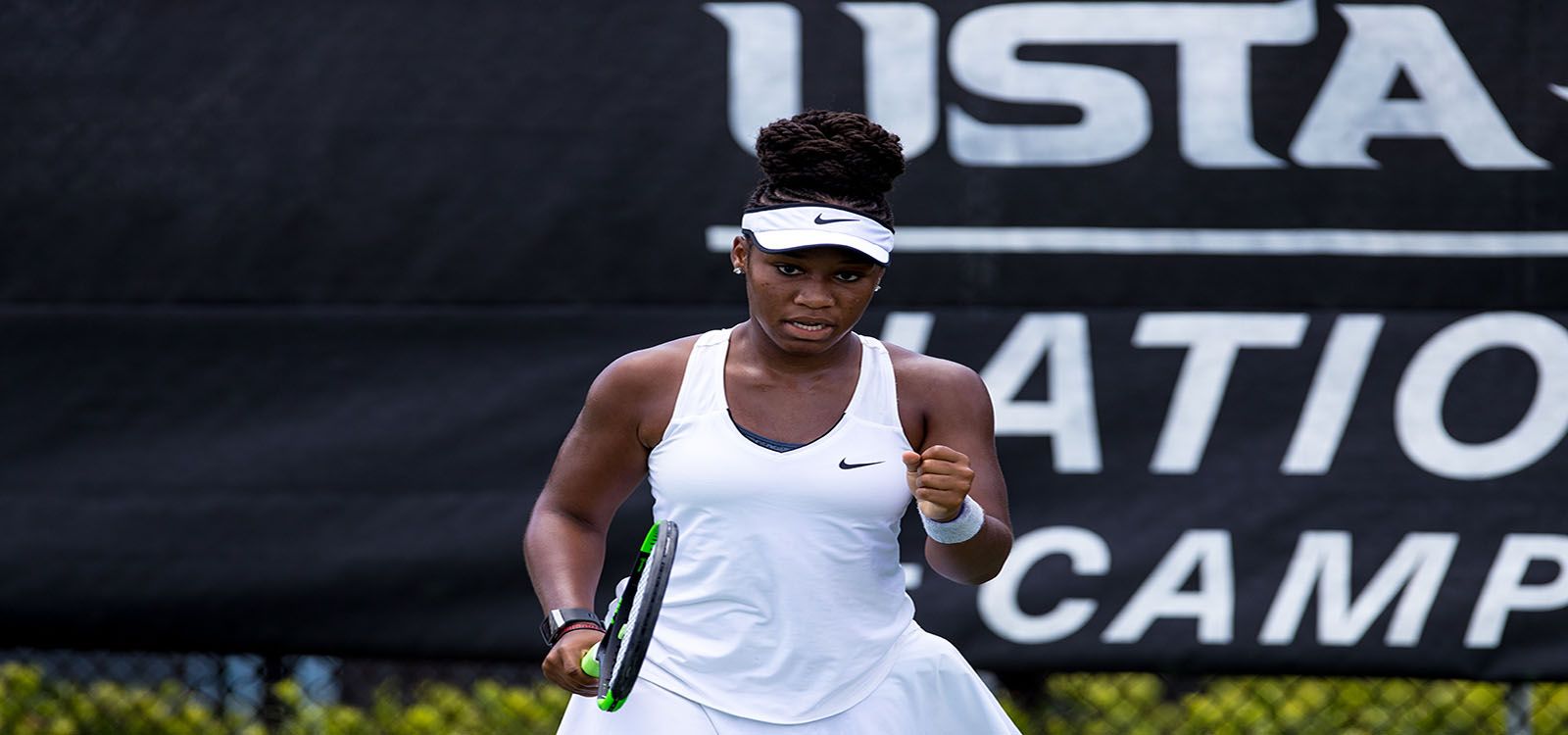 The singles draw have been whittled down to the quarterfinal round following Tuesday's matches at the 2018 USTA National Winter Championships, part of the USTA adidas Junior National Championships Series.
The only two top eight seeds left in the boys' 16s draw will be facing off in Wednesday's quarterfinals. No. 1 Jack Anthrop, competing in his hometown of Orlando, turned in his fourth consecutive victory in straight sets over an unseeded opponent, this time 6-1, 6-3 over Boynei Keenan (Southern); Anthrop has dropped a mere 16 games so far. His quarterfinal foe will be No. 5 Luke Casper (Northern California), who got past Braden Shick (Southern) 7-6(5), 6-4. No. 11 Samir Banerjee (Eastern) and No. 17 Zachery Foster (Texas) are also set to face off after mounting comebacks that resulted in 6-0 third sets, with Banerjee taking out No. 3 Thomas Paulsell (Pacific Northwest) 5-7, 7-5, 6-0 and Foster rallying by No. 17 Nathan Mao (New England) 2-6, 6-2, 6-0.
Three of the four players still in the hunt in the bottom half of the draw needed a third-set tiebreak to get through. Unseeded Carter Morgan (Florida) grabbed victory over No. 17 Nedim Suko (Pacific Northwest) 6-1, 2-6, 7-6(5), while his next opponent No. 17 John Kim (Northern California) cruised past No. 17 Ozan Colak (Midwest) 6-3, 6-1. No. 13 Quinn Snyder (Middle States) survived a lengthy match to oust second seed Jack Bickersteth (Midwest) 6-1, 1-6, 7-6(3) to go along with No. 17 Dominik Jakovljevic (Pacific Northwest) coming through in a marathon 2-6, 7-5, 7-6(2) over No. 6 Kabir Rajpal (Eastern).
Fourth seed Logan Zapp (Florida) takes over as the highest seed left standing as the boys' 18s draw is down to its last eight competitors. He has still not given away a set, with his latest result a 6-2, 6-4 win over Kieran Foster (Eastern). The next hurdle in his path to another Gold Ball is unseeded Karl Lee (Northern California) after he defeated No. 15 Kenner Taylor (Texas) 7-5, 6-3. That half of the draw will also feature a clash of No. 17 seeds in the form of Hunter Heck (Northern) and Ishaan Ravichander (Middle States), who both won in three sets.
No. 9 Zachery Lim (Northern California) managed to advance with an extended win over No. 17 Jeremie Casabon (Middle States) 6-3, 3-6, 7-5; Casabon was fresh off his upset of top-seeded Leighton Allen. Lim will go up against No. 17 Joshua Raab (Southern), who defeated fellow No. 17 Coy Simon (Southern) 6-1, 6-2, in the quarterfinals. No. 10 Aryan Chaudhary secured a huge victory against No. 7 Anuj Watane (Florida) 3-6, 6-3, 7-6(4) and has drawn No. 14 Daniel Milavsky (New England) in the next round after he advanced when Ritik Sundaram (Florida) retired at 6-1, 2-1 in favor of Milavsky.
In girls' 16s singles action, No. 1 Leyden Games (Southern, California) pushed through her toughest challenge so far by downing Sydney Sharma (Eastern) 6-3, 7-5. Her run against unseeded competitors will continue in the quarterfinals thanks to Angel You (Mid-Atlantic) rallying back to defeat No. 11 Alexis Blokhina (Florida) 3-6, 6-3, 6-4. Also moving on in the top half of the draw were No. 7 Bridget Stammel (Texas) and No. 13 Lan Mi (Eastern).
The bottom half of the draw continued to open up, as unseeded Floridian DJ Bennett stunned No. 4 Jennifer Riester (New England) while Emma Charney (Southern) knocked out a seed for the third round in a row by besting No. 9 Julia Fliegner 6-4, 6-4. Next up for Bennett is No. 14 Gavriella Smith, who won an all-Southern battle with No. 6 Mary Grace Armistead 6-0, 6-3; Charney will clash with No. 8 Nadejda Maslova (Eastern) after she beat No. 15 Avery Durham 6-4, 6-2.
It was mostly a straightforward day of play in the girls' 18s singles competition. No. 1 Anessa Lee (Southern California) and second seed Zoe Howard (Mid-Atlantic) each won 6-2, 6-1, dispatching No. 16 Emma Shelton (Florida) and No. 15 Eryn Cayetano (Southern California), respectively. Third-seeded Orlando native Alana Wolfberg held off Ashlyn Krueger (Texas) 6-4, 7-5, while No. 4 Connie Ma (Northern California) won the first three games of her round of 16 matchup before No. 13 Rosie Garcia Gross (Eastern) retired.
India Houghton will be the next hopeful to take a shot at upsetting Lee thanks to an impressive 6-4, 6-2 performance versus No. 9 Anna Ross (Southern). Rounding out the top half of the draw is Casie Wooten (Southern California), who prevailed over Allie Gretkowski (Southern) in the lone contest that went three sets 3-6, 6-2, 6-1. No. 8 Carly Briggs (Southern) will be across the net from Howard in the quarterfinals and No. 12 Gianna Pielet (Southwest) is the next opponent for Ma.
In doubles action, No. 2 seeds Maxwell Smith and Jake Sweeney of Southern were the only of the top four duos to reach the semifinals, where they will take on 14th seeds Banerjee and Louis Cloud (Texas). No. 7 Vishwa Aduru and Avery Zavala representing Texas will go up against No. 12 Bickersteth and Billy Suarez (Eastern) in the other semifinal.
The girls' 16s doubles draw features a much different story, where tandems seeded Nos. 1, 3 and 4 advanced to the semifinal round. Top seeds Ava Catanzarite (Middle States) and Avery Durham (Southern) survived a match tiebreak on Tuesday to stay alive, making them the next opponents for No. 3 Maslova and Nastasya Semenovski (New England). Charney and fellow Southern teammate Carrie Beckman, seeded fourth, were also victorious on the day. Finishing out the girls' 16s semifinals are No. 8 Yuu Ishikawa (Northern California) and Stammel.
Both the boys' and girls' 18s doubles competitions are at the quarterfinal stage after day four, meaning they will play two rounds in order to put their championship matches on court during Thursday's schedule of play.
Wednesday's matches will take to the court starting at 9 a.m. Live scoring for all singles quarterfinals and doubles semifinals can be found here.
For more information on the 2018 USTA National Winter Championships, click here.