Spring Break Tennis Podcast:
Live broadcast event promotes tennis to visiting student-athletes
Arthur Kapetanakis | March 17, 2020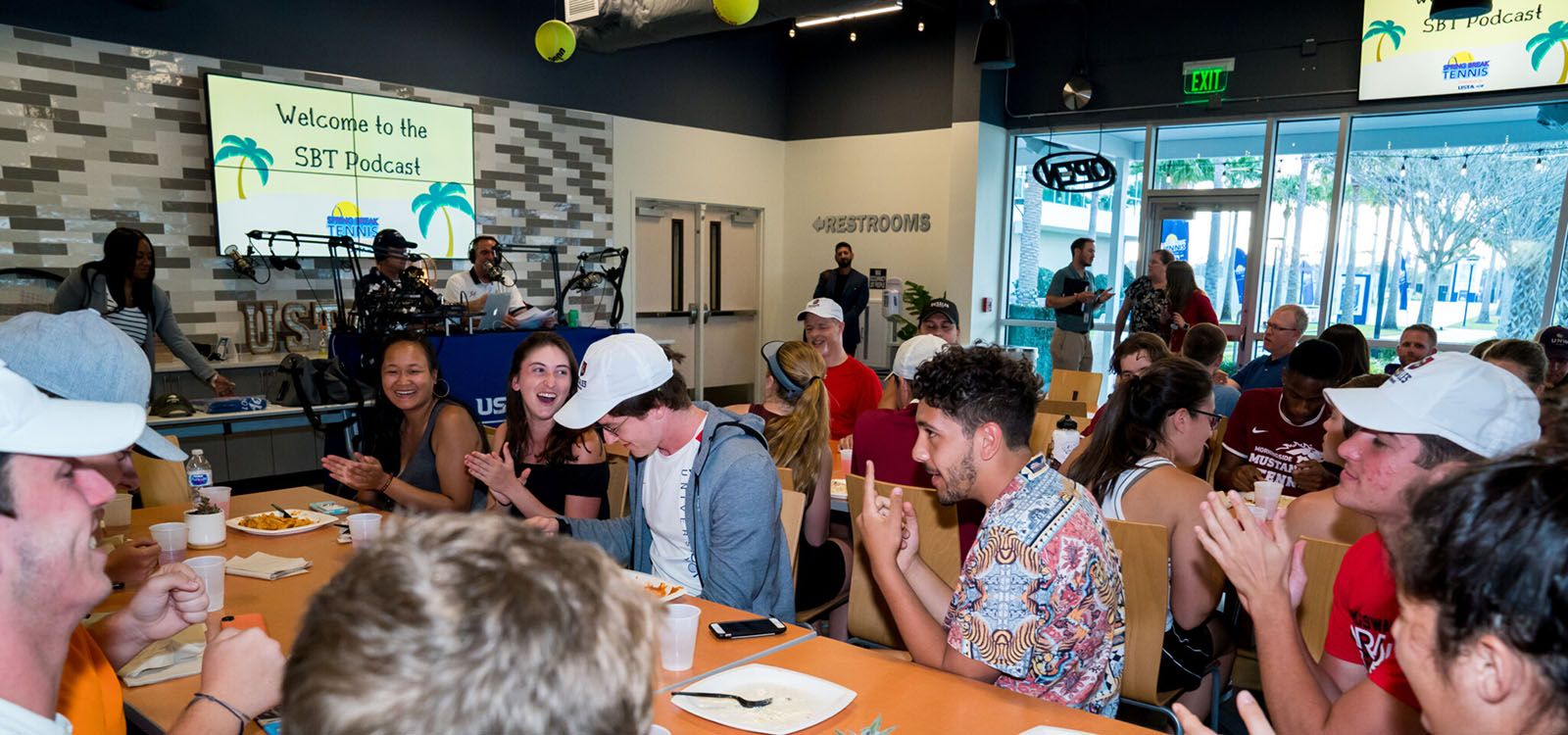 Spring Break Tennis is a familiar fixture at the USTA National Campus. In its fourth year of operation, the Campus hosted 223 college and high school spring break matches from sunrise to sunset in late February and early March. It was slated to host approximately 350 college teams and more than 400 matches overall before the season came to a halt.
But there was an exciting new addition to the festivities for 2020—a series of live Spring Break Tennis Podcasts catered towards visiting student-athletes.
Led by USTA-U's Chris Michalowski (Coach Mick), the podcast series helped inform teams of the various career opportunities that are available in the tennis world, showing players that tennis does not have to end when the last ball of their college careers is struck.
"The overall experience that we offer these student-athletes has grown each year," said Kristina Ward, coordinator of collegiate tennis with the USTA. "This year, we took it a step further with letting them know they are the future of our industry. The goal was to make it fun and engaging for them, but also give them the information they need to have a career in tennis once their playing career ends"
A record 30 collegiate dual matches were held on campus on March 10. That day was organized around three live podcasts which were recorded in the Net Post Grille, in addiiton to previous sessions earlier in the month.
Ramona Husaru, the director of education with the USPTA, was also on hand to engage with student-athletes. The overall message: there is a big need for quality tennis providers, making a career in the tennis industry a very practical goal for those with a passion for the sport.
Over pasta dinners, a parade of guests were interviewed, including Scott Treibly of USTA Collegiate, USTA National Campus teaching pro Kayser Kahn, and Jenna Kelly and Josh Record from the USTA National Campus events department. The sessions ended with interactive Q&As between the student-athletes, guests and hosts, and also included trivia and prizes from the Campus pro shop.
"We love welcoming hundreds of schools every spring to the USTA National Campus," added Brian Ormiston, manager of collegiate tennis at the USTA. "The atmosphere was off the charts in early March, and it was great to see so many memories being made again this year.
"We were thrilled with the response to these sessions and can't wait to expand this initiative of educating players about finding a career in tennis."
A USTA Professional Tennis Management (PTM) degree is a great way to gain an inside track on a career in tennis. With three graduate programs on offer in addition to seven undergrad programs one continuing education degree, it's never too late to get in the game.