Tennessee Blanks Duke on MatchDay
Volunteers earn the victory with some impressive singles play
Brian Ormiston | February 9, 2019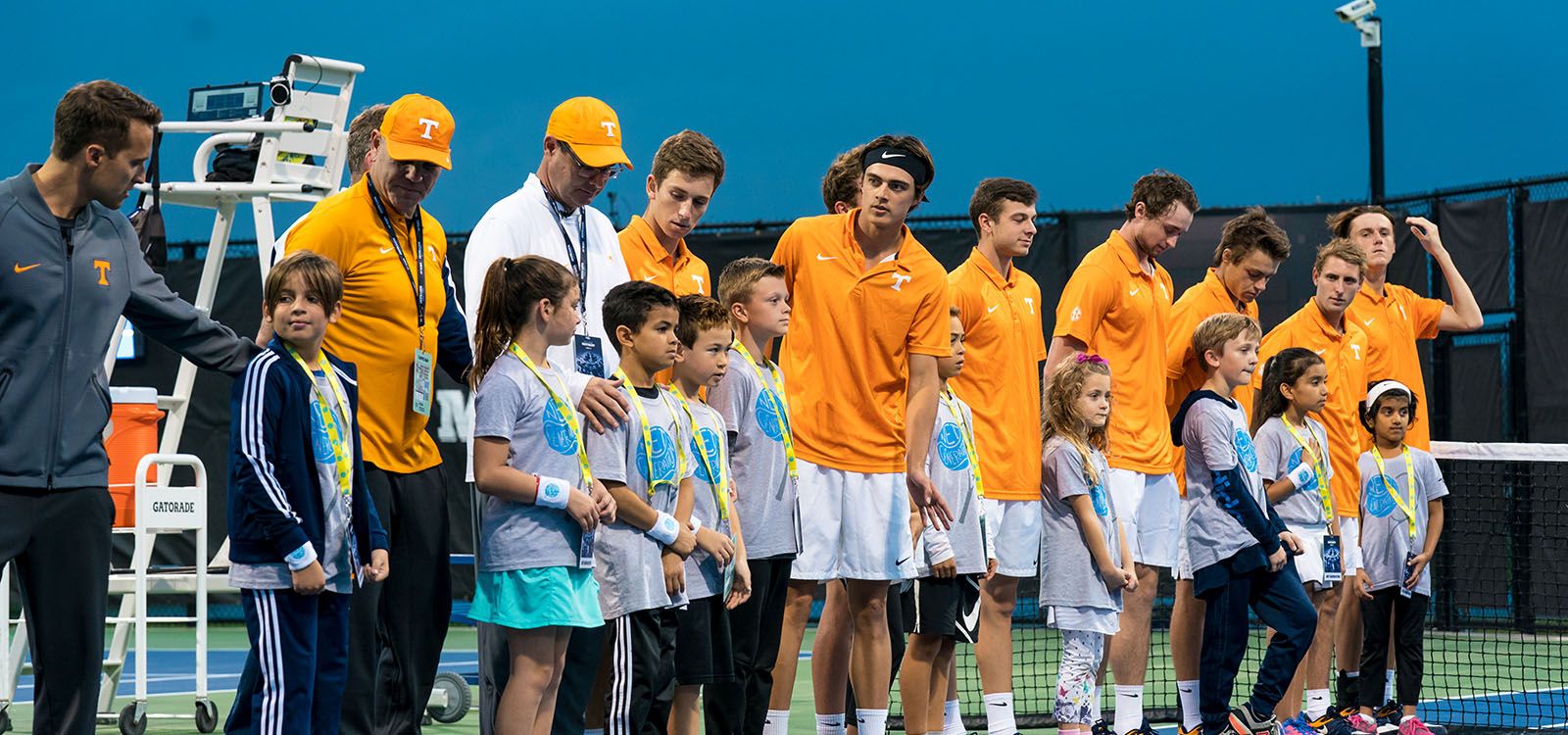 A great crowd ventured to the USTA National Campus for College MatchDay on Feb. 9 where Tennessee toppled Duke, 4-0. The event was highlighted by some thrilling three-set matches, and a lot of rain.
The format was altered due to the threat of inclement weather, so singles matches were played first. However, just a few games into the first set, the rain hit and after an 1.5-hour delay, play was forced to be completed inside the adidas Performance Center.
Once fans packed the indoor courts, action heated up with Tennessee (6-1) grabbing the first two points with a pair of straight-set wins against Duke (3-5). The next points, however, would be extremely difficult to earn as the remaining four singles matches reached third sets.
Ranked No. 16 in the Tennis Channel/USTA College Tennis Top 25, the Volunteers eventually secured the third and fourth points to clinch the victory.
"I thought we settled in once we knew we were coming inside," said Tennessee head coach Chris Woodruff. "Once we came in here, we had some clarity as to what we were going to do. It was a hard-fought match, even though we won 4-0, there were some tough matches.
"(This event was) fantastic. We really appreciate the USTA and the Tennis Channel for considering us. This would have been a good one to (finish) on TV. All of the matches were close."
The next edition of College MatchDay will be a special affair as the men and women of Air Force and Army take the courts on Saturday, Feb. 16, at 4 p.m. ET. The first 400 fans will receive a commemorative bobblehead, while a memorable military flyover will occur at the end of the national anthem.
The match between the Falcons and Black Knights is scheduled to air live on Tennis Channel Plus, a subscription service, while it will air on Tennis Channel on Sunday, Feb. 17, at 6:30 p.m. ET.
For College MatchDay ticket information, click on Ticketmaster.com.
Tennessee def. Duke, 4-0
Singles
No. 1 Nick Stachowiak (DUKE) vs. Timo Stodder (UT), 6-7, 6-3, 5-4, unfinished
No. 2 Adam Walton (UT) def. Spencer Furman (DUKE), 6-2, 6-3
No. 3 Scott Jones (UT) vs. Sean Sculley (DUKE), 4-6, 6-3, 5-1, unfinished
No. 4 Martim Prata (UT) def. Catalin Mateas (DUKE), 6-3, 2-6, 6-4
No. 5 Preston Touliatos (UT) def. Vincent Luke (DUKE), 7-5, 6-0
No. 6 Luca Wiedenmann (UT) def. Robert Levine (DUKE), 7-6, 6-7, 6-3
Order of Finish: 5, 2, 4, 6
Doubles was not contested
2019 College MatchDay
Feb. 2 – Florida def. Florida State (Men), 4-1
Feb. 9 – Tennessee def. Duke (Men), 4-0
Feb. 16 – Air Force vs. Army (Men/Women) – 4 p.m.
Feb. 24 – Florida vs. UCF (Women) – 5:30 p.m.
March 3 – Miami, Fla. vs. UCF (Men) – 5 p.m.
*All Times Eastern and Subject to Change