Texas Blanks Florida in Top-10 Showdown
Eighth-ranked Longhorns defeat ninth-ranked Gators, 4-0.
Brian Ormiston and Christina Aguis | April 1, 2018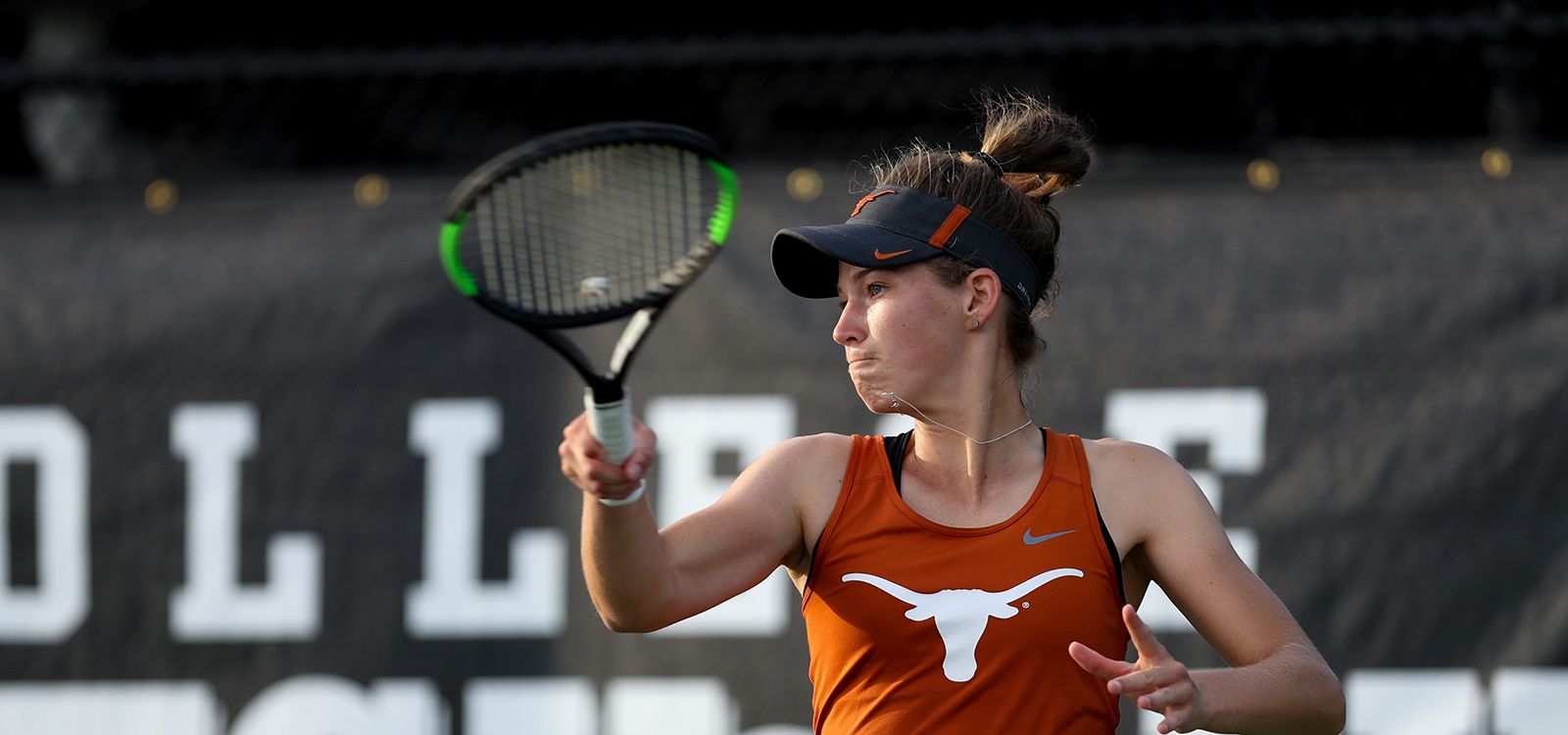 Two of the hottest teams in the country squared off for College MatchDay on April 1 in a top-10 women's battle at the USTA National Campus. Airing live on Tennis Channel, No. 8 Texas shut out No. 9 Florida, 4-0, as it was the first meeting between the two programs since 2008.
"For one thing, Florida is the defending National Champions, and while Texas and Florida are big brand names, the Texas women's team is starting to become more resurgent versus Florida's team who is always right there," Texas head coach Howard Joffe said. "In terms of the substance of the match, I can't speak for Florida, but we certainly had a little (sickness) go through our team this week and so we were without one of our players and the fact that our girls banded together and rallied and were as tough as they were, I'm certainly very proud of them.
"For the ladies on our team, the ability to come to play at USTA National Campus, and on top of that have their match televised, it's the stuff that truly dreams are made of. Not everyone, as we know, is Serena Williams and gets to play in front of millions of people, so for these kids to be able to play a real televised match at the USTA National Campus is truly, they've just got to pinch themselves. Certainly the USTA couldn't have done a better job and a more hospitable job of making us feel comfortable. Everything was first class."
For the first time at College MatchDay, singles was up first. If the score was knotted at 3-3 after singles, doubles would decide the match. However, doubles would not be needed on this night with the Longhorns (14-4) jumping on the Gators (14-6) for three quick singles victories.
At No. 3 singles, Petra Granic got on the scoreboard by only dropping one game to Victoria Emma, putting Texas up 1-0. Dani Wagland followed moments later with a 6-2, 6-1 triumph against Katie Kubicz at No. 6. The Longhorns then went up 3-0 thanks to Bianca Turati's 6-1, 6-3 win at No. 1 vs. Anna Danilina.
Although Texas won the first sets in the remaining three singles matches, drama engulfed the National Campus in the second sets. At No. 4 and No. 5, the Longhorns had five match points and two match points, respectively, only to witness the Gators fight back each time. Finally in a second-set tiebreaker at No. 4, Bojana Markovic clinched College MatchDay for Texas with her 7-5, 7-6(3) win against McCartney Kessler.
"One of the problems with coaches is that they're never happy, which is a good and a bad thing," Joffe said. "I definitely think more than anything our team just needs to get healthy, as I said, we had a little bit of a bug go through the group. If anything, we needed to take opportunities better … it took eight match points to actually clinch the thing. That for a coach makes me nervous in any light. I'm very proud of our kids. Our whole goal is to be playing our best tennis."
The 2018 College MatchDay season wraps up with an in-state rivalry showdown between the men of UCF and South Florida Sunday, April 15, at 5:30 p.m. Fans are invited to come early to experience all of the festivities including a special wheelchair clinic at 4 p.m. which will be open to all able-body players and persons with disabilities.
For College MatchDay ticket information, click on Ticketmaster.com.
No. 8 Texas 4, No. 9 Florida 0
Singles
No. 1 Bianca Turati (UT) def. Anna Danilina (UF) 6-1, 6-3
No. 2 Anna Turati (UT) vs. Josie Kuhlman (UF) 7-6, 3-4
No. 3 Petra Granic (UT) def. Victoria Emma (UF) 6-1, 6-0
No. 4 Bojana Markovic (UT) def. McCartney Kessler (UF) 7-5, 7-6
No. 5 Katie Poluta (UT) vs. Peggy Porter (UF) 6-3, 5-6
No. 6 Dani Wagland (UT) def. Katie Kubicz (UF) 6-2, 6-1
Order of Finish: 3, 6, 1, 4
Attendance: 509
2018 College MatchDay
Feb. 3 – Florida 3, Florida State 4 (Men)
Feb. 3 – Florida 1, Florida State 4 (Women)
Feb. 9 – Georgia 4, Georgia Tech 0 (Men)
Feb. 24 – Oklahoma 4, Texas A&M 3 (Men)
March 3 – Michigan 4, UCF 1 (Men)
March 3 – UCF 4, Michigan 2 (Women)
April 1 – Texas 4, Florida 0 (Women)
April 15 – UCF vs. South Florida (Men) – 5:30 p.m.
*All Times Eastern and Subject to Change