UCF Blanks UM in MatchDay Finale
Knights take down the Hurricanes to close out the College MatchDay schedule.
Brian Ormiston | March 3, 2019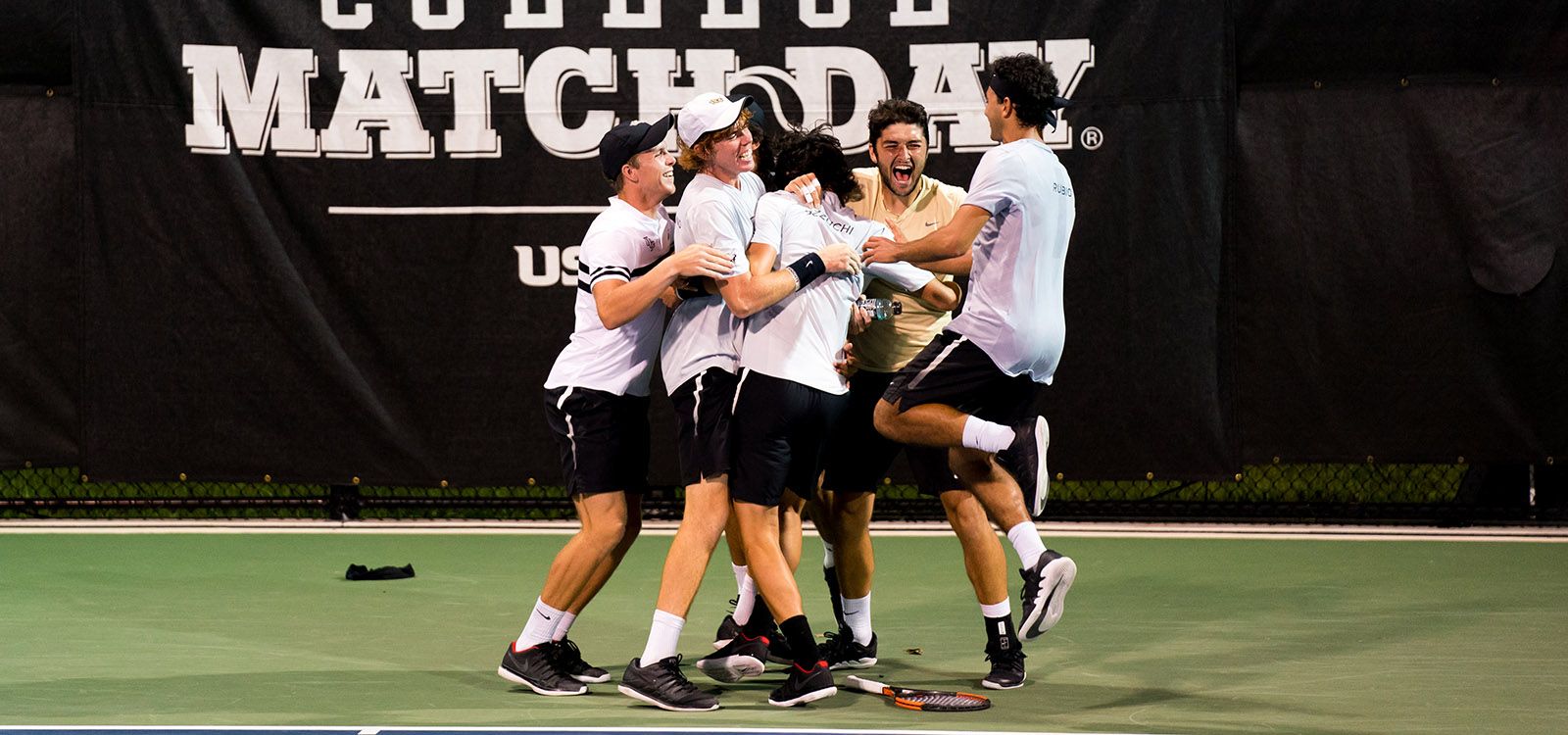 Backed by the hometown crowd, the UCF men delivered a 4-0 victory over in-state rival Miami in the 2019 College MatchDay finale on March 3. The evening capped off a series in which more than 9,200 tickets and passes were acquired for the five MatchDay events this season.
"I wouldn't have expected that to be the score before we started; we had a really tough match with them last year," said UCF head coach John Roddick. "It's also part of having injuries and part of being young this year, and I remember telling my athletic director that 'March is when we will start playing a little better.' Here we are in March and we played a really good match. There's a long way to go in this, but our guys needed it and they earned it. They did a really nice job of doing what we talked about."
UCF (6-5) was on a mission from the very beginning against UM (8-4), clinching the doubles point at the No. 1 and No. 2 positions for the early 1-0 lead. The Knights then sprinted out to a 3-0 advantage thanks to a pair of singles wins at No. 2 and then No. 5. Both Alan Rubio at No. 3 and Juan Pablo Grassi Mazzuchi at No. 4 were then in position to close out the win for UCF, and it was Grassi Mazzuchi who ultimately sealed the victory to start up the post-match party for the Knights and their fans.
"The USTA does an unbelievable job of getting fans out. Every time we play College MatchDay, it's been a great crowd and a great atmosphere," said Roddick, whose team will play its next nine matches at the USTA National Campus. "We've done a lot of traveling, so school hasn't been easy for some guys. We've done the overcoming part, and now we just have to keep playing good tennis."
With College MatchDay in the books, fans do not have to wait long before experiencing more college tennis at the USTA National Campus. Along with UCF's men's and women's teams, the Collegiate Series resumes when Duke (women), Florida Gulf Coast (men), Florida State (men), Iowa (women), Miami (men), Michigan (women), Notre Dame (women), Penn State (men), Penn State (women) and VCU (women) all flock to Orlando from March 6-12. For a detailed schedule, visit USTANationalCampus.com.
Men – UCF def. Miami (Fla.), 4-0
Doubles
No. 1 Trey Hilderbrand / Bogdan Pavel (UCF) def. Tatsuki Shimamoto / Adria Soriano Barrera (UM), 6-4
No. 2 Gabriel Decamps / Juan Pablo Grassi Mazzuchi (UCF) def. Dan Dunlap / Stephen Madonia (UM), 6-4
No. 3 Alan Rubio / Mikhail Sokolovskiy (UCF) vs. Franco Aubone / Francisco Bastias (UM), 5-2
Order of Finish: 1, 2
Singles
No. 1 Gabriel Decamps (UCF) vs. Adria Soriano Barrera (UM), 4-6, 7-5, 2-2, unfinished
No. 2 Bogdan Pavel (UCF) def. Francisco Bastias (UM), 6-2, 6-3
No. 3 Alan Rubio (UCF) vs. Bojan Jankulovski (UM), 7-6, 5-2, unfinished
No. 4 Juan Pablo Grassi Mazzuchi (UCF) def. Dane Dunlap (UM), 6-4, 1-6, 6-4
No. 5 Trey Hilderbrand (UCF) def. Franco Aubone (UM), 2-6, 6-3, 6-1
No. 6 Mikhail Sokolovskiy (UCF) vs. William Grattan-Smith (UM), 5-7, 6-3, 0-0, unfinished
Order of Finish: 2, 5, 4
2019 College MatchDay
Feb. 2 – Florida def. Florida State (Men), 4-1
Feb. 9 – Tennessee def. Duke (Men), 4-0
Feb. 16 – Air Force def. Army (Men), 4-2 – Air Force def. Army (Women), 4-3
Feb. 24 – UCF def. Florida (Women), 4-3
March 3 – UCF def. Miami (Men), 4-0