Another Upset on College MatchDay
UCF and Michigan split results in an exciting MatchDay event.
Brian Ormiston and Christina Aguis | March 3, 2018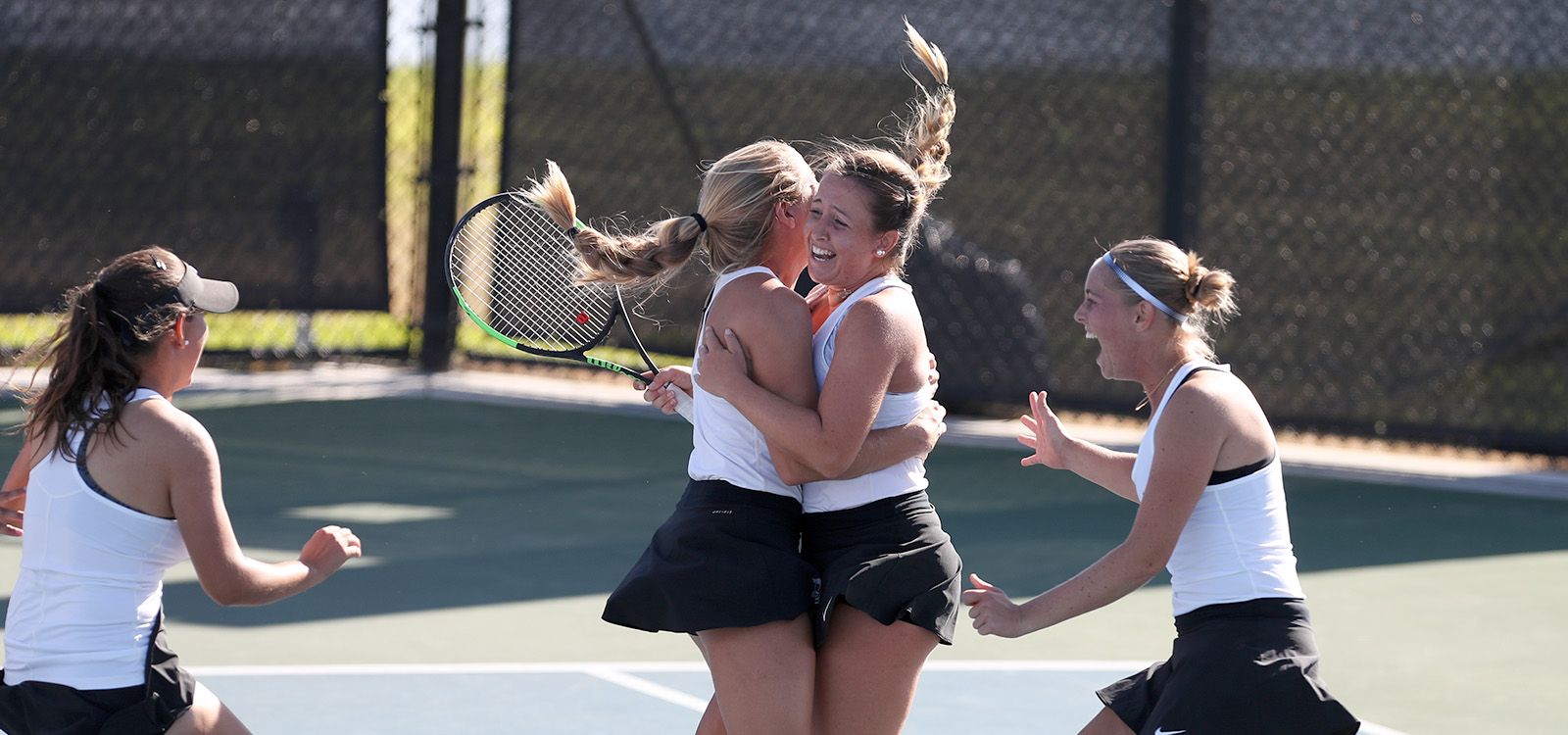 In front of 1,325 fans on March 3 at the USTA National Campus, the UCF women delivered the fourth upset in six College MatchDay matches this season, stunning No. 21 Michigan, 4-2.  Meanwhile, the No. 16 Wolverines dropped the men's doubles point only to rebound for a 4-1 victory over the Knights.
Women
The Wolverines (4-6) took control of the afternoon by earning a 1-0 lead against the Knights (6-3) thanks to the doubles point. When it turned over to singles, the Knights bounced back for a 3-1 advantage. At No. 2, Maria Martinez cruised to a 6-4, 6-1 win over Brienne Minor, Monica Matias then took down Alyvia Jones at No. 4, 6-1, 7-6, and Natalia Serrano was triumphant at No. 5 over Mira Ruder-Hook, 3-6, 6-3, 6-1.
Michigan did not go away as Kate Fahey topped Ksenia Kuznetsova at No. 1, 6-2, 4-6, 6-3. Now up 3-2, UCF's Rebeka Stolmar set off a massive celebration for the Knights, defeating Chiara Lommer at No. 3 on the third match point, 6-3, 1-6, 7-5.
"We knew Michigan was going to be a great team. I have respect for (Michigan head coach) Ronni (Bernstein), and we knew it was going to be exactly what this was, a fight," UCF head coach Bryan Koniecko said. "I can't be more proud of this team. … We practice on these courts every day and the fans at the end helped us, which is amazing. I'm so glad they stuck around to watch us at the end of our point."
Men
The afternoon began the same on the men's side with the ultimate victor losing the doubles point. Although UCF (4-3) controlled the match 1-0 entering singles, the Wolverines pounced on the Knights. Carter Lin was the first on the board with a 6-3, 6-2 win at No. 5 vs. Eero Vasa, followed by Runhao Hua who defeated Alan Rubio at No. 2, 6-2, 6-2.
To close out the 4-1 team win, Michigan used a 1-6, 6-4, 6-0 victory by Alex Knight over Korey Lovett at No. 1 then a 2-6, 6-3, 6-3 win by Davis Crocker against Danny Kerznerman at No. 6 to improve to 10-2 on the year.
"It's probably the best I've ever seen our team fight," Michigan head coach Adam Steinberg said. "It was a great MatchDay. They (UCF) have a really good team and we knew that. They haven't played a lot so far, but they're going to be so good by the end of the year. We feel like it's a great year for our program.
"It's amazing here. I feel like I've coached a national championship-type match. Everything they do for College MatchDay, it's one of the best things that's happened for our sport. To have USTA behind college tennis like this is great. For our guys, they don't get to play in this atmosphere all of the time and this makes them feel like they're part of something big."
Two College MatchDay events remain on the 2018 schedule. Up next, the Florida and Texas women collide on Sunday, April 1, with first serve slated for 5 p.m. Festivities will begin at 3 p.m., and the match will air live on Tennis Channel.
For College MatchDay ticket information, click on Ticketmaster.com.
Notes: There have been four Gatorade showers this year after each of the upsets (FSU over UF men and women, Oklahoma over Texas A&M men, UCF over Michigan women).
Attendance: 1,325.
2018 College MatchDay
Feb. 3 – Florida State 4, Florida 3 (Men)
Feb. 3 – Florida State 4, Florida 1 (Women)
Feb. 9 – Georgia 4, Georgia Tech 0 (Men)
Feb. 24 – Oklahoma 4, Texas A&M 3 (Men)
March 3 – Michigan 4, UCF 1 (Men)
March 3 – UCF 4, Michigan 2 (Women)
April 1 – Florida vs. Texas (Women) – 5 p.m.
April 15 – UCF vs. South Florida (Men) – 5:30 p.m.
*All Times Eastern and Subject to Change