UTR at the National Campus
Competition for prize money heated up in Orlando.
Brian Ormiston | January 5, 2018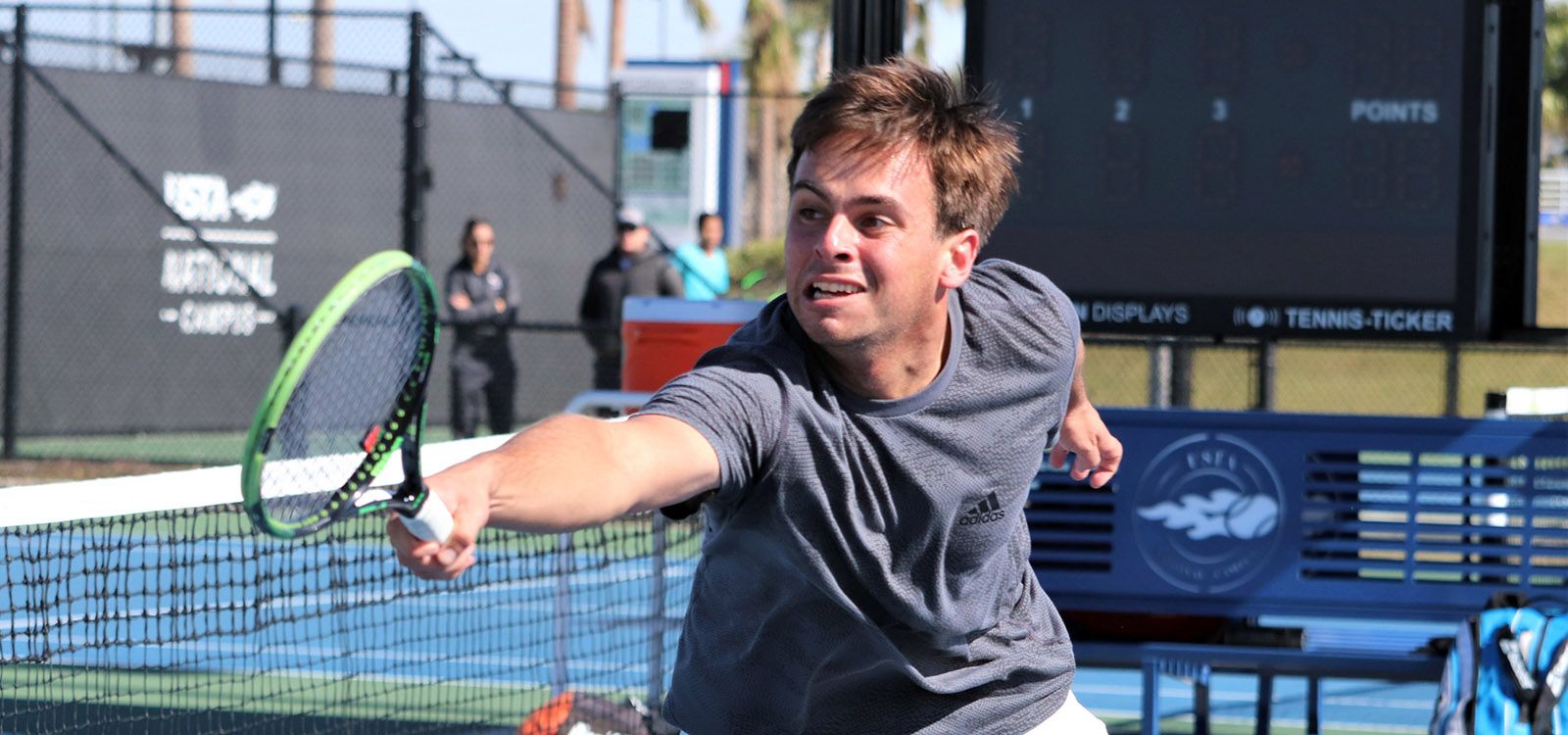 The beginning of 2018 brought an historic moment to Orlando. The USTA National Campus hosted its first UTR Tournament with the Players UTR event taking place Jan. 3-5. Seven of the eight men's and women's semifinalists were current or former college players.
First-place winners for both men and women received $1000, while runner-up picked up a check for $500 and the third-place finisher earned $250. There were 18 universities represented in the field, and all matches counted toward each player's UTR rating.
"The number of progressive aspects of this tournament was a credit to the staff at the USTA National Campus," said Randy Jenks, UTR Global Director of Events and Players UTR Tournament Director. "First and foremost this tournament demonstrates how USTA and UTR can work together to deliver a tremendous product to tennis players. It was an opportunity to show people the value of level-based play. Further, the staggered entry draw type, prize money and live match streaming made this a truly groundbreaking event. Those that participated are pioneers of the re-engineering of tennis competitions." 
In all, more than 85 matches were held for the USTA National Campus Players UTR tournament. The level-based play format featured best-of-three sets to four games with a shortened tiebreaker at 4-4. Those with the highest UTR ratings were placed in the last stage, while the lowest UTR ratings were in the first stage as players tried to qualify and feed up into the next bracket.
A list of the semifinalists:
Women
Caitlyn Merzbacher – Minnesota
Alexandra Mikhailuk – Junior Player
Kelly Poggensee-Wei – Former Cincinnati No. 1
Rebeka Stolmar – UCF
Men
William Bushamuka – Kentucky
Korey Lovett – UCF
Tommy Mylnikov – Texas Tech
Jeremy Sonkin – Former Wisconsin No. 1
On the men's side, UCF's Korey Lovett and former Wisconsin Badger Jeremy Sonkin both had a lot of supporters. Lovett played in front of his college teammates who are in the middle of preseason practices, and he used an ace in the first-set tiebreak to grab the lead. With head coach John Roddick observing, Lovett closed it out in the second, 4-2.
"I got some good matches in especially playing William in the semifinals. That gave me a lot of confidence. I will try to feed off of this going into the season and have a good senior year," said Lovett, who joined Bushamuka in playing USTA Pro Circuit events in 2017. "I took about a week off in the fall to regroup mentally and physically, I got home and hit it somewhat hard from a fitness-perspective."
For Sonkin, the second-place finish capped off an incredible ride. Since he had not played competitively since 2009 and did not have a UTR rating, he had to start the tournament in stage one before playing eight matches to reach the finals.
"I graduated from Wisconsin in 2009 and I've been pursuing acting for that whole period since then," said Sonkin, who will now have a UTR rating. "I was on tour with Jesus Christ Superstar for a year, and then I've been performing professionally in Chicago since the tour closed.
"Coaching tennis was in my life, I did it here and there with some ladies groups. Then the last couple of years I got into coaching more elite and competitive players including juniors, and I've been traveling with one girl for the last eight months, as well working with a couple of guys. It sparked me to go out and give it one more shot. For the last four and a half weeks I've been working out of Saddlebrook (in Tampa) … and putting all of the hard work in that I can."
A few minutes after UCF took first place in the men's bracket, the Knights grabbed the title for the women as well. In a matchup with Mikhailuk, Stolmar squeaked out a 5-3 first-set win and then secured a 4-1 triumph in the second set for the crown.
"It was a great experience before the season. It was good to get some matches in. The weather was cold so it was tough to play but overall I really enjoyed this tournament, and I love to play here since we practice here," said Stolmar. "I've been consistently playing including back home in Hungary and I flew back Dec. 31. I feel much better and I'm excited about the UCF season."
Stolmar has played in several Pro Circuit main draws the last few years. Meanwhile, Mikhailuk, who hails from the Toronto area, is looking at playing collegiately after her junior career wraps up.
About UTR
Universal Tennis Rating reflects the level of play of all players, and ranges from 1-16. Three factors go into the rating: the competition, the score and recent matches. For more information and a full list of results of the Players UTR event, visit MyUTR.com.