Winter 2023/2024 Programs are NOW OPEN for registration! Take a look at all of our offerings this Winter. We can't wait to see you on the court!
✕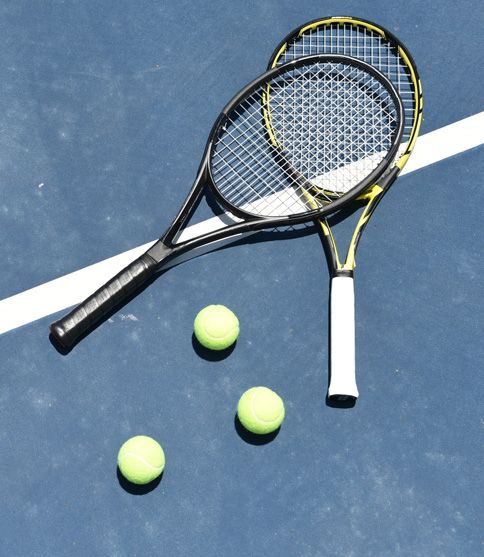 Thank you and see you on the courts!
Follow USTA for exclusive tips, access and more.
Dave Bailey at the USTA National Campus
Dave Bailey is the world's leading expert in Tennis Movement & Footwork.
He has spent 30 years studying the footwork and movement patterns of the top tennis professionals, viewing over 18,000 video clips of professional players in action – carefully observing and documenting their precise movements.
Dave has been the footwork and movement  trainer to over 21 professional Grand Slam players, including:
Monica Seles, Jelena Dokic, Bethanie Mattek-Sands, Johanna Konta, Shaui Zhang, Vince Spadea, Jarmila Wolfe, Misaki Doi, Catalina Castano, Anne Keothavong and Andrew Ilie.
Offerings at the National Campus
Bailey Tennis Footwork private training is all about Dave finding your strengths and developing your movement patterns to ultimately choreograph your unique "Way of Play". The program is very personalized, highly structured and incorporates continual assessment.
Players are introduced to the 5R's of great tennis footwork and movement, and begin to learn and master the 6 athletic skills of tennis - Hopping, Pivoting, Shifting, Lunging, Transferring and Spinning the hips - combined with the relevant Hitting Stances, Out Steps, Recovery Steps and correct Swing Lines. 
Players initially learn the techniques using templates (eg: squares, arrows, discs, cones etc) - but not in a way that you might be used to or have ever seen before – this training is unlike any other! 
Once the moves are learned using the templates, players practice with Shadow Tennis and then progress to hitting tennis balls on court to various targets.
Every private training session includes: 
Outline of lesson objectives (agreed goals and focus for the lesson)
Baseline assessment (where are we starting from today?)
Personalized routine training (by end of lesson a complete drill that can be practiced at home)
Wrap Up 
OPTIONAL ADD-ONS – Improve your live ball footwork
Request a ball machine with your Footwork & Movement lesson
Book an additional pro for your Footwork & Movement lesson. Dave will provide training and consultation while you hit with the pro. (Additional pro hourly rate applies)
TO BOOK A PRIVATE LESSON:
Contact the National Campus Programs Office at 407-675-2504 or email nationalcampusprograms@usta.com
The Bailey Method 4 day Intensive Footwork & Movement Clinics are highly customized, personalized programs, for just 1 - 4 players, working on court with Dave Bailey.  The program commences with a personal analysis of each player's movement on court and then the training is tailored to the player's individual strengths and developmental needs. The program concludes with a video analysis and a comprehensive written report to take home for use in ongoing training.
Ultimately, the Bailey Method offers a series of four Intensive Clinics that are ideally conducted over a 12-18mth period and become increasingly personalized in developing and polishing players strengths, building their tournament Playbooks and honing their ability to fluidly strategize under tournament conditions.
Level 1: Fundamentals
Level 2: Strategy & Tactics
Level 3: Patterns of Play
Level 4: Creating a Personalized Playbook
Level 1 Program
In the Level 1 Clinic players learn the fundamentals of great tennis footwork and movement, and the Golden 12 Contact Moves of tennis. Players immediately start discovering and developing their own movement and footwork strengths on the court. 
Every Level 1 Intensive Footwork & Movement Clinic includes: 
Digital Lead-In Pack –  Our Fundamental Footwork Pack (3 videos, 2 pdf manuals and a wall chart) will be sent to you in advance. This pack contains the teaching progressions for the Golden 12 Contact Moves that will be learned over the 4 days. 
Initial on-court analysis and tailoring of the program to your specific needs (age, athleticism, skill level & experience).
Comprehensive training in the 12 Fundamental Contact Moves that all tennis players need to know, plus Serves and Returns. 
For more advanced players – Approach Shots, Volleys and Net Play are also covered. 
Serve Sharpshooter and take-home score sheets for ongoing use. 
Assorted other training articles and materials to take home. 
Video assessment on the last day to take home for ongoing training. 
Written report sent to you following the Clinic, with recommendations for ongoing training. 
Discounted rates for ongoing online training with Dave Bailey.
Lead Up – In the lead up to your private clinic, we will send you the Bailey Method Fundamental Footwork Pack (inc. 3 videos and 2 manuals). This video & manual set contains the teaching progressions for the Golden 12 Contact Moves that will be learned over the 4 days. The more familiar you become with the steps, stances, moves and cue words prior to the clinic the more benefit you will gain from the clinic.
And once you finish the Level 1, join Dave for Clinic 2: 
SAMPLE SCHEDULE:
Day 1
Initial assessment 
The 5R's and Completing the Circle
Attacking Footwork (4 Contact Moves)
Day 2

Rallying Moves (build & counter attack – 4 Contact Moves)
Day 3

Defensive Moves (4 Contact Move)
Day 4

Bringing it all together and ranking the Contact Moves to find your greatest match-play weapons. 
Individual video assessment and comprehensive written assessment report 
Each day is a 5 hour commitment (inc. 1hr meal/rest break). When booking your Clinic, timing can be adjusted to suit any other commitments or activities you have planned whilst in Orlando.
WHAT ELSE IS THERE TO DO?
In addition to taking one of our great footwork and movement programs, you can also*:
Book a session(s) with one of the Campus' world-class high-performance technical & tactical Coaches*
Join one of the group sessions in our Youth Performance, High Performance, Family Zone, or Adult Programs (subject to availability and player level)*
Reserve a court on one of the Padel, Pickleball, or superb Tennis courts (hardcourt or clay)*
(*additional fees apply)
And of course, all of the world-class theme parks and attractions Orlando has to offer! 
BAILEY TENNIS FOOTWORK AND MOVEMENT TRAINING AT USTA
Private and Semi-Private Lessons

Lesson Type

2023 Price Per Player

2024 Price Per Player
1 Player
$150.00
$155.00
2 Players
$80.00
$82.50
3 Players
$57.00
$58.00
4 Players
$45.00
$46.25
Half-Day Private Lesson (3 hour)

Lesson Type

2023 Price Per Player

2024 Price Per Player
1 Player
$405.00
$465.00
2 Players
$216.00
$247.50
3 Players
$153.00
$170.00
4 Players
$121.50
$131.25
Intensive 4-Day Clinics 

Lesson Type

2023 Price Per Player

2024 Price Per Player
1 Player
$2,200.00
$2,310.00
2 Players
$1,200.00
$1,260.00
3 Players
$870.00
$913.50
4 Players
$700.00
$735.00