History of College MatchDay
The series began in 2013 before moving to the National Campus in 2017 
March 4, 2020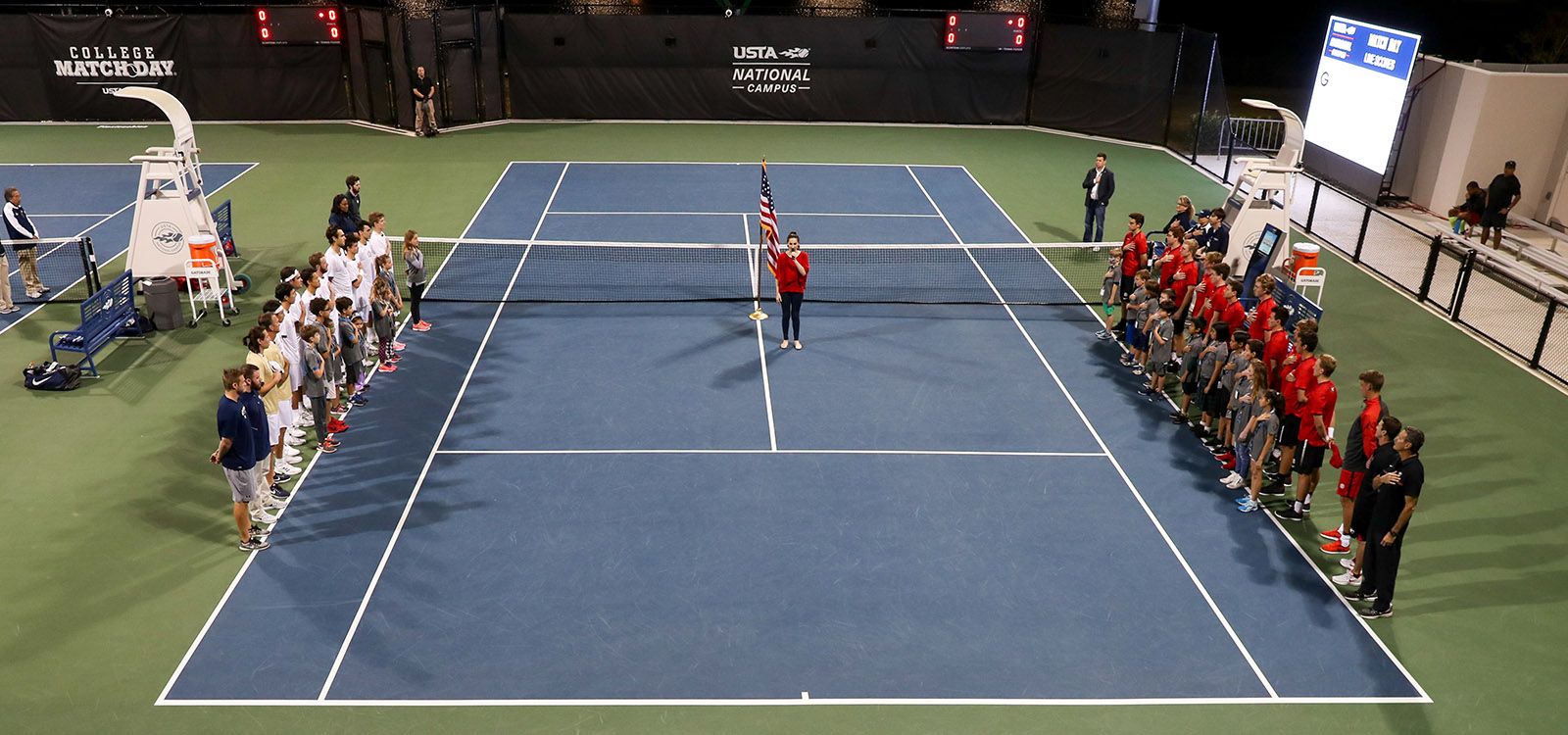 College MatchDay was created in 2013 by the USTA to showcase some of the best college tennis teams and campuses the sport has to offer. In 2017 with the opening of the Campus and its Collegiate Center in Orlando, College MatchDay now has a permanent home.
Since moving to the Campus, College MatchDay eventually produced some of the largest crowds to attend regular-season college tennis matches. Along with over 1,700 fans who attended the Florida vs. Florida State contests in 2017 and 2018, an average of more than 1,800 tickets and passes were acquired for the 2019 season. One year later, two of the largest crowds to watch a women's-only match stormed the Campus for Florida State vs. Ohio State and Notre Dame vs. USC.
Some of the most memorable crowds have been a part of College MatchDay, including 1,033 fans for the first event in 2013 when the Florida women topped Stanford in Gainesville. One year later, 1,072 fans watched as visiting Texas defeated the TCU men.
2013
Feb. 24 - Florida def. Stanford, 4-2 - Gainesville, Fla. - Women
March 22 - Virginia def. Duke, 4-3 - Charlottesville, Va. - Men
2014
Feb. 7 - Oklahoma def. Florida State, 4-0 - Tallahassee, Fla. - Men
Feb. 8 - Florida State def. LSU, 4-1 - Tallahassee, Fla. - Women
Feb. 14 - Tulsa def. Arkansas, 4-3 - Tulsa, Okla. - Men
Feb. 16 - Minnesota def. Oregon, 6-1 - Minneapolis, Minn. - Women
Feb. 22 - Notre Dame def. Ball State, 4-0 - South Bend, Ind. - Men
Feb. 23 - North Carolina def. NC State, 7-0 - Chapel Hill, N.C. - Women
Feb. 28 - Florida def. Texas A&M, 4-0 - Gainesville, Fla. - Women
March 1 - Texas def. TCU, 4-2 - Fort Worth, Texas - Men
March 5 - Purdue def. DePaul, 5-2 - West Lafayette, Ind. - Men
March 9 - Oklahoma State def. Oklahoma, 4-2 - Stillwater, Okla. - Women
March 14 - Illinois def. Pepperdine, 5-0 - Champaign, Ill. - Men
March 15 - N.C. Central def. Howard, 5-2 - Durham, N.C. - Men
March 19 - Texas A&M def. Baylor, 4-1 - Waco, Texas - Women
March 23 - Virginia def. Duke, 4-1 - Durham, N.C. - Men
March 23 - Alabama def. Florida, 4-3 - Tuscaloosa, Ala. - Women
March 26 - Duke def. Northwestern, 5-2 - Durham, N.C. - Women
March 28 - Texas A&M def. Georgia, 4-1 - College Station, Texas - Men
March 30 - Georgia def. Missouri, 4-0 - Athens, Ga. - Women
April 4 - Georgia def. Arkansas, 4-0 - Athens, Ga. - Men
April 5 - Florida A&M def. Bethune-Cookman, 4-3 - Tallahassee, Fla. - Men
April 11 - Virginia def. NC State, 6-1 - Charlottesville, Va. - Men
April 13 - Illinois def. Nebraska, 4-2 - Champaign, Ill. - Women
2015
No Matches
2016
March 17 - Vanderbilt def. Texas A&M, 6-1 - Nashville, Tenn. - Women
March 24 - Florida State def. Georgia Tech, 5-2 - Tallahassee, Fla. - Men
April 3 - California def. Stanford, 4-3 - Berkeley, Calif. - Women
April 17 - Oklahoma State def. TCU, 4-1 - Stillwater, Okla. - Women
April 17 - Oklahoma State def. Baylor, 4-2 - Stillwater, Okla. - Men
2017 - Click on the match for a recap
Jan. 21 - Michigan def. Alabama, 4-0 - Men
Feb. 3 - North Carolina def. Texas Tech, 4-0 - Women
Feb. 17 - Stanford def. Oklahoma State, 4-1 - Women
March 8 - UCF def. Penn State, 4-2 - Men
March 10 - Florida State def. Florida, 4-2 - Men and Video Recap
March 14 - Florida def. Ohio State, 4-1 - Women
The following matches were held away from the USTA National Campus
March 17 - North Carolina def. Miami, 6-1 - Coral Gables, Fla. - Women
March 23 - Georgia def. LSU, 4-1 - Athens, Ga. - Men
March 31 - Wake Forest def. Virginia, 5-2 - Winston-Salem, N.C. - Men
2018 - Click on the match for a recap
Feb. 3 - Florida State def. Florida, 4-3 - Men
Feb. 3 - Florida State def. Florida, 4-1 - Women
Feb. 9 - Georgia def. Georgia Tech, 4-0 - Men
Feb. 24 - Oklahoma def. Texas A&M, 4-3 - Men
March 3 - Michigan def. UCF, 4-1 - Men
March 3 - UCF def. Michigan, 4-2 - Women
April 1 - Texas def. Florida, 4-0 - Women
April 15 - South Florida def. UCF, 4-1 - Men
2019 - Click on the match for a recap
Feb. 2 - Florida def. Florida State, 4-1 - Men
Feb. 9 - Tennessee def. Duke, 4-0 - Men
Feb. 16 - Air Force def. Army, 4-2 - Men
Feb. 16 - Air Force def. Army, 4-3 - Women
Feb. 24 - UCF def. Florida, 4-3 - Women
March 3 - UCF def. Miami, 4-0 - Men
2020 - Click on the match for a recap
Feb. 1 - Florida def. Florida State, 4-1 - Men
Feb. 15 - Notre Dame def. USC, 4-3 - Women
March 1 - Ohio State def. Florida State, 4-3 - Women